Lumber Punks
Fancy a go at axe throwing? Lumber Punks has you covered! You and your group will get taught how to throw axes by experts in their multiple daily sessions.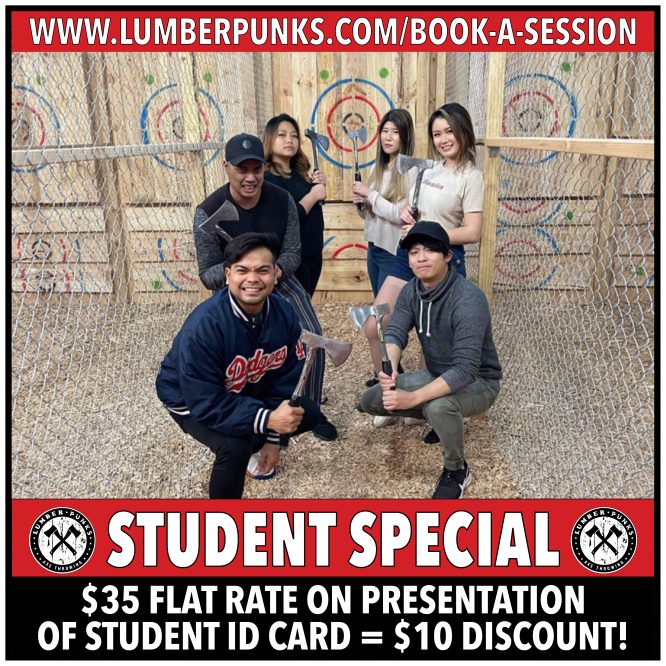 Their experienced team can take you through a formatted session that includes a safety briefing, coaching and a even practice round before the game begins.
Lumber Punks are currently offering La Trobe students $10 off the standard entry when you present your La Trobe Student ID Card.
To find out more about Lumber Punks, or to book, visit their webpage.
GoGet Car Share
Strapped for cash and can't afford to purchase a car? Still on your P Plates? No worries! GoGet have you covered!
La Trobe University partner with GoGet car share service and as a La Trobe student, you receive:
a student discount on the GoGet annual membership ($35 annual membership fee)
the best deals if you are a full time student; pay for the vehicle by the hour or by the day
access to GoGet vehicles throughout Australia
No need to pay insurance, registration or maintenance. Fuel is covered in the cost of the hire of the vehicle.
Joining GoGet means you don't need to own a car which means you have more money for the things you need like rent, food and beverages.
Learn how GoGet works and register online to receive your Member Pack and Smartcard in the mail (or collect from a local retailer).
The School Locker
Do you know where to purchase your textbooks, Uniforms, Apparel, Technology and so much more?
The School Locker are the University's one stop store for all your needs. The School Locker Store is located in the Agora at the Bundoora campus but if you aren't located anywhere near Bundoora campus – not a problem!
Take a virtual tour of the store here .
Order through the Online store 24/7 and your goods will be delivered to your doorstep.
Printing
Need to print materials? No worries! La Trobe University has Ricoh print devices in all campus libraries and in common areas in every building across the University. You can scan your student card to release a print job, copy or scan anywhere you find a Ricoh printer! Learn more about printing, print recharge and costs, and the wide format multifunction printer in the Borchardt Library on Bundoora campus.