In our digital age, constant news updates can make us feel overwhelmed, especially when distressing events occur. Some news can be upsetting, whether we're directly affected or just empathetic and uncertain about the future. While concern can inspire action, excessive worry and distress can leave us feeling helpless and overwhelmed.
The following diagram shows how feelings of concern can evolve into distress, and how our feelings about global events change depending on our circumstances: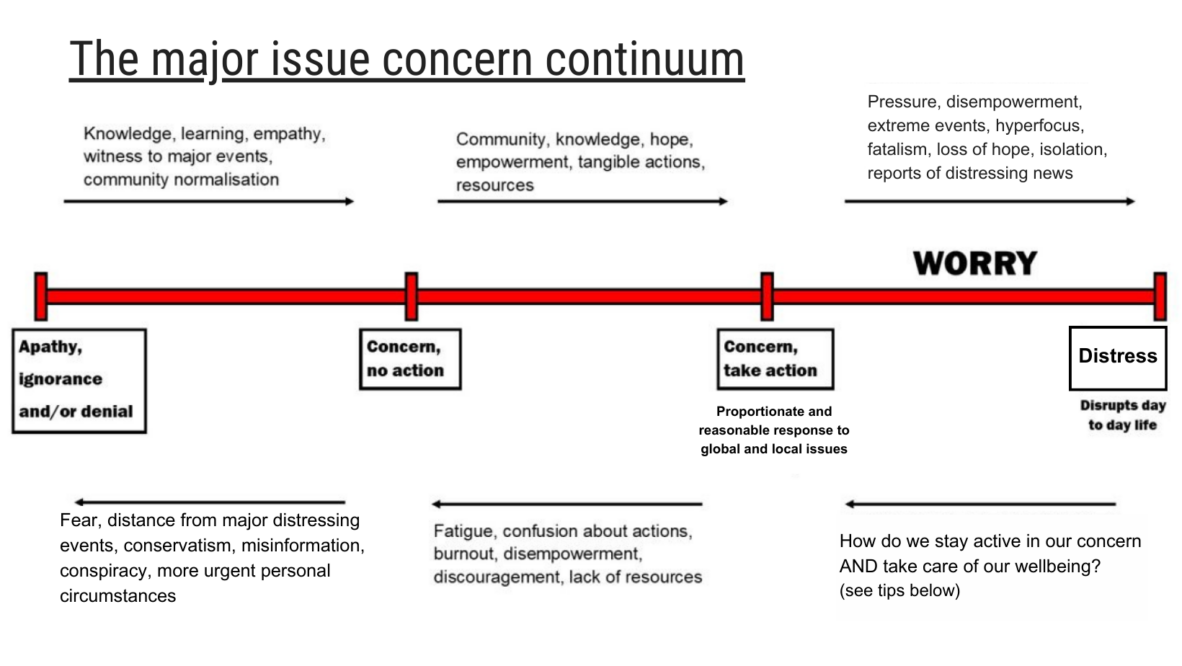 We all exist on this continuum somewhere for every major issue. Those events or topics that we are concerned about might inspire action, because concern is healthy and productive, leading to us wanting to make change. However, if that concern turns to excessive worry, we can feel distressed. Worry is different from concern because it is less productive – it often lives in the hypothetical and can feel paralysing and decrease our ability to act for change.
Move away from distress
So how do we stay in the region of caring enough to take action, but not feeling distress? It's a tricky place to be, but here are some tips to help you move away from distress and back to active concern:
Acknowledge and validate your emotions – it's normal to feel upset and grief when the world around us seems to be changing in unpredictable and often scary ways. Let yourself feel your emotions – write about them, talk about them, cry, be angry… all of these things are reasonable and appropriate
Find, build or connect with community – it can be helpful to find people who share your values and take action together
Keep balance in your life – sometimes something we're concerned about can take up a lot of time and energy, but it's important to make time for other things; not just study and work, but also friends, family, hobbies and other things that fulfil you (and sometimes distract you)
Normalise taking action about things you care about in your networks – make small actions that people might notice, and share and own them – invite others to join you
Get outside into nature sometimes – it might sound cliché, but getting some fresh air and sunshine can be relaxing and rejuvenating
Show yourself compassion – it's ok to not go to that rally or need to turn off your social media for the day. Resting is important. Along the same lines, you might not be perfect in your activism – mistakes are normal, and we are all growing and learning
Practise media literacy – be careful about where your information is coming from. Limit use of media that reports unverified information, and be aware of the impact sharing distressing images or stories might have on others
Seek support – if you are still feeling distressed or can't stop thinking about something that's concerning you, you can access free supports through www.latrobe.edu.au/wellbeing
La Trobe Supports
Not sure what sort of wellbeing support you need? Fill in this form to request a callback from our Health, Wellbeing and Inclusion team.
Use our La Trobe University Crisis Line for Out-of-Hours Mental Health and Wellbeing Support. Phone 1300 146 307 or text 0488 884 100. This service operates 5pm-9am on weekdays and 24 hours during weekends and public holidays.
External supports and links:
Lifeline – For anyone experiencing a personal crisis, 24 hours a day 13 11 14.
Switchboard – for LGBTIQA+ specific support and referral
Sane Australia Get more information and tips to manage distressing global news