Laura Button felt like her career was at a crossroads.
After earning a Bachelor of Speech Pathology, she'd worked in the deaf and hard of hearing industry, lectured in speech pathology and worked on course development at La Trobe. What came next, she wasn't sure.
'I could either focus more on research and go down the path of a PhD, or focus in on leadership and management,' Laura offers.
Figuring that focusing on management would give her different and directly applicable skills, she decided to pursue a Master of Business Administration.
Heading down an academic pathway remained a future option. But first, Laura wanted to broaden her skills, and get grounded in the practicalities and logistics of business.
Returning to school 14 years after she'd earnt her Bachelor's degree, Laura was able to both further her studies and her career.
'The MBA gave me intensive training in business,' she says, 'which was something that I'd not had through my undergraduate degree, nor in my professional career.'
Everybody needs good neighbours
When Laura was finishing high-school, she was like so many school-leavers – unsure of what she wanted to do next.
Her main desire was to do something that helped people. It was a neighbour who suggested speech pathology.
'In hindsight, I had no idea about what speech pathology was,' Laura recalls. 'But when I started [studying], I quickly found out!'
Laura enrolled in the Bachelor of Speech Pathology and immersed herself in this new world. She enjoyed work placements where she got to work with children and became an acolyte for her field of learning.
'Speech pathology is a profession that works across many settings and age groups,' Laura says. 'I love knowing about linguistics, phonetics, literacy, language development, and speech production. I think these stand out because these are the key areas that I've worked in since.'
Rewarding work
Laura's first job was serving as a speech pathologist for the Victorian Department of Education and Training, working in primary schools in Melbourne.
'I needed to hit the ground running with eight schools and approximately 300 children on my case list!' Laura recounts. 'It was an intensive start to being a speech pathologist, but it taught me a lot about working with vulnerable children, and gave me experience with managing a diverse case load.'
Laura then transitioned to a position as researcher at the National Acoustic Laboratories, including working on its ongoing LOCHI Study (Longitudinal Outcomes of Children with Hearing Impairment).
'I'm very grateful to have been involved in such an important study. We were able to find the evidence to support newborn hearing screening which enables early intervention for hearing across the country and internationally.'

Laura Button
Laura sees echoes of that work in her current position. Since earning her MBA, she's been employed at Hearing Australia in a managerial capacity.
'I work behind the scenes, merging my two degrees to help improve referral rates to speech pathology for children identified as being at risk,' she explains. 'This involves a mix of training, data analytics and general project work. I work with our team of audiologists to help them with being frontline screeners for speech and language difficulties.'
Having worked on LOCHI, a study that 'showed the importance of early hearing intervention,' Laura says, it's rewarding to be now working on a program whose primary goal is 'preventing the impact of untreated ear disease and hearing loss.'
Studying for the real world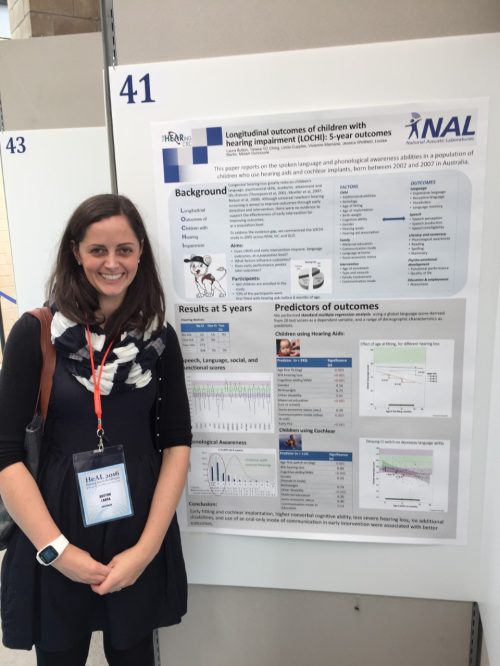 Almost a decade after graduating with her Bachelor of Speech Pathology, Laura returned to La Trobe as a sessional lecturer. Having found working in the field rewarding, she was excited to teach in that field, too.
Working on course development in collaboration with key lecturers, she was glad to get 'behind the scenes' of the content, drawing on her experience working in the industry.
This could've led her deeper into an academic realm, but Laura wanted to diversify her skillset, believing it would offer greater career potential. She enrolled in an MBA, and threw herself into it.
'The rapid pace suited my learning style and I finished in just over 18 months,' Laura recounts. 'The degree has been incredibly practical and I've been able to directly apply it to my work setting. Particularly around responsible leadership, risk management, design thinking, and stakeholder engagement.'
It's the latest chapter in a long and rewarding career.
A helping profession
Laura is an acolyte for her chosen profession and for studying speech pathology at La Trobe. There, students receive strong academic knowledge through training, but also acquire strong soft skills — communication, time management, problem solving, ethical practice — applicable across a broad range of positions, and in life in general.
Ultimately, though, the greatest reward is working with people who are struggling with impairments, and helping them not just to deal with these difficulties, but offering them genuine improvement on their quality of life.
'If you're after a helping profession, speech pathology offers incredible rewards,' says Laura. 'Communication is such an important skill and it's pretty special when you see the impact of intervention in someone's life.'