MyLaTrobe caught up with PhD Candidate Brooke Patterson and student Emerson Woods – two stars of the AFLW and members of the La Trobe Elite Athlete Program.
Brooke Patterson – Melbourne Football Club
A star on and off the field, Brooke Patterson juggles playing AFLW for Melbourne Football Club with researching the impact of ACL injuries on the lives of young people for her PhD.
"In my PhD, I'm looking at the impact anterior cruciate (ACL) injury can have on the lives of young adults. In particular, what factors will increase their risk of early knee arthritis, symptoms and poor quality of life. Then, if we can provide them with early treatment options such as exercise therapy and education, that can improve these outcomes to prevent, or slow, the onset of knee arthritis. I am also working on projects with the AFL aiming to reduce the risk of ACL injuries in elite and community female football players," Brooke says.

"One of the biggest challenges I've come up against in AFLW is injuries, along with learning new skills, and not getting picked to play initially. It has been three of the most challenging years of my life, balancing doing a PhD as well. Never in my life have I been challenged and critiqued so much – both physically and through having to learn new skills and perform well academically. But I have been able to build resilience, strategies to reduce stress, and ways to continually improve."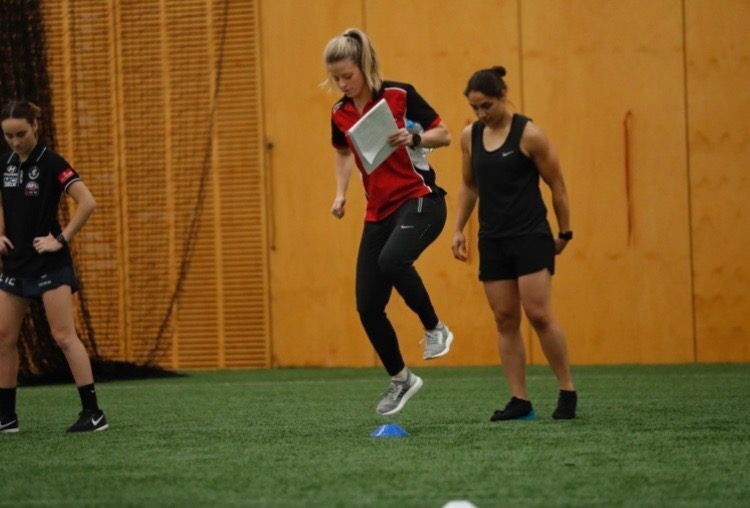 A background in basketball helped Brooke read the play on the football field, and after hitting her straps with the Darebin Falcons, she was drafted to Melbourne.
"I was at home with a friend who was also in the draft, and we were streaming it on the lap top. I was very excited, and at the time I was like this is going to change my life. Which in some ways it certainly has, and I will be forever grateful and proud to be a part of it," Brooke says.
"My friends came over to celebrate and it is something I will never forget. Unfortunately my friend didn't get drafted that day so it was mixed emotions actually, but she ended up getting picked up after the draft – and is now an All Australian and Geelong's first ever Best and Fairest winner!"
The beginning of the AFLW's first season marked a change in Australian sport. The popularity of and participation in women's footy began exploding, with hundreds of grassroots teams formed across the country. Brooke's advice to women and girls starting out?
"I would say – play to your strengths and continue working on your weaknesses. If you are speedy, break away from the pack, if you are big and strong use it to your advantage, or use your smarts! If you don't get picked for a team the first time it is not the end, people develop at different rates and you can never stop getting better," Brooke says.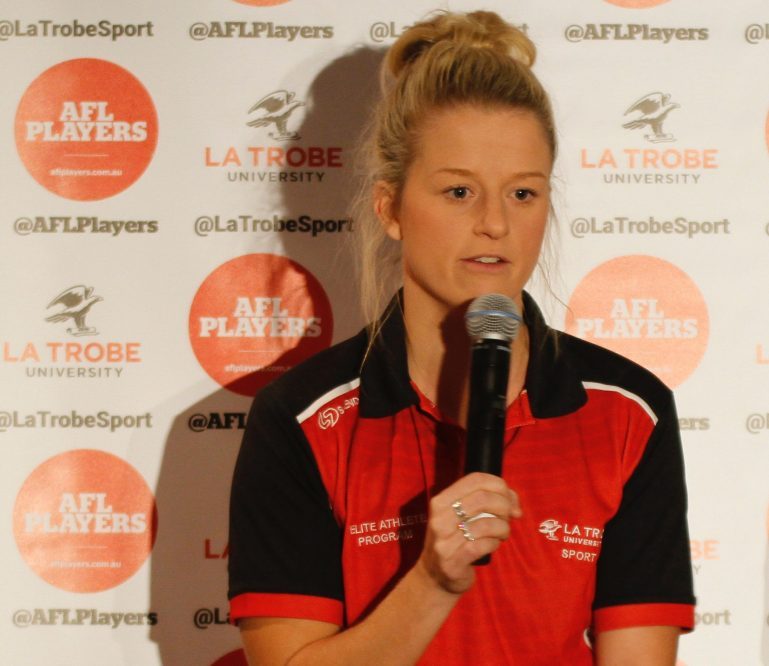 Brooke has been supported on her journey as a member of the La Trobe Elite Athlete Program (LEAP).
"La Trobe has been a enormous support – it really has been an emotional roller coaster, and I have to thank my PhD supervisors, peers, colleagues, friends and family for coming for the ride!" Brooke says.
La Trobe really is my second home and family. I lived on campus in undergrad – which was a great way to meet my now lifelong friends. I like the relaxed environment I feel the campus has with all the greenery. My department, the La Trobe Sports and Exercise Medicine Research Centre, has a great team culture – we all work hard, but we all enjoy each other's company, and celebrate each other's successes."


Brooke Patterson, La Trobe PhD Candidate
"The La Trobe Elite Athlete Program and the La Trobe Excellence Academy have been great in providing me with opportunities to network with other women in sport, business and academia, find mentors, develop leadership skills, and open doors for collaboration. The LEAP program also provides me with gym access whilst on campus which comes in handy.

"I attended the 2019 launch of the Program, and it was so great to hear from other athletes and discuss what they are doing and how they balance their studies and sporting lives. And sometimes it's just nice to catch up for coffee with them – to either receive or provide advice, as well as share frustrations and challenges."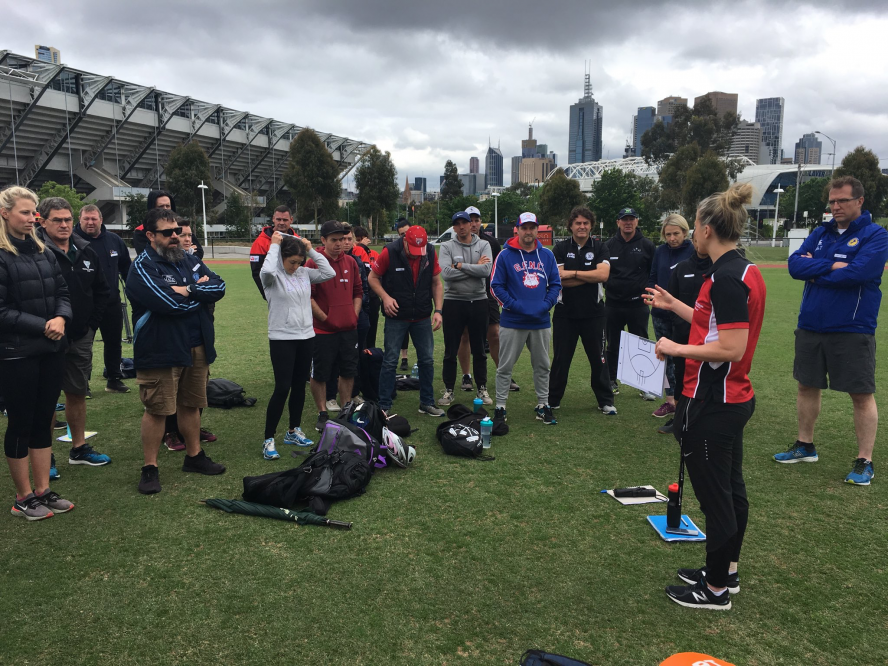 Emerson Woods – Carlton Football Club
Selected by Carlton Football Club with pick No.38 at the 2018 AFLW National Draft, Emerson Woods is also a first year Undergraduate student at La Trobe, studying Criminology and Psychological Science.
I love studying at La Trobe because it's such a great community. Being my first year, I didn't feel intimidated walking into Uni because everyone was so welcoming."

Emerson Woods, La Trobe student
"It was super easy to ask people questions when I was struggling in the first couple of weeks. I also love my course, especially as it is something I'm so passionate about. Studying is easy when it's something your so interested in, and you have great support," Emerson says.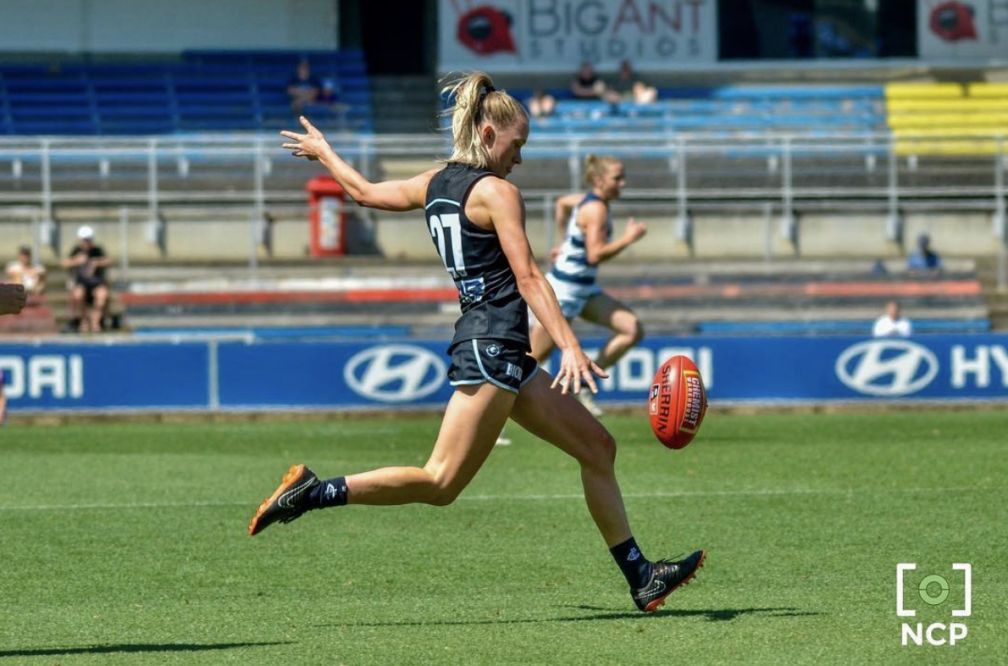 "Being a part of the Elite Athlete Program within La Trobe helps me massively with juggling training, studying and work. A huge advantage of being a member LEAP is that the team help me so much with time management. They help me coordinate my timetable around my training sessions, I get access to the gym and help with rearranging exam dates if need be. Their support makes it possible for me to get my assignments done and exams complete while being able to compete and train."
Leaving basketball and netball behind, Emerson shifted her focus to football, building up her strength to play competitively in Carlton's senior side and debuting against Collingwood in Round five of the 2019 AFLW season.
"The moment I got told I would debut with Carlton was at training. I was called into the coach's room before the announcement of the team was made to everyone and my coach told me straight up I would debut against Collingwood Football Club," Emerson says.
"It was a long wait for me since the start of pre-season so my emotion was quite high and I think I was in a bit of shock. It was great to debut against Collingwood as I grew up with a family half barracking for Collingwood and half barracking for Carlton, so I was great to see the whole family on the Carlton bandwagon for one night.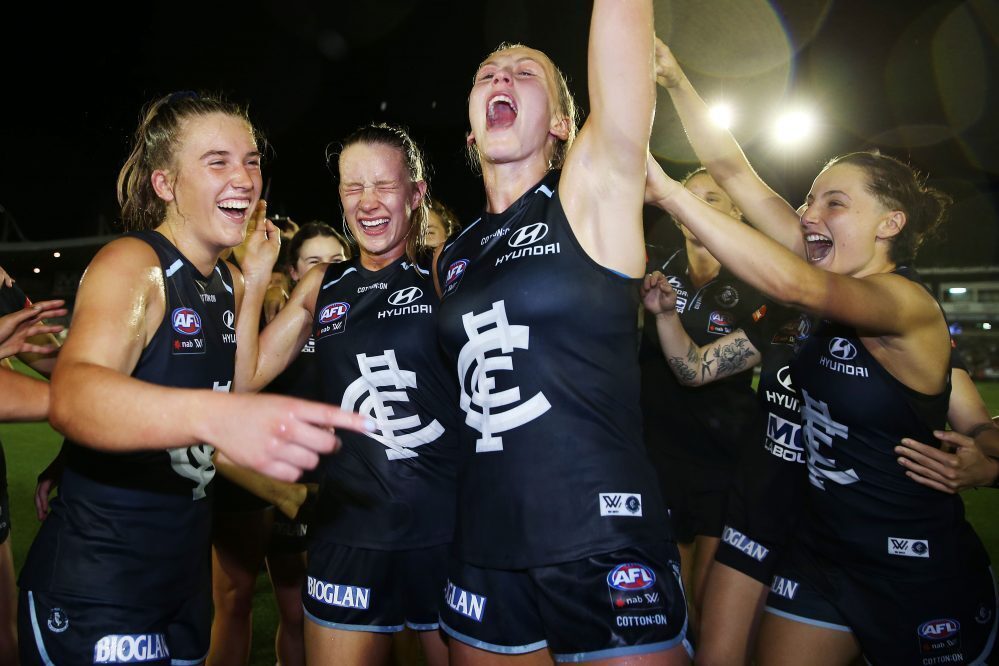 "My experience in AFLW has taught me a lot. My most helpful advice to women and girls playing footy would be to embrace feedback from everyone within your team and coaching panel. It's simple but it's very realistic, improving on your weaknesses is a priority.
"You may love doing the things you're good at all the time, but that will not expand your capabilities as an athlete. That's what I learnt through my journey, pay lots of attention to the things you need to develop to make yourself better, not the things you're already good at. Always look for opportunities to better yourself, even if it means getting out of your comfort zone."