A high-tech, broadcast-quality studio at La Trobe's Bendigo Campus is being used to deliver engaging online classes for students learning from home.
Physics senior lecturer Dr Russell Anderson is the pioneer behind the Lightboard Studio, a new venture jointly supported by La Trobe Learning and Teaching, the SHE College and the University's Information Services division.
Teachers who use the space stand behind a glass screen – or 'lightboard' – onto which they can write with neon markers, or project their PowerPoint presentations, as demonstrated by Head of Pharmacy and Biomedical Science Mike Angove in the video below:
Facing the presenter are two flatscreen monitors that can be used to see students and their responses in real-time. Two different camera angles provide the options of switching between a wide-shot of the presenter and a close-up of a demonstration or experiment they're conducting.
Users also have the option of standing in front of a green screen, so their lecture can be delivered from any setting. On Wednesday, for example, redoubled his efforts and presented from the Death Star.
He explains that the Lightboard Studio offers a more personable, engaging mode of remote delivery to online students.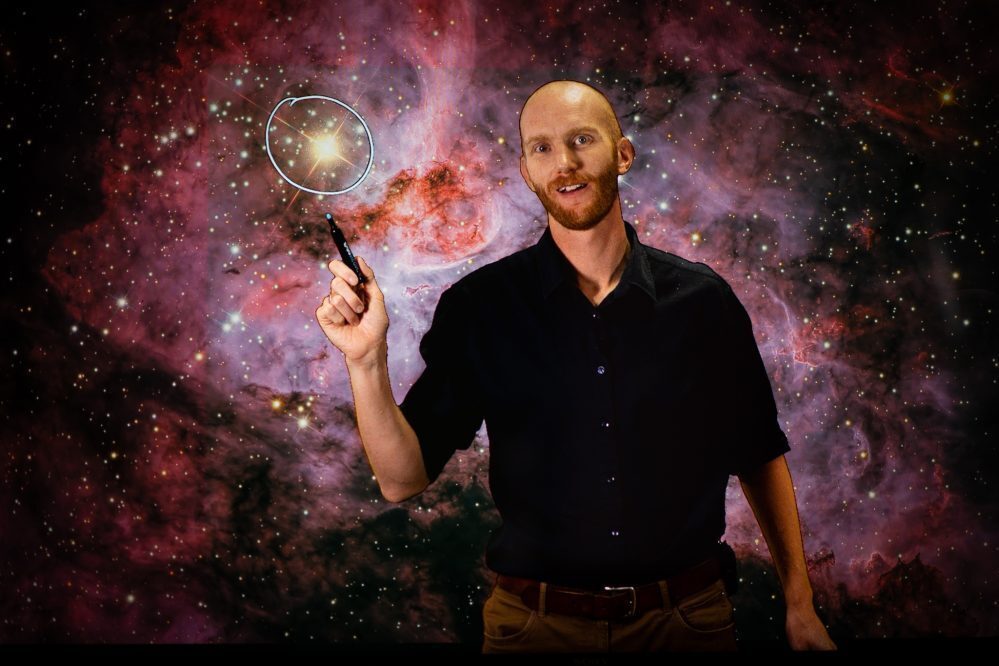 "We're not standing in front of a television or whiteboard with our backs to the camera waving our arms around. We're facing the students the whole time," he says.
"I gave a lecture in here yesterday and while I was standing behind the board, I was writing equations based on the feedback I was getting from students."
One-hundred academic and learning support staff at the Bendigo campus are trialling the technology to see how similar set-ups could be used across the University.
"What really inspires me is seeing academics come in and add their own flavour to it," Russell says.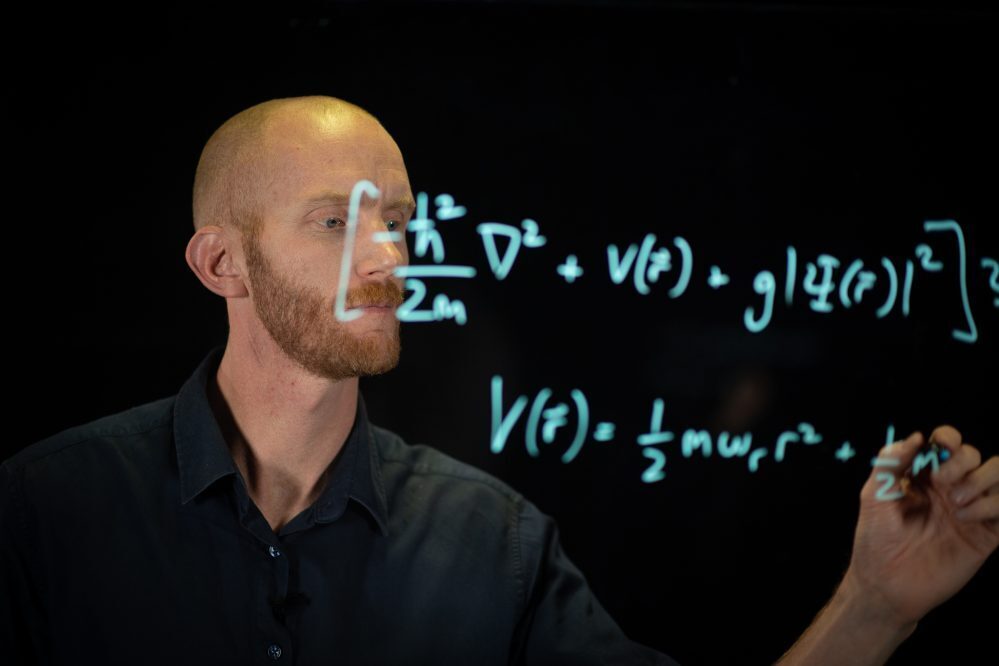 Among those to have already used the studio is Paramedicine lecturer David Burns. One class saw him overlay the image of an x-ray onto his own form, while he's also used the studio to record a message of reassurance for students whose classes have recently shifted online.
David says his students' feedback has been overwhelmingly positive.
"Students have said this is helping them realise that there's nothing negative about the current teaching environment, that they can even see some positive aspects to learning from this approach," he says.
"This is not a replacement (for face-to-face classes), this is just another enhancement for a great, world-class University experience."
Russell hopes students will also get access to the equipment.
"I'd like to see students use the studio for assessment," he says.
"I can tell a lot about students' learning outcomes from seeing them communicate an idea while using the board."