What does it mean to be a man today?
The changing face of masculinity in Australia can present challenges to the identity of men and boys caught in a haze of confusion.
This Men's Health Week, we caught up with La Trobe's new Men's Wellbeing Coordinator, psychologist Jason Campbell, to talk about the big issues facing Australian men and the steps being taken to provide support and guidance at La Trobe.
"I want the young men of La Trobe to have a voice, to learn to look after themselves, so that they can be the best they can be and not be held back by the rules that don't serve us, so they can engage in respectful relationships and get the most out of their relationships with others," said Jason.
I want the young men of La Trobe to have a voice, to learn to look after themselves, so that they can be the best they can be and not be held back by the rules that don't serve us, so they can engage in respectful relationships and get the most out of their relationships with others."

La Trobe Men's Wellbeing Coordinator, psychologist Jason Campbell
Jason urges men to consider all aspects of their health holistically including diet, exercise and social connections with others.
"They all tie in together and affect each other," said Jason. "Mental health is as important as physical health, and good mental health comes from an ongoing process of looking after yourself.
"We look after our bodies, with activities like going to the gym, but it's also important to work on our emotional wellbeing," Jason said, reeling off a list of activities with the potential to influence mental health.
"Mindfulness, yoga, sport or just moving your body, attending to good eating, sleep routines, being around people, pursuing things you value and that are important to you, connecting to goals, getting excited about things and allowing yourself to get excited about things," said Jason.
And there's good reason for men's mental health to be in the spotlight.
The shocking statistics
The statistics for men's health are grim. Each day across Australia, on average, six men take their own lives. One in five Australian men suffer from anxiety at any one time. Beyond Blue reports more than 70% of men with mental health problems do not access support services and less than 20% see their GP about mental health-related issues. At least one third of young people experience a mental illness by the time they're 25 years old.
"We know that men don't reach out enough. Men are less likely to seek help than women. Only one in four men who experience anxiety or depression access treatment. They're known statistics," said Jason.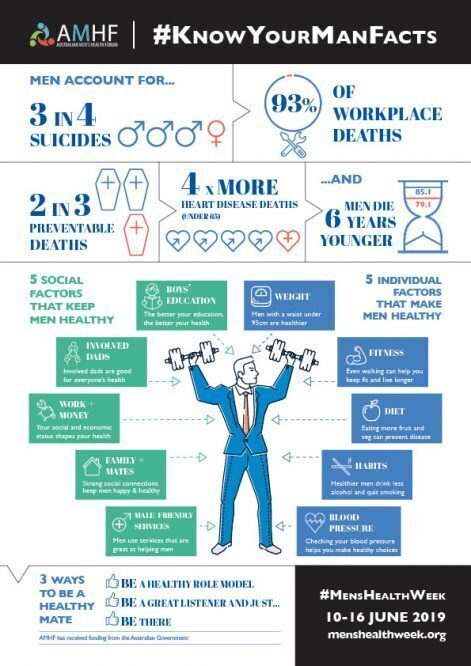 How did we get here?
'Be strong, don't cry, be stoic, keep it to yourself, be a man' – these may be words you've heard before.
"There are traditional views of masculinity that we've inherited as men, that we've learnt over time. Sometimes, there are elements of that which may be less helpful than others," said Jason.
"It's not about demonising men, let me be very clear about that," Jason said. "There's nothing wrong with masculinity in itself, it's how you use your traits that matters."
"For example, being strong is great. Being strong on the football field and playing hard, there's nothing wrong with that. But when you move away from the field and start using that power to dominate or control someone else, or act violently, that is the difference between masculinity and toxic masculinity."
It's about choosing which traits you use and when you use them, Jason reiterates. It's also about embracing flexibility, while stepping outside the rigid confines of traditional masculine stereotypes.
The power positive masculinity – it's all about being flexible
"My focus is on positive masculinity. There are a lot of different messages out there about what a man should be today and people take that on board as though it's not okay to be male," said Jason.
"There are some traditional concepts of masculinity that are not so helpful. They're ones that are good to talk about and question: 'How do those things serve us? Do they serve us anymore?'"
Jason suggests a broader consideration of men's own strengths are needed.
"There are traditional norms with masculinity – some not so helpful. But the thing is it's about being flexible about how you use masculine traits. Strength for instance – it's really good to be strong. We might traditionally see strength as a forthright young guy that's physically strong. But strength might also be strength of character, the strength to show emotion when needed, the strength to stand up for somebody else. For example, men holding each other accountable for their behaviour is strength.
"It is about being flexible about your concept of masculinity – to keep all the really good things and to question or be more flexible about some things that don't help us. A man can define who they are and be masculine and that's okay. It can be quite freeing, actually." said Jason.
There's many faces of masculinity, Jason says, and that includes diversity within masculinity. "For example, you can be a member of LGBTIQ+ community, and you can be masculine."
Starting the conversation with Tomorrow Man
"There are a lot of really good men out there who want to do something and don't know how," said Jason. "They don't know their place anymore and what it is to be a man in these times. So, Tomorrow Man really struck a note with me."
Tomorrow Man runs workshops for boys and men across Australia with exercises to strengthen emotional muscle. In the workshops, men share and hear one another's stories and learn how to support themselves and each other. Tomorrow Man is hosting a workshop at La Trobe's Bundoora Campus on Wednesday 28 August, 2019 – reserve your spot here.
The workshops involve open, non-judgmental discussion about masculinity and what it means to be a man in today's world.
"Tomorrow Man really work on helping men to be more resilient, with more peer-to-peer support, because that's another thing – even though men might be struggling, they don't often reach out to other men at the moment," said Jason.
Jason noticed a positive response from past participants of the Tomorrow Man workshop. "The guys that did it, loved it. They really enjoyed it. They liked hearing other people's stories and having conversations. They get to see other men have similar things going on and they think, 'wow, it's not just me.'"
Continuing the conversation at Uni
Participants in the Tomorrow Man workshop will be invited to continue the conversation, if they choose, and share ideas and feedback.
"After the workshop, we didn't want to just leave it there. This is a really important time in supporting men's mental health. We want to continue the dialogue, and ask what they want to see more of on campus and what they want to see less of." said Jason. Possibilities include more forums to support men on campus, peer-to-peer networks and other support.
"First and foremost it's about having more information directly from the young men at La Trobe asking what they want, said Jason. " What supports do they need? It could be peer-to-peer networks or setting up forums to ask questions."
Where can you seek support?
If you're experiencing mental health concerns or stress, make an appointment with the University's Counselling service – it's free. You can also meet directly with Jason, who specialises in men's wellbeing, or another male counsellor if you prefer.
Register here for the La Trobe Tomorrow Man Workshop at Bundoora Campus.
If you need immediate or out-of-hours support, Beyond Blue has trained mental health professionals available for a conversation over the phone or via Live Chat. Lifeline are also available for crisis support.