Content warning: Aboriginal and Torres Strait Islander readers are advised that the following article contains names and images of people who have died.
La Trobe PhD student Elia Shugg is spending his days piecing together his family's past so that future generations will better understand their history.
Elia is an Erub and Kuku man, born in Narrm (Melbourne). While his family's Erub history is well understood, Elia's Kuku lineage is shrouded in mystery. He hopes a lost photo held by another family, and long ago sighted in a newspaper, will hold clues as to his family's Country and history.
His PhD will also use multimedia, with audio and video interviews with family members used to capture the story of his family today.
Elia received the inaugural Dennis McDermott Research Scholarship, which aims to support an Indigenous student of exceptional research promise to undertake a higher degree by research at La Trobe. It was established to celebrate the life of Professor Dennis McDermott, La Trobe's inaugural Pro Vice-Chancellor (Indigenous). Elia also secured an Australian Government Research Training Program Scholarship.
"I feel very privileged to receive the Dennis McDermott Scholarship, having just started at La Trobe University and being a young student," says Elia. "The Dennis McDermott Scholarship is helping me to afford living in Narrm (Melbourne) and focus on studying.
"I hope that the history recorded in my PhD serves to support future generations in their knowledge and understanding of their family's past and give them a glimpse into what members of my family today were like."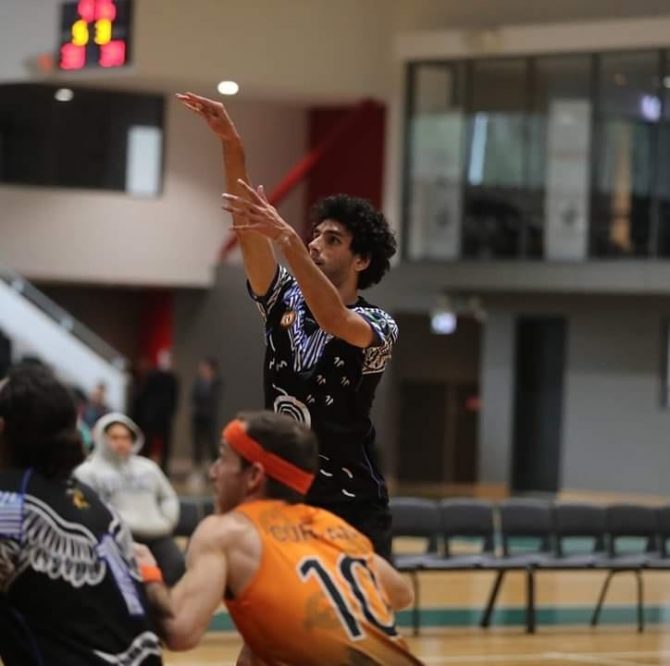 Filling gaps in school history books
In the classroom at school, Elia was taught little about Aboriginal and Torres Strait Islander history and culture. It wasn't until he began an Australian Indigenous Studies degree at university that he began to gain a great understanding of the subject.
"At university I learned so much that I did not know about Indigenous history," he says. "I became passionate about Indigenous studies in my third year especially, through exploring the works of Indigenous academics, writers and artists. Listening to and reading their voices, I felt like I could relate to what they were saying."
In March 2021, Elia began his PhD studies at La Trobe's Bundoora Campus.
"At La Trobe there is creative freedom in deciding how you want to do a PhD, whether that is through just a traditional writing form or through a documentary or even poetry. This is important to me, plus I'm supported by great staff and my supervisors Dr. Kat Ellinghaus and Dr. Julie Andrews."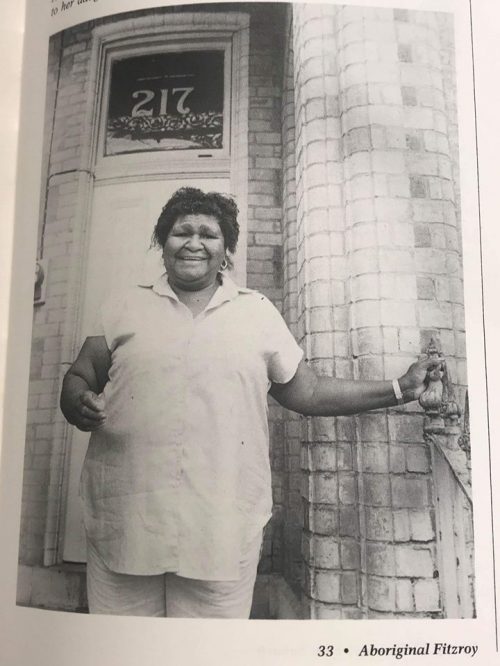 'A Blak Family History'
When Elia's grandmother Eleanor Harding was four years old, her father Fred 'Tat' Nain passed away on a ketch, a type of sailing boat. The year was 1948, and Eleanor was forced to evacuate Erub Country (Darnley Island), in the eastern islands of the Torres Strait. She was taken to live on the mainland in Queensland with her strict grandmother Annai Pitt.
"Annai resented her 'Aboriginal side', the Kuku tribe," says Elia. "This information is from my Aunty Destiny Deacon who did an artwork called Postcards from Mummy, where she travelled to the areas in Queensland where my grandmother grew up from childhood to young adulthood."
Through these tragic circumstances, Elia's grandmother Eleanor was unable to get to know her father Fred and wasn't taught much about her Kuku tribe.
"Fred himself, we believe, also did not know much about his real father, as he passed away when he was young and was raised by his mother Alice (Kawako) Tapau, who was from Mer, and his stepfather Naina Nain (Fred Lifu) who was from Lifu, Loyalty Islands," says Elia.
Elia is determined to track down a photo of his great-grandfather Fred in the hopes it will hold clues to his family's lineage and history.
"Our family knows that the photo of my great grandfather Fred exists because one of my aunties was able to track it down," he says. "However, she no longer has access to it as it belonged to someone else's family. The photo is from a Queensland newspaper and has Fred and four other Indigenous men with sailor uniforms in front of a wooden cutter.
"The purpose in finding this photo is to see what Fred looked like, and while it may not seem like much, it will help to fill a big hole that has existed in our family's history for years. In the future and maybe even in this PhD, I hope that I can help our family figure out who Fred's real father was."
Eleanor believes Fred's land, Kuku Country, is located on the east coast of Cape York in Far North Queensland.
"It feels uneasy to identify with a clan you know almost nothing about aside from what my grandmother passed on," says Elia. "This insecurity is why I think it's important to find and reclaim my family's Kuku lineage. I want my family to be proud of our Kuku side instead of just barely knowing anything. Fred and his father hold my family's Kuku lineage and discovering more about them would help my family to reclaim our Aboriginality."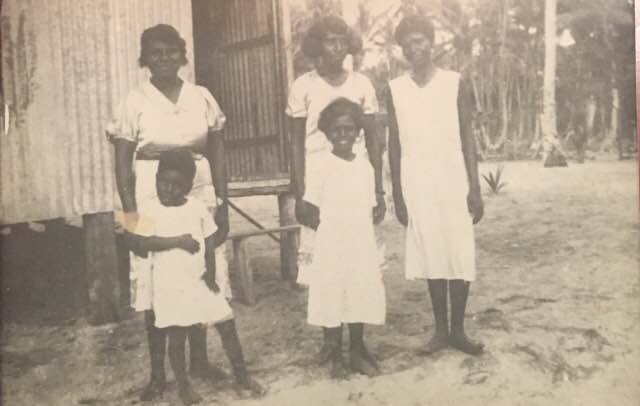 Most of white colonial history, including family histories of those who came from overseas to live here, exist within documents in an archive.
"Our family has some records that come from the 'Protectors of Aborigines' who surveyed every aspect of our lives including marriage, work and movement," says Elia. "But there is nothing we know of the Kuku people or Fred's father that sit within the archives and libraries. It is like this family history as we know it has gone into a vacuum and has been scattered in different places."
This lost history is another impact of colonisation and genocide, Elia says, in a series of state acts and atrocities that led to massacres, indentured servitude, forced relocation of First Nations people to missions and the Stolen Generations.
"They are all factors through which the loss of Indigenous family histories, languages and cultures happens, and the legacies of these things continue to this day and Aboriginal and Torres Strait Islander people are left to pick up the pieces of history ourselves," he says.
Recording his family history is important to Elia because records and familial ties have been lost through colonisation. On top of this, all of Elia's grandparents had passed away before he was born. He also lost his Aunty Lisa Bellear at a young age.
"Never being able to meet my grandparents and the passing of my Aunty Lisa when I was young has influenced me to want to record interviews with family now to capture who they are, where they come from and their experiences in life. But I'll also make sure that my interviews with family will be what my family want.
"In my thesis I will attempt to fill in the gaps of lost family history and safekeep it for family and friends, not only now, but for the future."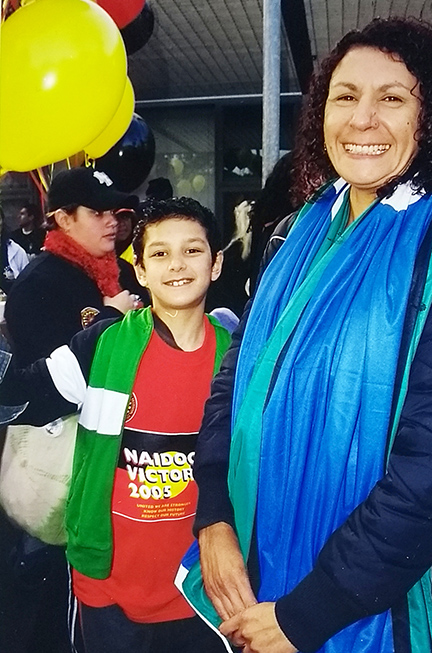 He'll sit down with family members to conduct interviews, creating mutual benefit from not only his perspective as a researcher, but for theirs too. Elia plans to interview three major matriarchs of his family – his mum Janina, Aunty Destiny and Aunty Deborah.
"They are strong, wise and are knowledge-holders of our family history," says Elia. Janina in particular has influenced Elia to undertake his PhD studies.
"She is extremely strong-minded and has always been there for me. She is a warrior and for her to keep going in life inspires me to do the same.
"Personally I hope that the PhD as a finished product will be important amongst family as a record to keep and show to future generations."
Paving the way for success
In the future, Elia hopes to support Indigenous communities in whichever way he can, whether that be through sport, academia or the arts.
"For now, I'm thankful for this opportunity to do my PhD," he says. "I would also like to acknowledge and pay respect to the late Dennis McDermott and his family. I would not be in the position I am today without people like Dennis who have paved the way for Indigenous people to succeed."