Semester one is almost over, can you believe it? SWOT VAC is here and that means exams are right around the corner. In anticipation, MyLaTrobe has pulled together six of the most common exam problems and tips on how you can overcome them. Acheive@Uni has a bunch more tips on hand, too.
1. Feeling unprepared
Don't panic, there's still time to prepare, revise and map out your plan of attack. The time to avoid feeling unprepared during your exam is now.
If you need help getting ready, there are plenty of people and resources waiting to offer assistance. Head to your campus' Learning Hub and speak to a Peer Learning Adviser (PLA), Academic Adviser or Librarian.
2. Scrambling on the day
The trick to feeling prepared on the day is actually preparing the day before. Create a checklist of approved items to pack. Don't forget your student ID card – you'll need it to prove your identity. Ensure you've packed a spare of everything you'll need – that means two pencils/pens/erasers or other stationary. Bring a water bottle (remove label) and any other approved equipment you might need such as calculators or notes for open-book exams.
Don't sabotage your exam by staying up too late. We know poor sleep interferes with brain function, so you'll want to get at least eight hours the night before.
Plan your public transport journey or driving route and parking. Allow extra time for things to go wrong. Delayed trains and crazy traffic aren't excuses for being late, and let's be honest, they're a real possibility. Use PTV's Journey Planner to plan your trip and allow for last minute cancelled services, and turn the traffic function on using Google Maps.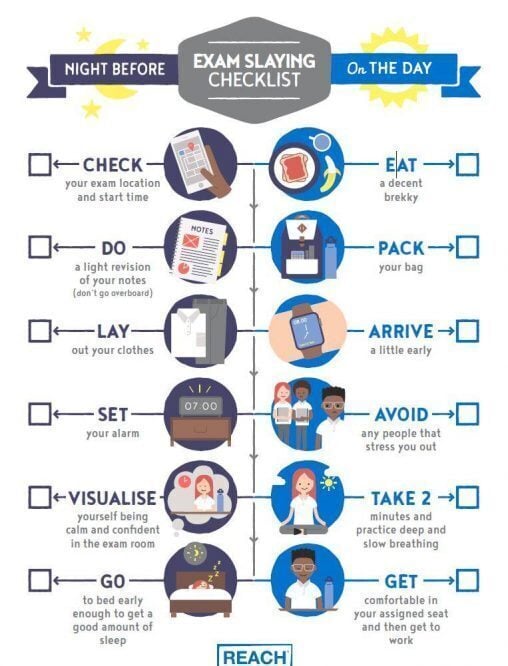 3. Going blank
You might know the feeling. Everything seems to go a little fuzzy and even though you know the answer, you just can't quite remember it.
Often, the best option is to move on to the next question and come back to it later. Find one you're confident about, it'll get your thinking back on track. If can't skip the first question, try jotting down what you do know on a spare piece of paper. Ask yourself questions to help you focus and try looking at the big picture.
Try to relax your thoughts or take a few seconds to practise mindfulness. For example, close your eyes and picture a beautiful, peaceful place – breathe slowly and deeply – repeat a calming word until you start to relax.
4. Running out of time
No matter which type of question you're answering, whether it be essay, multiple choice or short answer, the most critical factor you'll have to take into account is time. Ask yourself, how much time do you have? How much of it is reading time? How much is left for answering questions? How long should you spend on each question? Your answers will dictate how you approach your exam questions.
If you're running out of time, write your answers in dot points so the assessor can understand your reasoning – you'll at least receive some marks for your efforts. Prioritise your responses based on their mark value when dividing up your remaining time. Head to Acheive@Uni for more exam time management strategies.
5. Misunderstanding the question
Exam questions can seem tricky. Often, it's because they've been read with haste. Consider the way the question is worded. Look for things such as double negatives and if the question contains clues.
Underline important elements of the question, and reread it several times to make sure you're interpreting it correctly. Use a process of elimination and return to the question once you've written your answer to confirm you haven't gone off on a tangent. Find more useful tips online with Achieve@Uni.
6. Being unsure how to approach the question
The methodology for short answer and essay questions in exams is simple: read, plan, structure and write – check out this Achieve@Uni resource for a breakdown of each step. For multiple choice questions, if you have difficulty determining the correct answer, try eliminating the options you know are incorrect and focusing on what remains.
Feeling a little stressed?
The lead up to exams can feel a little stressful, that's for sure.
Take care of yourself in the lead up to exams, and know that a lot of people are feeling just the same way you are right now – you're not alone.
There are lots of ways you can seek support, from accessing face-to-face advice through the Learning Hub, to getting in touch with La Trobe's Health and Wellbeing team, or attending a counselling session.
Have more questions?
Check out ASK La Trobe's exams FAQs.
You've got this! Good luck.