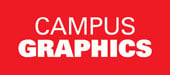 Campus Graphics is the prime resource across all La Trobe University campuses for digital printing, photocopying, document composition, management of the University digital printer fleet, administering the student print & copy system, the supply of print & copy services to students and is also responsible for all the procurement of print.
Campus Graphics has offices and retail outlets at Bundoora and Bendigo.
Staff information and resources. [Only available to La Trobe staff]
La Trobe University's uniform system for printing & photocopying.
Sell "Print on Demand" journals & books directly across the web.