Kitty's War - the diaries of a World War I nurse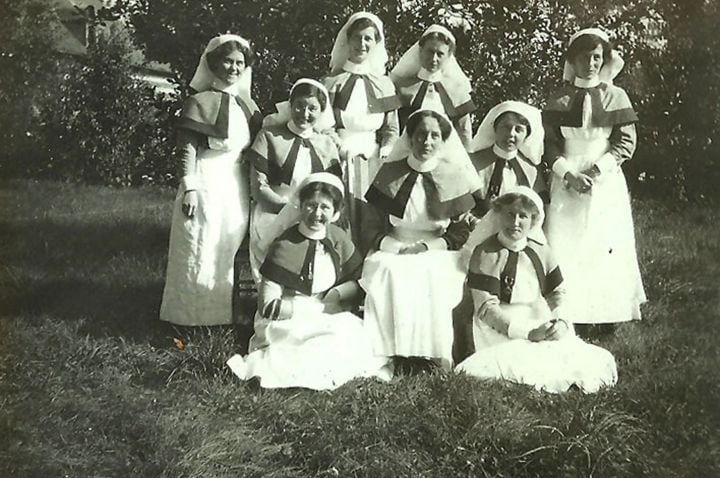 Kitty's War, an award winning book by La Trobe historian Dr Janet Butler, tells the story of a Victorian nurse on the front line. During World War I the only Australian women allowed to serve overseas were nurses (and masseurs). In Kitty's War, we share in the journey of Kit McNaughton, who joined the 3,000 nurses working overseas in the Australian Army Nursing Service.
After nursing wounded German soldiers on the Somme, Kit became the first theatre nurse at Queen Mary's Hospital in Kent, where plastic surgery was pioneered after WWI for injured soldiers.
Dr Butler's book won the Australian History Prize in NSW Premier's History Awards in 2013.
Learn more about Kitty's incredible career in this La Trobe podcast with Dr Butler.
Australian nurses in World War I
PODCAST: Janet Butler on her new history book 'Kitty's War'
transcript
Ernest Raetz
She was a small girl, standing with her dad, reading the names of the local war dead at a country war memorial. Today she's an award-winning historian about to launch her first book, Kitty's War. Welcome to the La Trobe University podcast. My name is Ernest Raetz and I have with me, Dr Janet Butler, an Honorary Associate in La Trobe University's History program. Kitty's is an amazing journey of war service as a First World War nurse. From Egypt, Lemnos and Marseille to the Somme for front line operating theatre at Passchendaele to then become the first Australian nurse working with pioneering plastic surgeons in the UK, where she helped repair the shattered faces of Australian soldiers. It's a remarkable story. Can you tell us a bit about Kitty?
Janet Butler
Well, Kitty was born in a small rural country town in Western Victoria, Little River. She was born in 1884, the granddaughter of one of the first white settlers in the area. When she grew up, her family wasn't as well off as they had hoped. They were farming, but all of her brothers had to take jobs outside the family. She decided to train as a nurse. She began her training at the Geelong Infirmary Benevolent Asylum in 1909, graduated in 1912, which would put her amongst the first generations of post-Nightingale nurses.
In the years in between her training and her going overseas, she worked as most nurses did at that time, as a private nurse. She based herself in Melbourne and was hired out when families had somebody in their household who was ill. In the months after the landing at Gallipoli, as the wounded notices came in, Kit decided that she would enlist in the Australian Army Nursing Service, and she went on board the Orsova in July 1915 and headed off to Egypt.
Ernest Raetz
How unusual was it at that stage for women to sign up for this work?
Janet Butler
It was, at the time, very unusual for any woman to go overseas to war. Nurses did go to the Boer War but there was quite a lot of prejudice against their presence. There were fears that their presence would disrupt discipline, that hospital camps were inappropriate places for women. The nurses managed to convince the government that what they had to offer would be of help to the troops. So in the end Australian nurses were the only Australian women, apart from a small number of masseurs, allowed to go officially to war. And there was between two and a half thousand and three thousand nurses went from Australia overseas, which is really a drop in the ocean compared to that they went over to serve.
Ernest Raetz
Did we have many of those stories or is this a very unusual book in that sense?
Janet Butler
We do have a lot of stories because Australians were signing up for the duration. An English nurse might sign up for six months and would be relatively close to her home base if she was in France. So she would tend to write letters home, whereas Australian nurses were going overseas for the duration, for four years. They were going on really, a trip overseas that most of them would never have the opportunity to do in normal circumstances, and so they kept a record, really what began as travel diaries. So as Australians, we're really blessed with accounts of our soldiers as well, going overseas.
So she arrived in Egypt, in Cairo, just in time to nurse the wounded from the second offensive on Gallipoli. We had the landing in April, and it was a stalemate from then until August, and in August there was another big push to try and break the stalemate and Kit arrived in Cairo at a time when the wounded were flooding in from that offensive. There wasn't a bed empty in Egypt at the time.
Ernest Raetz
Can you just read a little bit from your book that actually just gives us an idea of the sort of situation she confronted?
Janet Butler
Well, the part that I'll read from is from the time when Kit arrived on the Western Front in France. When she arrived there in April 1916, preparations were under way for the advance that we remember now as the battle of the Somme.
58,000 soldiers became casualties on the first day of this battle. In the first four days, ambulance trains carried over 33,000 patients, in 100 journeys, from casualty clearing stations to three British bases. When the operations ended in three weeks time, this total of Allied casualties will have reached 600,000. Nearly four thousand nurses, in over 100 clearing stations, on barges, in trains, hospitals and hospital ships, were engaged on their own field of battle, this second battle field. Among them are over 200 Australian nurses.
However some kinds of understanding of the war require us to telescope you down from this overall picture to the tier of the individual and the meaning they make of their experiences. So here lie the elusive answers to different questions about our country's involvement in war and its effect on our society.
Ernest Raetz
Can you tell us about some of the things you've found out about her then?
Janet Butler
There are a lot of surprising things that I found. I followed Kit's journey from Egypt, where she spent the first month. Like many nurses, her real aim was to get as close to the actual fighting as possible, where she could be of a greater service to the soldiers, who they referred to as "her boys". After a month in Egypt she volunteered to nurse on the island of Lemnos, which was about 80 kilometres off the coast of Gallipoli, from where the nurses could clearly hear the guns. She was there for about five months. The nurses lived under canvas in really what are quite controversial circumstances now. The food on Lemnos was no better than it was on Gallipoli. They lived in single bell tents and quite freezing conditions. The numbers of wounded and sick far outweighed the normal ratio of nurse to patient, and the conditions in which they nursed were fairly basic as well.
There was also the problem the nurses faced in that they were in a hospital camp, in a stationary hospital which normally didn't have female nursing staff, and very close to the front. So they met some prejudice, particularly amongst the officers, who felt that they shouldn't have been there. They had problems also with orderlies, because the orderlies had been working in an all-male environment for many months, under a deal of strain, and all of a sudden, 25 no-nonsense Australian nurses came bustling into their environment, making things cleaner, lifting the beds off the ground, and ordering, you know, special diets and washes, and so there were fraught moments between the orderlies and the nurses as well, which goes back to the idea, you know, of women giving orders to men. At the time it was a challenge to tradition.
But the nurses grew in many ways. They discovered that they could make a huge difference to the men in conditions that women weren't normally expected to face. And they also built relationships with the soldiers. One thing the war did, is that it created opportunities for women and men to socialise in ways they weren't, at home, and the women experienced a degree of freedom on Lemnos island. And Kit began friendships with four soldiers in particular, who we follow through the book. They were relationships which really supported her through the war, and in which she supported them as well.
Ernest Raetz
So you had 25 Australian women with thousands of Australian soldiers?
Janet Butler
They were, and at one stage Kit and her very close friend, Ida Mockridge, were taken to a concert on Lemnos island, because they were there at Christmas, and they were the only women, and there were 2,500 men there. And she said they were given a great cheer when they came in. They were so appreciated. In a way, sisters in arms and sisters from home.
Ernest Raetz
So apart from them obviously doing fantastic work in saving people's lives and that, there was also a bit of a morale boosting thing there, was there? I mean, nowadays we send entertainers to entertain troops.
Janet Butler
They were, and they were helpful to the men in other ways, in that the soldiers didn't feel that they could tell the truth to their families at home in letters, because they didn't want to upset them. Some things they didn't discuss with each other, if they were frightened or worried about going back into the line, but they talked to the nurses. They could, because the nurses knew. They knew what was happening, they saw the results, and so they were able to unburden themselves to the nurses, and they could come to afternoon teas given by the Australian hospitals, where they would socialise with nurses, and experience normality. And the nurses took on that role. They saw it as part of their duty to look after the boys from home, make sure they didn't get into trouble, you know ...
Ernest Raetz
So they had this wide range of roles. Can we now go from there to her next step, which was to the Western Front?
Janet Butler
When Gallipoli was evacuated, the nurses went back briefly to Egypt, and then when the troops were sent to the Western Front, Kit's hospital was sent with them. Firstly they were put at Marseilles, which was the port in France into which all the Australian and New Zealand troops from the Middle East were pouring, in order to go further north to where the front was in France. The British were afraid. Because they had millions of people on the Western Front, they were afraid of the diseases, which had been epidemic amongst the troops in the Middle East. They were afraid that if they were brought to the Western Front, then they would decimate the troops there. So the role of Kit's hospital was to filter the troops as they came in through Marseilles. It took a week to get from Cairo to Marseilles, so diseases such as small pox, and diphtheria and typhoid would show themselves, and so they would be isolated at Kit's hospital while they were cured. They actually caught three cases of typhus, which was the disease they most feared. It was spread by lice and it would have just gone through the Western Front like wildfire.
She arrived in April. In June the preparations were well ahead for the operations on the Somme. The Australian hospitals had gone overseas with a very large number of nurses who were fully trained. The British hospitals operated on a slightly different system. They had trained nurses who were supported by semi-trained nurses, voluntary aid detachments. They were always short of nurses and when they saw the amount of trained nurses the Australian hospitals had, they asked if they could borrow them to reinforce the British hospitals closer to the front. And Kit was one of the nurses chosen.
She went up to Wimereux, which was a village outside Boulogne, where there was a large number of thousand bed hospitals. She was placed in a British hospital, the number 8 stationary hospital, for the beginning of the Somme. It was an unusual hospital, in that it had a number of specialities, and one of them was that all severely wounded soldiers of the enemy, who were captured, were sent to this particular hospital. You can see in Kit's diary the shock of the sight of those wounded flooding in, of the kinds of wounds there were because these nurses had only seen gunshot wounds and illness up until now. These were high velocity shell wounds. People were coming in, sometimes with ten wounds in an individual man.
Kit's entry for the first day, in which they flooded in to her hospital, you could see the shock. She had no grammar, the sentences just ran on to one another, she didn't have a break, all day. Today that kind of ward with severe injuries, would have one nurse to four patients, and they would also have the advice of a nurse educator. Kit was alone in that ward with forty severely wounded men. She said on one particular day, she had eleven men who'd lost their legs, she had another set who'd lost their arms and she said there were head wounds and chest wounds galore. She actually said there was one wound so bad that she could actually see the man's heart beating. So that's the level of wounds that were coming in on the Somme.
Ernest Raetz
Was it unusual for the nurses to have been in those sorts of situations? I mean, how many Australian nurses would have actually faced that extreme trauma type?
Janet Butler
It was very rare. One of the nurses that Kit nursed with, Olive Haynes, she reminisced about her training at the Adelaide Hospital, and she said if they admitted more than one accident in a night, they thought they were killed. And here they were, admitting forty at once, who were severely wounded.
The other thing that was happening was that the fields of northern France were heavily manured and they'd been manured for centuries, which means that when the shell pieces went into people's bodies, they brought in a cocktail of toxins, and one of the things that occurred was that the soldiers got something called gas gangrene. It moved rapidly through an infected limb. If it wasn't amputated within 24 hours, the man would lose his life. And it's the sort of thing that was only ever seen if somebody was run over by a motor bus or something. It was very rare and they had to abandon a lot of the methods that they had trained in. They were trained in aseptic surgery, which meant that it was germ-free surgery, but it became a nonsense on the Western Front because everyone was infected. So they had to go back to the old pre-antiseptic days of draining wounds, and excising them and it was a very different set of skills that they had to pick up again.
Ernest Raetz
So this experience then stood her in obviously very good stead for her next and I think it was, her final stage of her career as a nurse, in Britain. Can you tell us a bit about what she did over there? I mean, it was very unusual – I think you said she was the first Australian nurse. Is that right?
Janet Butler
She was, she was the first Australian plastic surgery nurse. Prior to that, and after the Germans, she actually was sent up to the front line to what we would look at as a MASH unit. It was a casualty clearing station during the battle of Passchendaele. And Kit was in charge of the operating theatres there, where men were coming straight off the front line, still in their khaki.
At the end of 1917, after that stint, she went on leave to England. They had it as their policy that if a nurse looked exhausted and Kit had been at war for two and a half years by this stage, that they were kept in England. And Kit was worth her weight in gold really, to the hospitals in England, because at that stage, not every nurse was trained in operating theatre techniques, not every nurse felt they could do it either. It held a lot of fear for them. And so at the first hospital Kit was at, she was immediately put into the operating theatres and from then, she was recruited to go to a hospital in Sidcup. This was a special hospital, a facial and jaw hospital, which was set up to deal with the facial injuries which were coming from the Western Front. And of course the face of a soldier's completely unprotected, so they began to develop what we now know as plastic surgery. Because every nation's soldiers had similar injuries, they gave a wing to each of the Commonwealth countries. Sir Henry Newland was in charge of Australia's. And Kit went to work with him in the operating theatres. Five nurses eventually went there and Kit was the first Australian plastic surgery nurse, really in the infancy of it as a speciality.
Ernest Raetz
This is a remarkable story. All this came out from the fact that when you were a little girl – how old were you when you first read these names on the cemetery memorial?
Janet Butler
Probably about ten. It's probably what made me choose history, to become a historian. That moment of looking at that name on the monument and wondering about the story that was behind it. And of course every name, on every monument, has a similar story behind it.
Ernest Raetz
Why did you pick that name? Why did you decide to follow her?
Janet Butler
I think it was because there were two nurses on the monument, and they turned out to be cousins. But they were out of order. The soldiers were in alphabetical order on the memorial gates, but down the bottom, and out of alphabetical order, were the two women who went. Because it was such a small town when I was a child, I could imagine what it would have been like in 1915, when this nurse went overseas to France and the idea of it just wouldn't let me go. I know that we know what it means as a nation to us, that our soldiers went overseas, but what I wanted to know, is what it meant to Kit. What happened to her over there? What did she do? What effect did it have on her and what was it like to come back afterwards? To this tiny town. After being overseas at the Western Front. So that's what started.
Ernest Raetz
So what was it like for her when she came back?
Janet Butler
I think she was quite changed by the experience. She was, like most of the nurses, in poor health. She'd lost two stone. I remember speaking to a lady who had actually seen Kit and her cousin come home from the war, and she told me that it was the general consensus that they were done women. They'd given their health, really, for their country. She was unusual in that she married. The nurses were older than the soldiers, because they had already trained and they had three years training. They usually had experience. So they came back older than the soldiers. They had to be single as well, so they came back unmarried. And they came back to an Australia that was denuded of men. She married her childhood sweetheart, really.
Ernest Raetz
So she didn't go and use this plastic surgery experience in Australia?
Janet Butler
No. Some nurses stayed in the system, but I think one of the things that happened is that the nurses really – I know that Kit was suffering really from post-traumatic stress. You could see it in the diary. And I remember reading one nurse's diary where she said that they'd seen enough of blood. And a lot of them left nursing.
The nurses were very self-effacing too. That was part of the expectation of women and nurses at the time. And they just faded quietly back into the community. There was no fanfare. The nurses that did stay nursing became the nurse leaders of the next generation, encouraging the nurses who went to the Second World War. But Kit married. She never nursed again. She looked after the children and people who were ill in the small town where she lived, because the nearest doctor was seven miles away in Werribee, and I remember somebody saying you did what she told you to.
Ernest Raetz
That was Dr Janet Butler, author of Kitty's War. That's all the time we have today for the La Trobe University podcast. If you have any questions, comments or feedback about this podcast, or any other, then send us an email at podcast@latrobe.edu.au.