About Research Week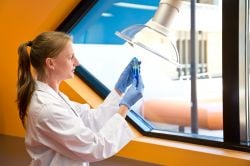 Research Week is an opportunity for La Trobe University to celebrate and share its research excellence with our communities, networks and partners.
The activities of Research Week include:
Lunch time talks
Join our researchers to hear about their ground-breaking research.
3MT University Championship
Our annual Three Minute Thesis Competition (3MT) will be part of Research Week and is scheduled for 30 August.
Research Showcase
A Research Showcase celebrating our industry partnerships will be held on 31 August at 5.15 pm at the John Scott Meeting House. Researchers, including graduate researchers are encouraged to participate and display posters on their research industry initiatives. This will be an excellent opportunity to showcase the diversity of our work and also the impact it creates on the community. It is also an opportunity to invite your industry partners, for an evening of celebration and for us to say thank you.
Register for the Research Showcase
Please note the cost of printing the posters will be borne by the Research Showcase.