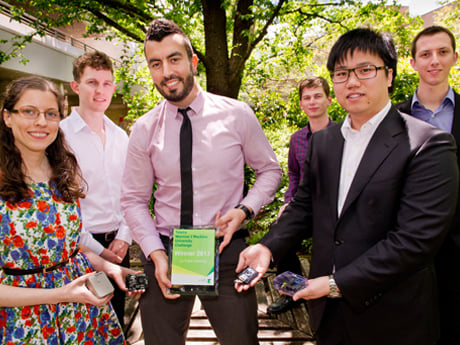 The Challenge is a 10-week competition which encouraged students to design an innovative product, using Telstra's NextG communication network, that changes the way people live.
The members of the La Trobe team, Aiden Nibali, Adrian Clark, Michael Jenkins, Alice Beckett, and team captain Siwit Techathawiekul tied for first prize with the University of Sydney after developing a new home monitoring system called the Home Guardian.
The system implements an ingenious way of using wide-angle motion sensors to be installed in the houses of people – mainly the elderly and those with a disability - who are living on their own and need monitoring.
With a non-intrusive technology, and no need for manual input in a case of emergency, the device can be set up to notify relatives if something is amiss, i.e. no movement being detected throughout the home.
'As a group, we came up with a few ideas for the challenge. In the end, we came up with something that many of us had personal experiences in,' team captain Siwit Techathawiekul said.
'We know elderly people in our lives, like our grandparents, and in a case of emergency, their only option was to push a button. But, when in panic and in pain, people are not really thinking about pushing buttons.'
'I had a neighbour who lived on his own, and it was only when he missed a doctor's appointment that anyone found out that he died. It was so sad that something like that could happen across the street from me,' team member Alice Beckett said.
Armed with only a small budget, each member utilised their personal skills and time to contribute, including specific market research, project management and engineering skills. Siwit, who has worked as a project manager, dealt with the management aspects. Adrian, who has studied multimedia production, created a video to present the product to the judges.
Evelyn Formica, School Manager, Planning & Operations, of the School of Engineering and Mathematical Sciences, said this is a showcase of the diverse skills of the students.
'Our team undertook all the product development, business planning, costing and marketing themselves. What a powerful and convincing demonstration to an organisation such as Telstra that our students are multi skilled and industry ready,' she said.
'Our students are taught to think outside the square. They have clearly demonstrated the ability to develop an innovative solution from the inception of the idea to a functional product,' Eddie Custovic, the La Trobe team project coordinator, said.
The judging panel consisted of an innovation expert, a machine to machine specialist, commercialisation director and executives within the Telstra Corporation.
Telstra's Executive Director of Networks, Mike Wright, was extremely impressed with the La Trobe team's diverse skill set and said that the students had all of the relevant attributes to become great Engineers at Telstra.
The La Trobe team was supported by Mr Eddie Custovic, Mr George Alexander and Mr Brian Bienvenu from the School of Engineering and Mathematical Sciences.
Media contact
Tito Ambyo, Faculty of Science, Technology and Engineering: T 03 9479 2199 | E T.Ambyo@latrobe.edu.au