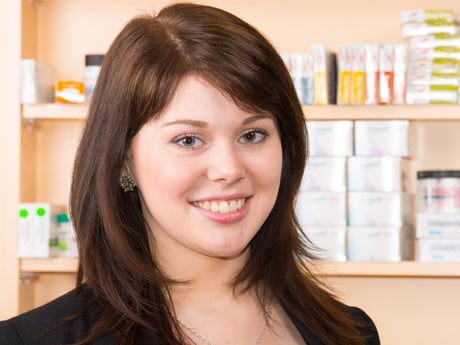 In a first for both the University – and for Victoria – Ms Boschert won the national Pharmacy Student of the Year contest at the Pharmacy Australia Congress held in Brisbane last weekend.
Not only did she impress the judges to beat her seven interstate rivals for the number one spot, but she also took out the People's Choice Award.
National President of the Pharmaceutical Society of Australia (PSA), Mr Grant Kardachi, said Ms Boschert 'was a standout in a field of very impressive candidates'.
The PSA is the industry's peak professional body. It represents the nation's 25,000 pharmacists and has been running the annual student contest for the past ten years.
Acting Executive Dean of Science, Technology and Engineering, Dr Elizabeth Johnson, congratulated Ms Boschert on her success and for bringing home the top award for Victoria and La Trobe.
'It's a wonderful endorsement of the University's pharmacy degree and our pharmacy team,' she said.
Ms Boschert, from Ballarat, will start her 12 months intern program at the Royal Melbourne Hospital next year after which she hopes to return to regional Victoria to work as a pharmacist.
Head of the La Trobe Pharmacy School, Dr Michael Angove, said Ms Boschert's win builds on the terrific success La Trobe students have achieved in State competitions for many years.
She and another La Trobe pharmacy student, Amy Waldron, won both first and second place in this year's State finals in August.
'La Trobe pharmacy students have won six state championships over the past seven years,' Dr Angove said. 'So it's very exciting for her and for the University to win the national titles.'
Ms Boschert is a final year Bachelor of Pharmacy Honours student on La Trobe's Bendigo Campus. She said the contest judges students on how they interact, assess and communicate with patients under pressure.
'I had four minutes to work out that my patient's request wasn't the right choice, and to reassess his needs and provide counselling.'
La Trobe's pharmacy course focuses on patient-centred care and clear communication.
'Training of that sort is essential to succeed in this competition, and absolutely vital if I'm to be a good pharmacist,' Ms Boschert said.
She will use her prize winnings to attend a professional international conference next year.
Media contact
For more information and interviews with Ms Boschert, please contact: Ernest Raetz, Media and Communications, on 0412 261 919 or email e.raetz@latrobe.edu.au