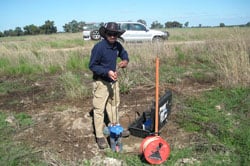 Associate Professor John Webb, who is leading the project, and PhD candidate Sanjeeva Manamperi found that groundwater reserves severely depleted by 10 years of drought in the Northern Victoria Loddon Catchment were recharged only 12 months after the 2011 flood.
Dr Webb said that 'this is welcome news as climate change is still a major concern to the agriculture sector across Northern Victoria.
But it is of some consolation that even with the occurrence of intense weather events like drought, we will also see extreme flooding which will potentially recharge depleted groundwater and counteract the impact of drought on the water reserves'.
Groundwater, located in rock crevices or between particles of the soil, is the largest freshwater reserve in the world and a major source of irrigation which is critical to energy and food production.
Dr Webb said that groundwater management was restrictive but justified during the last drought in Victoria.
'We have also found that farmers are now more water efficient, so we are optimistic that we will be able to preserve this resource in the years to come'.
'As long as water management is conservative, then groundwater reserves may keep up with the demands on the agriculture sector, even with the growing population and the possibility of Australia becoming the Asian food bowl'.
'With dwindling reserves around the world, this research could bring some hope to the agriculture sector not only in Australia but around the world as we enter a new climate age,' said Dr Webb.
However, Mr Manamperi suggests that with extreme flooding also comes the possibility of increased groundwater salinity, which is a threat to crop quality and production.
Mr Manamperi will present his research findings after the completion of the project to Goulburn-Murray Water and the Department of Sustainability and Environment.
'This information will be relevant to the groundwater licensing authorities, and all local land users who are currently facing management issues, due to these unpredicted changes in groundwater levels,' said Mr Manamperi.
The final step of this project will be developing groundwater models based on different climate change scenarios and to help manage groundwater reserves.
Contact:
Dr John Webb
T: +61 3 9479 1273 | e: John.Webb@latrobe.edu.au
Dian Lipiarski
Media and Communications Officer
T: +61 3 9479 5353 | e: d.lipiarski@latrobe.edu.au