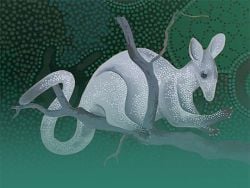 The Gecko Ed Program, which is a La Trobe University and Bendigo Senior Secondary College (BSSC) collaboration, has won the highly acclaimed Victorian Aboriginal Education Association's Wurreker Award.
La Trobe lecturer, Bruce Pridham said that under the program BSSC Indigenous students attended a cultural camp with Taungurong Indigenous community members from the Goulburn Valley at Camp Jungai in Thornton. They then had contact throughout the year with members of the local Dja Dja Wurrung clan.
'This is an important and effective program that helps ensure more local Indigenous students consider going to university,' Mr Pridham said.
'The cultural camp in first semester forms the foundation of second semester activities, when BSSC's Indigenous students develop and present a 20 minute cultural workshop based on their own cultural knowledge. La Trobe third year pre-service teachers act as mentors to guide them through the process.
'Since the project began in 2010, we have established valuable links between University students and Indigenous students at BSSC. Through the Gecko project, we have also been able to improve the transmission of local Indigenous culture into primary schools, where there had previously been little Indigenous contact and resources.
'Community Elders have been able to engage in cultural practice by being directly involved in the cultural education of Aboriginal students,' he said.
Acting Director, Bendigo Campus Robert Stephenson has extended warm congratulations to everyone involved in the 'fantastic program.'
'The Gecko project supports our BSSC Indigenous students to take a leadership role and provides self-esteem and pride in their cultural identity. The contribution of La Trobe University third year pre-service teachers to Gecko is an integral part of the project,' said Mr Stephenson.
'The La Trobe students also increase their own understanding and appreciation of Aboriginal culture. BSSC students act as ambassadors for Aboriginal culture in the community at large with the mentoring support from La Trobe students in educationally sharing with the primary school sector.'
The program was developed by Mr Pridham, a lecturer in vocational education and applied learning, in partnership with Heather Jones from BSSC, members of the Bendigo Local Aboriginal Education Consultative Group and Indigenous community members.
Mr Pridham also worked with Kym Walker, coordinator of the Jimbeyer Boondjhil Indigenous Unit at La Trobe University.
Media enquiries
Bruce Pridham, T 03 5444 7306, M 0407 045 683 E b.pridham@latrobe.edu.au
or Zerin Knight, Media Liaison, T 03 5444 7375, M 0428 463 161 E z.knight@latrobe.edu.au