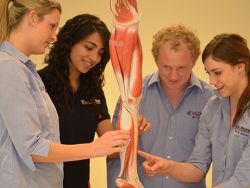 The first cohort of podiatry and speech pathology students from the innovative La Trobe Rural Health School in Bendigo are about to graduate and will soon be hard at work in clinics across the country.

Twenty-five speech pathology students will come together for one last seminar on Friday 25 October at the La Trobe University Clinical Teaching Building in Arnold Street from 9am-1pm.

Podiatry students will mark the milestone on Tuesday 29 October from 5pm in the new lecture theatre on the Flora Hill campus, Bendigo.

La Trobe University Vice-Chancellor, Professor John Dewar congratulated the students and staff on their hard work.

'The multi-million dollar La Trobe Rural Health School at Bendigo is home to some of Victoria's newest and best health education facilities. The campus is central to the University's commitment to train the next generation of health professionals for the region and part of our commitment to make Bendigo a University City,' Professor Dewar said.

The La Trobe Rural Health School commenced the podiatry course in 2010. It has grown from strength to strength since then, with more than 80 students currently studying - and demand for next year's enrolments is likely to be the highest yet.

The course is unique, with an emphasis on extensive practical training and use of the latest curriculum design.

Students from both disciplines are busy applying for jobs in regional Victoria and further afield said Associate Professor of Speech Pathology and Speech Pathology Course Coordinator, Dr Bernice Mathisen.
Dr Mathisen said the occasion was a positive change of culture for the region.

'We have a committed and ready addition to our local workforce in our 25 graduating speech pathologists. These students come from the region and will significantly improve the access and availability of speech services in rural Victoria,' Dr Mathisen said.
Senior Lecturer in Podiatry Dr Byron Perrin, says it was a momentous occasion for both the students and LRHS.

'We have received excellent feedback from our clinical placement partners who say that our students are enthusiastic, independent and fit in well with their clinical placements which put them in good stead to be the best podiatrists they can be immediately on graduation,' said Mr Perrin.

ENDS

Media enquiries:
Zerin Knight, Media Liaison, T 03 5444 7375, M 0428 463 161 E z.knight@latrobe.edu.au