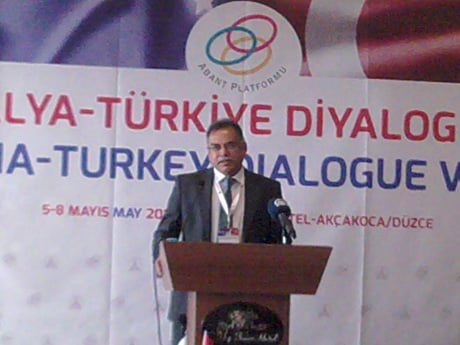 Sponsored by La Trobe University's Centre for Dialogue and the Journalist and Writers Foundation in Turkey, the dialogue aims to lay the foundations of a relationship between scholars, policy makers and opinion leaders.
Dr Michἀlis S. Michael, The Centre for Dialogue deputy director, said: 'The focus of the first dialogue is the role of Turkey and Australia as responsible middle powers in the wider Middle East and how both countries deal with cultural diversity.'
The dialogue coincides with news that the PKK is set to withdraw from Turkey from May 8 after three decades of fighting that has claimed about 400,000 lives.
Dr Michael said the impact on Turkey would be enormous especially if the withdrawal was sustained.
'There have been many announcements of ceasefires before but each has failed and there is a chance that the ceasefire could be violated either by rogue PKK elements or an over-reaction by the Turkish military reaction to Kurdish youth protests,' he added.
He said that the move from a war agenda to a peace agenda would be slow.
'Peace needs to be stimulated by socio-economic incentives as well as by practical everyday signs that the peace accord is working and improving lives.'
Dr Michael said it was critical to find ways of promoting the wider importance of dialogue between cultures, countries, religions and civilizations.
'This is the benefit of dialogue-centred engagement: it can inform the domestic and foreign policies of the two countries, including the prospect for bilateral and multilateral initiatives between government, academic institutions, and civil society.'
The Australia-Turkey Dialogue will also consider the significance and meaning of the centenary of the Gallipoli campaign in 2015 and the possibility for collaborative projects.
Media enquiries:

Dr Michael is available for interview through Penny Underwood on (03) 9818 8540.

Pictured top: Professor Alberto Gomes, Director of the Centre for Dialogue