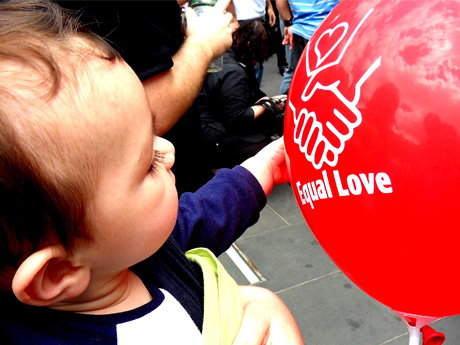 The guidelines provide information for healthcare professionals about same-sex parented families and the ways in which service providers can ensure that their practice is inclusive of these families.
They will be officially launched at The Bouverie Centre, Victoria's Family Institute at La Trobe University, by Jerril Rechter, CEO of VicHealth. Victorian Shadow Minister for Health and Mental Health, Gavin Jennings, and the Victorian Shadow Minister for Health Promotion and Women, Danielle Green, will also be attending the launch.
The guidelines were designed by La Trobe University researchers at The Bouverie Centre to fill a gap in the expertise of mainstream health care services providers. Many were ill-equipped to respond to the needs of lesbian, gay, bisexual and transgendered clients who have children.
Lead researcher Dr Jennifer Power said that there has been an overwhelming response to the guidelines within the sector. The Bouverie Centre has been inundated with requests for training from maternal and child health services, fertility services, midwives and other healthcare providers and relationship counsellors.
More than 100 healthcare professionals have already registered to attend the launch and 50 will stay on for a training event to be held on the same day.
'Our research with same-sex parents and health care service providers showed that while instances of overt discrimination and homophobia were rare, it was not uncommon to encounter service providers who felt uncomfortable or challenged working with same-sex parents,' says Dr Power.

'Service providers felt unprepared when working with same-sex parents due to lack of knowledge about these families, and many were scared of saying the wrong thing.'
'In recent years, there has been a "gay-by boom", with changing cultural norms and simpler access to fertility or surrogacy services making parenthood a reality for many gay men and lesbians,' says Dr Power.
According to the Australian census, 22% of lesbian couples and 3% of gay male couples had children living with them at home.
'It is obvious there is a need for this type of education and training so that key service providers, particularly in relation to health, are informed and comfortable when working with same-sex parents and are thus able to offer support to all of their clients,' says Dr Power.
The launch of the guidelines takes place during Pride Week, an event at La Trobe University that aims to increase the sense of inclusiveness and solidarity with GLBTI students on campus, demonstrating that all members of the student and staff community are welcome and valued.
The media are invited to attend the launch of the guidelines at The Bouverie Centre.
What? Launch of 'Guidelines for healthcare providers working with same-sex parented families'.
When? Tuesday 26 March 2013, 9.00-10.30am
; Media opportunities 9.00-9.30am.
Where? The Bouverie Centre, 8 Gardiner Street, Brunswick
For media enquiries please contact:
Dr Jennifer Power
The Bouverie Centre
T +61 3 9385 5131 | E Jennifer.power@latrobe.edu.au
Suzi Macbeth
Communications Officer
T +61 3 9479 5353 | E s.macbeth@latrobe.edu.au

ENDS