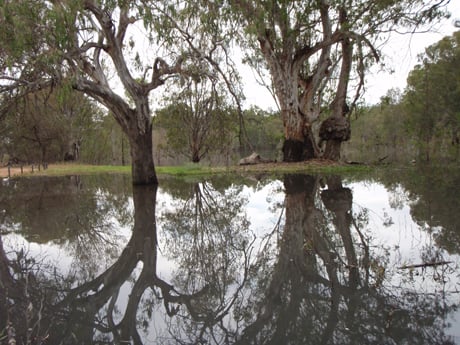 Dr Janice Kerr, who was a student at the Campus from 2006 to 2011, conducted research into organic carbon in freshwater systems, demonstrating scientifically for the first time the important role of fungi in wetlands.
Her work was supervised by Dr Phil Suter from La Trobe University and Drs Gavin Rees and Darren Baldwin from the Murray-Darling Freshwater Research Centre (MDFRC).
PLOS ONE, published by the Public Library of Science in the US, is a highly ranked and very prestigious online scientific journal, with a rigorous review process.
Professor Brian McGaw, Executive Dean of the Faculty of Science, Technology and Engineering, says that publishing research in PLOS ONE is a major achievement, particularly for research arising out of a PhD.
'Dr Kerr's research and the successful publication in PLOS ONE highlights the high quality of the freshwater ecological research being undertaken at MDFRC in partnership with La Trobe's Albury-Wodonga Campus,' says Professor McGaw.
The research revealed that aquatic fungi are capable of breaking down the woody tissue of leaves that enter freshwater rivers and billabongs, allowing the carbon stored in this tissue to re-enter the aquatic carbon cycle. Carbon plays a critical role in a freshwater ecosystem, as it provides energy storage and allows energy transfer between organisms.
The research involved use of the Australian Synchrotron in Melbourne. The Synchrotron is the largest stand-alone piece of scientific infrastructure in the southern hemisphere.
Dr Ewen Silvester (La Trobe University), who was a co-author in the research and principal investigator of the Synchrotron study, says that scientists had long believed that fungi play an important role in the aquatic carbon cycle, but it had never before been directly observed.
While there are a number of different decomposer groups in a freshwater system breaking down plant material, fungi is one of the few groups that can break down woody tissue.
Dr Kerr began working at MDFRC in 2002 and then undertook her PhD in the Department of Environmental Management and Ecology, while continuing to teach undergraduate students.
She currently holds a postdoctoral research position at the University of Queensland. She is now investigating the effects of discharging saline water that has been used to wash coal into freshwater streams.
'I am really pleased that this work has been published in a prestigious journal after the enormous amount of work that has been put into it over several years,' says Dr Kerr.
'I was very fortunate to have worked in a very supportive environment at the Albury-Wodonga Campus, and I feel this is very much the product of teamwork. Much of the credit for this work belongs to my co-authors, particularly Dr Silvester, and technical staff at La Trobe University, MDFRC and the Australian Synchrotron.'
The full article is available free online at PLOS ONE.
ENDS
Media contact
Suzi Macbeth
Media and Communications Officer
T
+ 61 3 9479 5353 |
E
s.macbeth@latrobe.edu.au