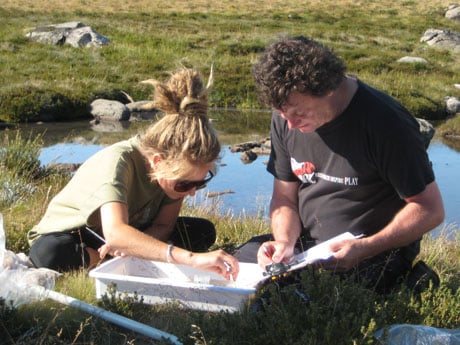 Students from La Trobe University's Albury-Wodonga and Melbourne campuses have recently returned from a week-long Alpine Ecology field trip to Falls Creek. The trip is the culmination of a nine-week intensive subject that is conducted mostly online over the summer break.
In groups, students embark on projects looking at different parts of the alpine ecosystem, and in doing so have the potential to contribute in a meaningful way to scientific knowledge of the area.
'While sampling in the alpine peatlands, we found an adult male of an undescribed aquatic scorpionfly,' says Dr Phil Suter, who is a freshwater biologist and ran the aquatic invertebrate project with a group of five students on this year's field trip.
'The more samples the students take, the more new species we find, which highlights our relatively poor understanding of the biodiversity of the Australian Alps.'
Dr Suter says that in the course of his research he has collected juvenile scorpionflies, but never an adult. Another project group run by Dr. Alexei Rowles investigated terrestrial invertebrates, and in the process found a millipede that has never before been recorded in the Alps.
This is the second year that the Alpine Ecology field trip has been held, and Subject Coordinator Dr Dennis Black says that it provides students with an opportunity to experience environmental science firsthand – something that's difficult to achieve in a lecture theatre or laboratory.
'We look at a range of different habitats here in the alpine environment, and we also use a wide range of field techniques so that the students become familiar with all the different things you can do up here scientifically,' says Dr Black.
International student Charlotte Klempin said that she had enjoyed collaborating in her group to design a project plan, to ensure that they got the most out of the data collected during the fieldwork.
'It's been great to have the chance to go into the high country and see the abundance of species. Each pool or microhabitat is so different from the others,' said Ms Klempin.

For media enquiries and photos, contact:
Suzi Macbeth
Communications Officer
T
03 9479 5353 |
E
s.macbeth@latrobe.edu.au