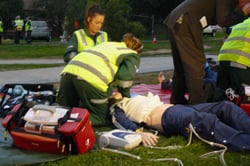 A team of paramedicine experts from Britain and Australia conducted a study of different types and brands of instruments used in a procedure known as tracheal intubation, for patients who have stopped breathing.
The researchers sought to identify which methods and brands were most effective when used in conditions unique to those that paramedics face when performing tracheal intubations in patients who had stopped or were having difficulty in breathing.
Research team member and recently appointed lecturer in paramedicine at La Trobe University, Mr David Lighton, said paramedics face different issues when treating patients with blocked airways to those facing other health workers.
Mr Lighton said that most health professionals work in controlled medical environments such as hospitals. He said that paramedics face unique challenges in administering health care as they are generally operating in uncontrolled and unknown environments.
'Advancing a flimsy breathing tube past the narrow and sensitive tissues of the vocal cord in a patient with breathing difficulties is tricky. So we use a hand held device called a laryngoscope. The laryngoscope is fitted with a light or camera for extra visibility. But the procedure can still be very hard to administer if there are obstacles such as a swollen tongue or airway,' said Mr Lighton.
The research team tested three instruments to ascertain the most effective equipment available to paramedics. These were stylets, disposable bougies and reusable bougies.
'On the one hand you have reusable and disposable bougies which are long, thin and flexible and which help to find a safe pathway down the throat and into the opening of the lungs. Some brands of bougies are more flexible than others,' said Mr Lighton.
'On the other hand you have stylets, which perform the same role as bougies but which are much more rigid.'
The researchers asked experienced paramedics to perform the procedure on manikins with swollen tongues and neck braces that bent the airway at an inconvenient angle.
'We found that stylets are more effective than bougies and that single use bougies are more effective than reusable bougies,' said Mr Lighton.
The researchers were surprised when their research showed that the disposable bougies got better results than their reusable counterparts.
'That goes against common sense. You would think that something that was designed for multiple usages would be more effective,' added Mr Lighton.
Mr Lighton hopes that this information can be used by ambulance services to purchase the best equipment possible.
The research paper, 'Comparison of malleable stylet and reusable and disposable bougies by paramedics in a simulated difficult intubation,' has been published by British Medical Journal Anaesthesia.
ENDS

Media enquiries
Zerin Knight, Ph (03) 5444 7375 F (03) 5444 7526 M 0428 463 161 E z.knight@latrobe.edu.au
Tom O'Callaghan, Ph (03) 5444 7415 F (03) 5444 7526 M 0408 900 469 E T.OCallaghan@latrobe.edu.au