Mildura LRHS accommodation opens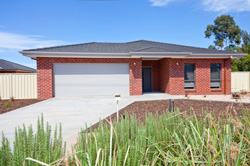 The Mildura accommodation form part of the $75.9 million La Trobe Rural Health School project funding, of which $59.5 million is being funded by the Federal Government's from the Education Investment Fund.
The accommodation provides much needed residential support for students who are studying in rural and regional areas to access ongoing studies. There will be a total of 86 student beds located in Melton, Mildura, Echuca, Shepparton and Wodonga. The recent completion of the Mildura project has seen the creation of 20 student beds.
The student accommodation provides safe, quality accommodation that will support students' ability to gain a broad range of experience in regional health and human service organisations.
The new residential accommodation will make it easier for people to study at a regional health service and there is evidence that a majority of these students will then stay in rural locations when they qualify.
The La Trobe Rural Health School has been established to drive the future of health education in Northern Victoria. The vision for the new La Trobe Rural Health School is to provide theoretical and clinical learning to students in the disciplines of nursing and midwifery, dentistry, oral health, human biosciences, physiotherapy, occupational therapy, podiatry, speech pathology, paramedic practice, health sciences and social work. Students are focusing on real life situations from which they will gain the knowledge and skills necessary to be work-ready professionals.
The School is integrating health education across multiple campuses, health agencies and has close relationships with Bendigo Health, TAFEs and Monash University. Up to 750 additional student places are being offered, resulting in an extra 200 graduates each year, providing crucial healthcare cover across rural Victoria.
For more information or to arrange an interview please contact:
Meghan Lodwick
La Trobe University Communications Officer
T: 03 9479 5353 M: 0418 495 941 E: M.Lodwick@latrobe.edu.au