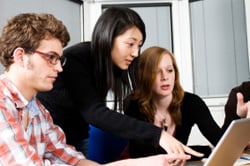 Next week the latest cohort of people will become 'students'- some for the first time in decades- and begin an award winning program run by La Trobe University across regional Victoria and in partnership with Bendigo TAFE in Bendigo.
The City of Greater Bendigo's economic profile - published in Which Industries Employ People - reveals that since 2006 there has been a marked increase in demand for jobs such as health care, financial services and education and training that typically require job applicants to be tertiary qualified.
The Tertiary Enabling Program (TEP) begins on 31 July in Bendigo and runs two days a week for 18 weeks. It is designed to give people without any qualifications the chance to acquire the foundation skills to successfully complete further study or university.
TEP Academic Coordinator Bernadette Bennett - who has run the program for the past two decades in Albury-Wodonga and has taught every student that has been through it - said the program is an excellent opportunity for people to increase their life options, with educational qualifications opening up many career opportunities.
'You don't need to have finished high school or studied recently to be eligible to join the TEP. This course is designed to equip people with the skills to complete further education successfully. They will start their studies very well prepared,' said Ms Bennett.
'The Tertiary Enabling Program provides a wonderful supportive learning environment for people from all walks of life and gives them critical learning and academic skills that help them choose new life pathways that require an education.
'The biggest personal reward for me is seeing students thrive at learning, often for the first time, making choices about their next study options after completing TEP and then seeing them successfully graduate and hearing about how the experience has changed their lives.
Despite the increasing success rates of apprenticeships, traineeships and a drop in unemployment across Victoria, these figures confirm that tertiary qualifications are still highly sought after in regional areas.
For many it's a big step towards a complete career change, equipping them to make different choices.
Linda, a student from regional Victoria, will be starting the TEP in July. She says participating in this program is about personal empowerment and gaining a rewarding career.
'After 30 years of suffering jobs I really hated, I took the opportunity to join the TEP because I'm confident it will change my life and help me achieve my goals,' she says.
Completing the TEP can be a guaranteed pathway for gaining entry to some La Trobe University degrees depending on the student's interests and success in the TEP.
Past students from the program in Albury-Wodonga, where the TEP has been offered for 20 years, are now engaged in study or a wide variety of careers such as social work, nursing, accounting and environmental science. They went on from the TEP to study at University or TAFE depending on their interests and consistently describe the Tertiary Enabling Program as a life changing first step.
Anyone over 18 can apply to be a part of the TEP says Bernadette. It is a great opportunity for people who want to learn and develop skills and would benefit from a supportive environment.
There are a few places remaining for the next group and spots are filling fast. Anyone interested in joining should apply now.
For more information about how to apply for this course please call Meg Lithgow at La Trobe, Bendigo on (03) 5444 7744.
ENDS

Media enquiries

Fiona Elgin,
Ph
(02) 6024 9784,
M
0403 774 390
E
f.elgin@latrobe.edu.au
Zerin Knight,
Ph
(03) 5444 7375
F
+613 5444 7526
M
0428 463 161
E
z.knight@latrobe.edu.au