1412/2011
Islamic finance makes its mark
Islamic finance makes its mark
14 Dec 2011
May 5 - 6 saw the Sofitel Mebourne host the Inaugural Arab Business Forum and Expo. Guests included delegations from Arab nations, sponsors and local supporters who attended the event that was aimed at promoting and assisting business trade between Australia and Arab countries.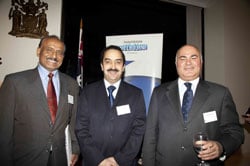 The two day Expo showcased a variety of industry experts who spoke in relation to business opportunities post-GFC. La Trobe University's Dr Ishaq Bhatti from the School of Economics and Finance was joined by Melbourne Lord Mayor Robert Doyle and the Honorable Kevin Rudd MP, Federal Minister for Foreign Affairs via video message.
Over 300 VIP guests, overseas trade missions, delegates, sponsors, supporters and exhibitors attended the event and all praised the Forum and Expo's organisers led by Conference Convenor and Australia Arab Chamber of Commerce and Industry (AACCI) Director Peter Deacon for the program content, quality of presentations, exhibition and social networking functions.
'Islamic financing is a crucial plank in the Government's strategy to make Australia a financial hub in the Asia Pacific region.' stated Trade Minister Simon Crean.
'The event was the most ambitious project ever undertaken in the history of AACCI and by every measure, it achieved – and exceeded – all our expectations and strategic/business objectives,' said AACCI National Chairman Mr. Ray Najar.
'In fact the response was so overwhelming and immediate that the AACCI Board agreed and announced it would make the Australia Arab and Business Forum and Expo an annual event and Sydney will be the host for 2012.' he added.
AACCI CEO Ms. Cynthia Dearin closed the Forum and Expo by outlining three key messages for delegates to consider – Change Challenge and Opportunity.
'Australia and the countries of Middle East and North Africa are all undergoing rapid profound change and this is being reflected in social, cultural, political, demographic, legal / regulatory and trade transformation.
But in this environment of change and challenge – opportunities abound both for the economies of Middle East and North Africa and Australia. Australia has an abundance of expertise in education, manufacturing, engineering, construction, technology and science and financial services. All of which are in high demand by the countries of the Arab world.'