High achievers recognised
The efforts of La Trobe University's high achieving students will be recognised when they receive their awards at the annual Prizes and Scholarships Awards presentation on Thursday 4 August.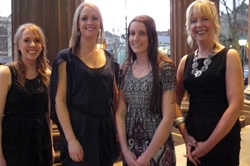 Executive Director of La Trobe University's Bendigo campus, Andrew Skewes said that 122 of the 136 recipients will be present for the awards. He said the ceremony brings a focus to many good things.

'Foremost is the generosity of donors, who contribute the funds that makes the act of giving of awards and prizes possible. These funds provide substantial benefits to our student community, easing and enabling their journey through their academic program' Mr Skewes said.

'Awards formally and publicly recognise endeavour and excellence, drawing deserved attention to the recipients of awards. All of the students we are recognising in the provision of an award or prize have demonstrated their capacity to achieve in a university environment. This is no easy task, particularly when students and their families face financial pressures which force many to combine studies with paid employment' Mr Skewes said.

Mr Skewes added that the notion of achievement extends well beyond those that will be recognised formally. He said there are over 4600 students enrolled at La Trobe Bendigo, all of whom are seeking to achieve, to better their circumstances and to make a larger contribution to the community.

'I believe that the efforts of all of our students, and their families and supporters, and the dedicated staff at La Trobe Bendigo, warrants public acknowledgement. If I can ask one thing of our community in relation to this, it would be to encourage and support this ambition for achievement in those, particularly the young, who may not see that the medium and long term benefits of a university education substantially outweigh the short term costs.

'On behalf of La Trobe University in Bendigo, congratulations to the awardees, and a deep expression of thanks to all donors.'

For Bachelor of Education student, Danica Purcell, the awards are recognition of hard work and achievement and finish off 'four long years.'

Ms Purcell will receive four awards (details below). She will enjoy a gap year that includes a trip to Europe and is considering taking up a Masters next year. Ms Purcell says the awards and scholarships represent highly regarded and valued partnerships between community organisations, local businesses, individuals and the La Trobe University community.

'Through fostering and rewarding excellence, these awards help keep local students local and in doing so, help build and sustain regional community' Ms Purcell said.

'It's partnerships like these that provide the foundations for career networking and opportunities to connect with the local community. In essence a night like the Prizes and Scholarships awards draws together a common sense of purpose - to be the best that we can be as the leaders of tomorrow following our dreams today.'

Mark Chesterfield is one of two awardees to receive the Parsons Brinckerhoff Prize as outstanding students over the four-year Bachelor of Urban, Rural and Environmental Planning course.

Mr Chesterfield has many people he'd like to acknowledge. 'I'd like to congratulate my co recipient and thank all people who have contributed to my achievements throughout my study, including Trevor Budge and other academic staff in the course.

'I'm also grateful for the friendship and support of my fellow students and family and friends external to the university.

'The uni as a whole- including the dedicated library staff and administration staff in the community planning and development program – has been great. Thanks also to Parsons Brinckerhoff for their very generous prize, which will go to furthering my studies in the Masters of Community Planning and Development.

'Lastly, I would like to send a message to others who are thinking about studying at uni as a mature age person to have a go – you never know where it will take you.'

ENDS
INTERVIEW/PHOTO OPPORTUNITY
What?
The Awards and Scholarships presentations

When?
Thursday 4 August 2011 (award recipients mentioned in this release will meet at the foyer of the Capital Theatre at 5.30pm. Ceremony commences at 6pm)

Where?
Capital Theatre, View Street, Bendigo

Media enquiries
Zerin Knight, Ph (03) 5444 7375 F +613 5444 7526 M 0428 463 161 E z.knight@latrobe.edu.au
DANICA PURCELL
DM Myers University Medal – Faculty of Education
Awarded to the outstanding undergraduate student graduating in each Faculty.
This award was inaugurated by a generous benefaction by the foundation Vice-Chancellor of the University, Dr David Milton Myers.
Dean's Medal for Academic Excellence
Awarded annually to the highest achieving undergraduate and postgraduate student in their final year before graduating at La Trobe University Bendigo campus.
La Trobe Alumni Prize
Awarded by the University to the student within the Faculty of Education who has achieved the best overall academic performance in the final year of their degree.
George Colson Memorial Award
Awarded to a student who has excelled in the Language Education component of any teacher education course.
INFO ON OTHER AWARD RECIPIENTS AVAILABLE FOR INTERVIEW/PHOTO

JOANNA CLAIRE GOLDSWORTHY (Came from Melbourne to study in Bendigo)
Dentsply Bachelor of Oral Health Science Award
Awarded annually to a final year Bachelor of Oral Health Science student who has achieved excellence in dental hygiene and health education
AND
The Victorian Dental & Oral Health Therapist Association Inc Prize
Awarded annually to a final year Bachelor of Oral Health Science student who has achieved strong academic performance, displayed outstanding clinical skills in dental therapy procedures, and demonstrated positive role model skills for other oral health students.

Comment from Joanna:
'After working as a dental assistant, I was accepted into the third year intake of the new (Bachelor of Oral Health Science) course. Coming from Melbourne, I felt Bendigo was a really good place to study because I could focus on what I was there for and, being such a new program, I was pleased with what I got out of the course. It was nice surprise because I was not aware the awards existed until I received (notification of) them in the mail.'

Joanna now works as an oral health therapist at a specialist orthodontic practice in Melbourne and for the Knox Dental Group.
ELIZABETH WINTER
Rod Fyffe Visual Arts Award
Awarded to the most outstanding Bachelor of Visual Arts (Honours) student.
Elizabeth is a printmaker who uses mixed media methods in the production of her works. She came to university for the first time as a 58-year-old mature age student. Having completed Honours, Elizabeth has embarked on her Masters degree.

Comment from Elizabeth:
'The La Trobe environment is most inviting to people unfamiliar with the process and staff and students are extremely supportive. My Honours thesis was based on symbols that swagmen used during the depression as a form of non-verbal communication. I printed those symbols onto objects from the 1930s such as kerosene tins found in the bush around Mandurang. I also created a body of work printing from 1930s household linoleum. I participated in group exhibitions in Castlemaine, Melbourne and Bendigo. Earlier this year, I was part of the La Trobe University graduate exhibition during the Castlemaine State Festival. It was an honour to win this award. It allowed me to buy good quality print materials to continue my work.'
JADE LEMMON (Came from Ballarat to study in Bendigo)
Holsworth Oral Health Bursary
Awarded annually by the Bendigo Tertiary Education Anniversary Foundation to a third year Oral Health student who has achieved excellence in second year clinical practice and displayed academic merit during the first two years of the oral health science degree.
Comment from Jade:
'I had to apply for the award so it was exciting to be held in high regard by the faculty. I completed the Bachelor of Oral Health Science and I'm working as a dental nurse in Melbourne pending my registration as an oral health therapist by APRA (Australian Prudential Regulation Authority). I want to get a broader range of experience in Melbourne then I plan to move back to a rural location.
studying here was excellent. I went back to school to improve ENTER because I was driven to get into oral health after working for four years as a dental nurse in Ballarat and Kew. It was exciting being accepted onto the course.'
MARY PATRICIA POMFRET
Meridian Prize
Awarded to the fourth year English student who submits the best long essay.
This award is for Mary's creative writing thesis entitled Women Writing in Virginia's Shadow.

Comment from Mary:
'Women Writing in Virginia's Shadow is a trilogy of stories from the point of view of women in working class Australia. I guess I started the course through a Diploma of Creative Writing and Editing at TAFE. La Trobe has an (articulation) agreement with TAFE so that if you complete the diploma you go straight into second year at the Bendigo campus. I completed my degree and did honours. I'm now completing a PhD in creative writing, so it's the ultimate progression from the TAFE diploma. My thesis explores the position of woman writers in Australia within present social circumstances and makes comparisons to Virginia Wolf's famous essay A Room of One's Own. Whilst I have been at La Trobe I have had wonderful support and encouragement from staff.'
MARK CHESTERFIELD (Quoted in the media release)
Parsons Brinckerhoff Prize
Awarded to the outstanding student over the four years of the Bachelor of Urban, Rural and Environmental Planning based on academic merit and overall achievements in the course.
ENDS