0507/2011
Climate think tank to help businesses
Climate think tank to help businesses
05 Jul 2011
The dramatic shift from long term drought to record breaking rain and flooding in northern Victoria has signalled to business leaders the need to prepare for future climatic extremes.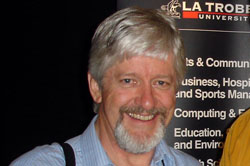 To help businesses develop adaptation plans for climatic extremes Professor John Martin from La Trobe University is facilitating a workshop entitled Regional Business Development in a Variable and Changing Climate.
The event will be held in the Business Building at La Trobe University's Edwards Road campus in Bendigo on Tuesday 12 July from 8.30am to 3pm.
With support from the Victorian Government's Centre for Climate Change Adaptation Research (VCCCAR) the workshop will first hear from the Bureau of Meteorology on the latest predictions for climate variation in north central Victoria before Murray Goulburn, Don KRC and Coliban Water outline their strategies for managing during these climatic extremes.
The workshop will provide regional businesses with the opportunity to apply the VCCCAR adaptation framework to their operations. These include dealing with immediate hazards; assessing the risks of not being prepared; knowing where you are most vulnerable; and, how to build a resilient business in the face of climatic extremes.
'Good strategic management – for any size business – is essential to deal with the shocks that come through disasters from extreme heat, storms and flooding' Professor Martin said.
'Our aim is to assist Bendigo region businesses in their planning and management about how best to adapt to these disaster events.'
The workshop is free and available to the first 45 people who confirm their attendance. Lunch and morning tea is provided. It will be held in Room 228, Business Building, La Trobe University, Gate 3 off Edwards Road (car parking via Gate 2).
To register for the workshop please call Ms Patricia Ibbotson on 03 5444 7859 or email p.ibbotson@latrobe.edu.au.

ENDS

Media enquiries

Zerin Knight, Ph (03) 5444 7375 F +613 5444 7526 M 0428 463 161 E z.knight@latrobe.edu.au