1511/2010
Students to gain from new partnership
Students to gain from new partnership
15 Nov 2010
A memorandum of understanding (MOU) between Templestowe College and La Trobe University was signed on November 15 and will create an educational partnership to benefit all students.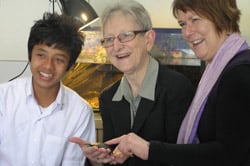 The recently appointed principal of Templestowe College, Mr Peter Hutton is confident the MOU will encourage a greater number of his students to take up tertiary studies.

'When I was appointed principal in Term 4 2009, the College was experiencing a decline in student numbers which has now been dramatically turned around with enrolments in year 7 doubling in 2011. Our college is now at an important stage of its development where we are actively supporting every student to continue their educational careers into either TAFE or University,' Mr Hutton says.

Over the next two years both parties will work together to identify other opportunities for future collaboration including:


Templestowe students will make regular campus visits to La Trobe and taking part in learning activities
Regular contact with Templestowe's Careers Adviser will ensure students in Years 10, 11 and 12 will take advantage of what's available at La Trobe
Host a combined Manningham Schools meeting at least once a year
La Trobe students will mentor Templestowe students through tutoring
Mr Hutton says that by having a close relationship with La Trobe University, Templestowe students will have a better understanding of what University life is like.
'This is what we hope can be achieved by actively taking part in programs the University has to offer and reducing the barriers where students feel that they are entering an unfamiliar environment,' he says.
La Trobe Dean of the Faculty of Education Professor Lorraine Ling believes this agreement fits well with the University's strategic plan.
'This University has a history of creating opportunities for all students, and I am delighted that La Trobe continues to serve the local community by transforming students' lives through higher education.'
'We are very proud to provide students with a supportive and challenging learning environment, where they can develop their personal and academic capabilities and skills,' Professor Ling says.
For any media enquiries please contact:
Lisa Prowling
La Trobe University Media Officer on
T:
03 9479 5517
E:
L.Prowling@latrobe.edu.au