Transcript
Melbourne Wildlife Sanctuary Tour
Download this podcast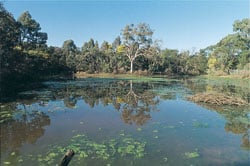 Narration:
Tucked up the back of the La Trobe University Bundoora Campus lies the Melbourne Wildlife Sanctuary. Formerly the grounds of a mental institution which was formerly part of the territory of the Aboriginal Wurundjeri tribe, it is now called home by a multitude of native animals including kangaroos, possums, a small army of frogs, an impressive assortment of vegetation, some overly friendly ants, and a ranger named Andrew Stocker.


Matt:
Coming up to the entrance now. The Wildlife Sanctuary. Now I'm locked out.

Andrew:
Hello there!

Matt:
Hello!

Andrew:
Doing some last-minute repairs on my new toy. I'll put this away.

Matt:
Oh, very nice!

Andrew:
They delivered it today.

Matt:
It hasn't got any dust on it yet!

Andrew:
No, exactly!

Matt:
Is that for here?

Andrew:
Yeah. If we ever had the money, I would...ah, that's much better. I would actually try and encourage...

Matt:
Encourage?

Andrew:
The uni to buy a fleet of these!

Matt:
And helmets, of course.

Andrew:
And helmets. Exactly.

Narration:
Electric bikes aside, Andrew is clearly someone who loves his work.

Andrew:
I've been working at the wildlife sanctuary for officially 3 years, but actually I've been involved with the place for about 5 years. I started that was a volunteer. At the end of my degree is needed to get 500 hours of volunteer experience well some sort of experience in this sort of industry to get more degree. So I started volunteering here, the more and more time I spent out here. I picked up the old casual shift doing not tourism with my kids and a lot of the staff.

Narration:
Our wildlife tour began at what finally passed for 'sunset' for a summer in Melbourne – sometime around nine pm.

Andrew:
This is pretty much a perfect night. So as I said, you can hear all the frogs.

Matt:
Yeah, I know. I heard them coming up.


Andrew:
This is fantastic, yeah. So out there I can hear Spotted Marsh Frogs and Common Eastern Froglets. So the Spotted Marsh Frogs are the ones that are sort going [makes a sound]. I can't really do it that well but [makes a sound].

Matt:
It's a bit irregular.

Andrew:
Yeah. And then Common Eastern Froglets that are the ones that are just going [makes a sound]. Just constantly like that.

Matt:
Yeah. I can pick them both out.

Andrew:
Yeah. If you get the actual pitch right, like I'm sort of sitting here going [makes a sound]. If you get the right pitch for the particular frog that's out there, like individual animal, they'll actually call back.

Matt:
OK. And you'll be followed by a randy frog.

Andrew:
That's precisely right.

Narration:
Little did I know how right I was. As the night progressed, we came across a frog called the Pobblebonk, which had a very distinctive call.

Andrew:
I used the word "bonk".

Matt:
Bonk ! Bonk!

Andrew:
Bonk! Bonk! See, then they'll start calling back.

Matt:
It's answering you.

Andrew:
Bonk! Bonk! Bonk! As long as you get the pitch right you'll have them going crazy all night.

Matt:
There you go, the frog whisperer.

Andrew:
So the area that we're actually standing in at the moment is what we call the Bruce Smith Grassland. Bruce Smith was probably the most recent what we call Assistant Ranger and he is incredibly passionate about grasslands. So everything out here is representative of the grassland species that would have occurred in Melbourne before European settlement. At this point in time you can't necessarily see them all. I mean the things like on the ground here. Well, we've got some native grasses there.

Matt:
Yeah.

Andrew:
But there's also things like Chocolate Lilies that come up at certain times of the year. During springtime, you can walk out into this area and just see different coloured wildflowers. And that's what John Batman wrote about when he first settled Melbourne. In his diaries he sort of spoke about the fantastic display of different coloured wildflowers. And that's what we've tried to replicate in this area.

Matt:
And are many of the grasses and the trees here, were they already naturally occurring here or did you have to introduce some species?

Andrew:
Everything that you see in the wildlife sanctuary has actually been put in here by people. It's a totally manmade environment except for some of the major dominant tree species that we'll see tonight. There's like any tree bigger than about three-foot in diameter would have been here originally because we're talking older than about 200 years. Anything else has actually been put in here by people in the last 40 years.

Matt:
Within the last 40 years.

Andrew:
Yup.

Andrew:
Foxes, cats, dogs, rabbits, you know. You name it. This area was sort of occupied by all of those. And over the last 40 years, I guess, that's been our major focus, is getting rid of all these pet species and then putting in all the species that should be here.

Matt:
So everything that's in here now would've been here if this was a naturally correct environment, what, six years ago?

Andrew:
Yeah, yeah. So, you know, something like this tree here, which isn't the best specimen, but it's a Golden Wattle. Acacia pycnantha. It's Victoria's...no, no, no. It's definitely Australia's floral emblem. Not Victoria's.

Matt:
It's Australia's floral emblem.

Andrew:
Yeah! So when we go overseas and compete in Olympic games and Commonwealth games and all that sort of stuff, we wear two colours, green and gold. That actually comes from the green for leaves of the Golden Wattle and gold for the flowers that sort of come out in August.

Matt:
And how many animal species to you have here?

Andrew:
Animal species, if your talking on ground say, mammals, there's probably that 5 or 6. Things like Eastern gray kangaroos, echidnas, possums, ring-tailed possums sugar gliders. So this is the range of animals that we've got.

Matt:
And what's this? Oh, it's just a bit of wood.
[Laughter]

Andrew:
Yeah. The night light plays tricks on you.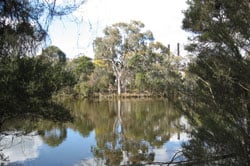 Andrew:
We've just walked past what we call the small lake, and now we're walking past the main lake of the Melbourne Wildlife Sanctuary. And these lakes were created back in the '70s as part of a natural storm water filtration process, I guess, and retardation process.

It's the first time that we know of in Australia, if not the world, where people have actually deliberately constructed wetlands to help. And you can hear that sort of water flowing through underneath our feet as we cross the bridge. And look here over the main lake. And all of this water is a result of the surrounding suburbs.

So someone had a bit of foresight in the sense that we made this sort of massy wetlands in order to slow the waterflow when we had a rain event as it moves into the campus, because this flows directly into the mud.

If we didn't have this huge body of water, we'd just have mass amounts of water flowing straight into the university mud system. And what this also does is it actually helps the water's filtration process, being a big expanse of water, expose to you, and that sort of stuff helps break down all sorts of things in the water and makes it nice and healthy.

And there's other parts of the process that we'll see as we walk around the sanctuary. And it's, yeah, kind of fantastic.

Narration:
The wildlife sanctuary has a number of purposes. The first, the provision of a safe habitat for native animals, was quite evident.

Matt:
So they are noticing boxes around the trees, so they are nesting boxes.

Andrew:
Certainly are

Matt:
That a low branch
[Laughter]

Matt:
Watch your head.

Andrew:
Not too low. Might be bit low for you. Yes, the dominant tree species in this region is called a river red gum which is Eucalyptus Camaldulensis and that actually takes about a 150 years to develop hallows and a mature red gum, one that's sort about 600 or 700 years old, they live to about a thousand years old.

A mature red gum will actually have anyway between about 20 and 30 of these hallows in it. So you know, in a hectare or acre, where you have sort of let say a hectare or you have sort of 6 or 7 dominant red gums, they are looking a lot of holes that will require to support a rout balance of animals that existed in this sort of environment.

Matt:
So if I can join the dots, because these trees are a it young, they have enough time to develop that and you are helping them along, putting boxes in.

Andrew:
Spot on. That's exactly what we are doing. So we call this the substitute habitat or the commission style housing. The five star accommodation is obviously is the natural hallow in the three.

Matt:
So, there you go they prefer nature to your boxes do they?

Andrew:
There is some.

Matt:
And do different animals have different boxes, there are requirements?

Andrew:
Certainly. A sugarglider likes a certain volume of boxes so it can nest and have young and that sort of stuff, whereas the brushtail and ringtail will have a slightly bigger box. Ducks have boxes, owls have boxes, antechinus, a tiny marsupial mouse has hollow requirements. We got probably about 15 different types of boxes out there.

And nowadays we are actually starting distributing all around Australia as substitute habitat. So the great thing that we so they started that 20 years ago just to supply the same tree with some hollows.

Narration:
The second is that it's used for education, probably not surprising given it's surroundings. Scattered around the sanctuary were a number of features that, while initially out of place, served to bring you closer to nature.

Andrew:
And on this side we've got our…

Matt:
You've got an above ground swimming pool.

Andrew:
We've got an above ground swimming pool, exactly.

Matt:
OK.

Andrew:
And this is fantastic for kids getting right up close to a wetland. To see what sort of animals live in a wetland. Here we've got a – oh! He just went down underneath. That's some sort of water spider that jumped down under there. What other things can we spot in there? Obviously, a lot of aquatic vegetation.

Matt:
Yeah, quite a lot. This looks like my pool back home.

Andrew:
There's a spider crawling up into my lens. Look at that.

Matt:
Oh, nice.

Andrew:
How cool is that web. It's interesting, most spiders will actually spin two different types of web. The ones that sort of provide the structural support will actually be quite strong and you can touch them sort of like that. Whereas the stuff in the middle that joins it is actually very, very sticky, which is the bit that catches the insect. It's fantastic. This is the sort of stuff you don't see during the day. That web will probably get destroyed during the day sometime and it'll come out and rebuild the whole thing.

Matt:
So how did he get across from…

Andrew:
Yeah, I don't know. It's so amazing.

Matt:
It's a tiny spider and it's got about a good meter and a half of web away its support. That must have been one hell of a jump and it had to do that a fair feet – it probably did it once and then ran out along that web strand. But still.

Andrew:
Yup. They're pretty clever.

Narration:
As the night progressed, the nocturnal animals slowly began to emerge.

Andrew:
Now I'm almost sure that I need to head this way. Am I instilling confidence?

Matt:
Yeah. It was the "almost" that did it.
[Laughter]

Andrew:
If you follow me over this way, you'll see it might be actually be a brushtail with a baby on its back. I thought it was a ringtail initially.

Matt:
Where?

Andrew:
Straight up on top of the tree. Yeah, brushtail possums.

Matt:
Brushtail possums.

Andrew:
Yeah.

Matt:
How did you see that?

Andrew:
Glowing eyes.

Matt:
Oh really?

Andrew:
Yup.

Matt:
See, I can't even see that. They're not looking at us so.

Andrew:
No. Well if you go there, you should be able to...

Matt:
Oh, OK.

Andrew:
Yup?

Matt:
Yup.

Andrew:
See, definitely brushtail possums and there's two of them which kind of makes me think that there's a baby sitting on the back of the mother because that's often how they transport themselves around.

Matt:
Just four eyes looking at us going, "Why are you shining a light on us?"

Andrew:
Yup.

Matt:
It does look like one of them is a lot smaller.

Andrew:
Yes. And that's actually quite unique. It's very rare that when we do a night tour that we'll actually see two brush tails in the same spot because normally they're very territorial.

Matt:
Yeah.

Andrew:
So you'll only find one every so often sort of thing. So two in a one spot to me indicates a mother and child. If we wander this way, we're kind of on a track.

Matt:
So that possum have used the box?

Andrew:
There's a couple of reasonable sized red gums in this area. I think that it would have used boxes because in this area here we do have a reasonable supply of boxes.

Matt:
Do you track how many possums you've got here, like the brush tail? Do you know how many are in…

Andrew:
At this stage we don't. However…

Matt:
You've got no way to bag and tag them or that would be a lot of work?

Andrew:
No. This is the thing, I think that what we're I guess looking forward to is the fact that this year the Zoology Department started as part of their course a requirement that students get some sort of experience in the field. And so we've had a lot of students come out to the wildlife sanctuary wanting to do stuff and so we've started a nesting box monitoring program. And we've started a pest species monitoring program.

And these are things that students are helping us with, coming up with methodologies and doing all that sort of stuff. So that in the long term, inside four or five years time, we'll have a clear indication of what we've got. And we'll have what we call baseline data that we can actually start using to lead into honours and PhD projects.

Narration:
By this time it was well and truly dark. It was hot, it was dusty, and while I blustered along with all the discretion of a monster truck, Andrew seemed to be right in his element. It was probably at around this point that I realised that the spare batteries in my pocket, for reasons I can't really fathom, had decided to start to melt. The horror slowly dawned on me that I was faced with a dilemma – I could hardly throw them away into the bush and leave them behind, but on the flip side I wanted to have children one day. I decided perhaps unwisely to keep them in my pocket, and worry about the consequences another day.

Andrew:
This is a nice big red gum, two of them at least 300 years old. And you see there in the front of this one is a scar carved out of the tree. Now, there's three trees in the wildlife sanctuary that we know that have scars in them, this one's one of them. One of them we know is definitely an aboriginal scar tree but the other two we're not 100% sure. But one day we'll get our Wurundjeri elders in here to have a bit of a look and figure out if they are. In which case they'll then go on to the heritage registry of trees that, well, regardless of whether it's a scar on it or not it shouldn't really be touched.

Matt:
And I just walked through a web. I hope that spider didn't spend too long on that.

Andrew:
There's definitely something on the ground over there. Oh, lots of…

Matt:
Lots of what? What are you seeing that I'm not?

Andrew:
I'm seeing the bright shiny eyes of wolf spiders.

Matt:
Oh, great. Where is…

Andrew:
Most of them are tucked away now but there's heaps of them over there. Oh, there's one. If you hold the torch and try and get the light in your line of sight you'll see…

Matt:
Oh, there we go!

Andrew:
See, you'll see glowing eyes.

Matt:
Little orange…

Andrew:
Yeah. And you can see them miles away.

Matt:
Yeah. He's just hanging around. He's not scared of me.

Andrew:
Yup.

Matt:
Not that I want to get too close but how big is a wolf spider?

Andrew:
They vary but a 20 cent coin, 50 cent coin. That sort of thing.

Matt:
Oh, OK. I was being worried with wolf.

Andrew:
In fact, a lot of them have like a little trapdoor mechanism. That as you approach you'll actually see them just suddenly…

Matt:
Look, there's another one.

Andrew:
…pull their trapdoor closed.

Matt:
Can you see the other one? Yeah, there's definitely two there.

Andrew:
Yeah.

Matt:
Just glowing orange. OK, so we're not going over there.
[Laughter]

Narration:
One thing that surprised me was that after being in the park for an hour by this stage, and seeing relatively few animals, to finding them all around us. While I couldn't always see all of them, I could definitely hear them, and they were more than aware of us.

Matt:
I think the frogs are talking to my shoes. Can you hear my shoes?


Andrew:
I did. I heard them and I was going to say, "Now that's the characteristic sound of a…" Did you hear that one right there?

Matt:
Yeah, I did. And that wasn't my shoe that time.

Andrew:
No. Whoa!

Matt:
Where is he? We should be able to see him.

Andrew:
It's nice. Just under here somewhere. He's a crazy sounding Pobblebonk. He sort of made a weird noise.
[Laughter]

Matt:
He is, he's answering my shoes.

Andrew:
He so is.

Matt:
Yeah. There you go.

Andrew:
So now you're the frog whisperer.
[Laughter]

Matt:
He is very close. Maybe he likes the torch on.

Andrew:
He does, he likes it a lot.

Matt:
He does.
[Laughter]

Andrew:
There he go, he likes the spotlight.

Matt:
So what sort of frogs?

Andrew:
That is a spotted marsh frog.

Matt:
Spotted marsh frog.

Andrew:
Yup. Sounds like a couple of river rocks being banged together.

Matt:
In it spotted?

Andrew:
Yes, definitely. Prominent spots all over the body.

Andrew:
That's a kangaroo.

Matt:
Oh, yup. I see him in the distance there.

Andrew:
Yeah, on the other side of the way.

Matt:
Other side.

Andrew:
Well, there's one. Oh, another one.

Matt:
Oh, hey there, Skip.

Andrew:
There's two out there.

Matt:
So what sort of kangaroos are they?


Andrew:
So they're Eastern Gray Kangaroos. I kind of think the cool thing about Easter Gray Kangaroos is that they actually regulate their population reasonably well. The females will actually pretty much their reproductive system when conditions are bad. So when you've got a prolonged drought or something like that they'll actually stop their reproductive system and you'll end up with not a large population of kangaroos.

The problem that we encounter is that longer term in our farming environments, agricultural environments, when the rain comes the farmers jump out and sell all their crops. Because that's what they should do because they need to grow crops. But then when they grow crops, kangaroos go, "Aha! More food!" And so they produce more babies. And so it's that sort of catch 22 situation where we end up with massive populations of kangaroos in farming and rural environments.

Matt:
What's that?

Andrew:
I don't really know.

Matt:
OK.

Andrew:
It's a bird, I know that.

Narration:
There's something rather unnerving about seeing a kangaroo at night in it's own territory. We went from seeing none to being totally surrounded by them in a matter of minutes, and even then it was probably completely on their terms. I think they'd figured out that there was no point in hiding – the amount of noise I was making tripping over branches I clearly wasn't a danger to them.

Andrew:
...and a roo has just been here.

Matt:
A roo?

Andrew:
Yup. Look at that.

Matt:
Oh, hello!

Andrew:
Having a munch or a scratch actually. So it's another Eastern Gray.

Matt:
How old would that be?

Andrew:
Probably about two or three years old. Another one over back there. I told you they like to hang out together.

Matt:
Oh, yeah, there's a smaller one.

Andrew:
Yeah. And in fact, about two or three weeks ago most of the females had joeys. So I'd be surprised if we don't find one with a joey in it.

Matt:
They really are beautiful animals.

Andrew:
They don't seem to mind us too much.

Matt:
And why the car?

Andrew:
Well, that car was dumped here. It's a 1968 Holden Belmont. We actually call it "Betsy's Mobile".

Narration:
It was at this point that my batteries ran out. Suffice to say that Betsy's mobile was well and truly in the process of being reclaimed, and it was clear that more than one kangaroo called it's deteriorating back seat home. On our way out of the sanctuary, we also not only saw, but heard, a sugar glider, which Andrew assured me was a rare occurrence. In retrospect I'm fairly certain that it was telling us to go away, and turn that damn light off. For more information about the Melbourne Wildlife Sanctuary, or to book yourself on one of its night tours, visit the website at https://www.latrobe.edu.au/wildlife

Matt:
I can't see where this leads us. You do know where it goes, don't you?

Andrew:
Certainly.

Matt:
OK, good. [Laughter] Because I'm following you. I don't think that needs to be said but you know.
Related links