La Trobe lecturer receives prestigious teaching excellence award
Dr Susan Lawler, Senior Lecturer within the Department of Environmental Management and Ecology at La Trobe University's Albury-Wodonga campus has been awarded a 2008 Australian Learning and Teaching Council Citation for Outstanding Contribution to Student Learning.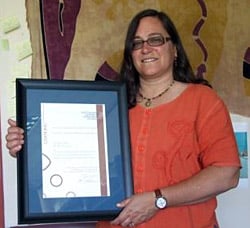 The Citations, valued at $10,000 each, are granted to individuals and teams of academics and support staff in recognition of their achievements in contributing to the quality of student learning.
Dr Lawler's award recognised 16 years of high quality teaching which culminated in three new projects in 2007. Second year ecological genetic students surveyed the biodiversity of several bogs on rural properties in the Strathbogie Ranges and their assignments were compiled into a field guide for use by the landowners and local catchment management authorities. First year students were given an innovative written assignment in which they wrote a letter to T. H. Huxley (a 19th century scientist) and received a personal reply from him. Finally, in a program designed to meet the requirements of the VCE, almost 100 rural high school students received hands on experience manipulating DNA and Drosophila in the new teaching labs at the Albury-Wodonga campus.
La Trobe University has won five Citations for its Outstanding Contribution to Student Learning in the Australian Learning and Teaching Council awards for 2008.
Congratulating the winners, La Trobe University Deputy Vice-Chancellor (Academic), Professor Belinda Probert, said the awards highlighted the skills and experience of the staff involved – and the University's overall teaching strength.
'La Trobe is embarking on a process of redesigning and renewing its undergraduate curriculum to make it a leader in university teaching – and we have the depth and breadth of teaching excellence to achieve this.'
This strength is confirmed by the recently released 'Good Universities Guide 2009', in which La Trobe received four-star ranking for overall student satisfaction with their 'educational experience' and also for 'positive graduate outcomes'.
Executive Director of the Australian Learning and Teaching Council (ALTC), Professor Richard Johnstone, said the 200 Australia-wide Citations recognised a diverse range of activity across the higher education sector aimed at enhancing student learning.
More than $2 million was awarded by the ALTC across Australia this year. For further details and a list of recipients please see the Australian Learning and Teaching Council website.
To arrange an interview or for further information, please contact:
Reinhard Beissbarth
La Trobe University Albury-Wodonga
Phone: 02 6024 9874
Email: r.beissbarth@latrobe.edu.au.