A group of agricultural students from La Trobe University have travelled to India to observe farming techniques. Their study tour was partially funded by the New Colombo Plan from the Department of Foreign Affairs and Trade (DFAT).
The twenty students are studying Agriculture, Agriculture Businesses or Agriculture International Development degrees at La Trobe University. For seventeen of them it was their first trip out of Australia.
"Taking the students to another country like India gives them a different perspective on their studies," says Dr Gary Clark, associate lecturer in Agricultural Sciences. He accompanied the group as a supervising lecturer, and it was also his first visit to India. "Learning agriculture in Melbourne Victoria is about as different as you can get to what you see in India. They can apply the same skills but the context is unfamiliar, and they need to think very differently."
The students spent 12 days visiting farming districts in the Karnataka state of India, looking at farming techniques and interviewing farmers about the challenges they face.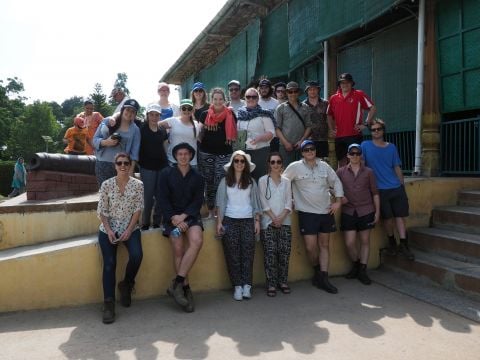 Dr Clark believes the tour provides valuable insight for students as to the importance of their study field, and the diverse nature in which it can be applied around the world.
"Farming is more labour intensive in many countries such as India," says Dr Clark. "The soil is prepared using oxen drawn ploughs, while most crops are sown and harvested by hand. Many of the smaller farms are worked by families and it's virtually a subsistence way of living."
"It's different to anything these students could see in Australia. Teaching them in the classroom is one thing, but it's another to be able to take them to the other side of the world and for them to see firsthand how agriculture can be affected by issues like religion, culture and politics."
This was the fifth time the study tour has run, and will take place again in 2016.