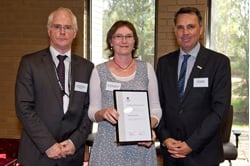 Recently, recipients of the 2012 La Trobe Excellence in Research Awards were celebrated in an award ceremony. This award is given to provide high quality Early to Mid-Career Researchers with recognition for their achievement and with support to enhance their further career development.
One of the recipients is Helen McLachlan who received the DVC (Research)/Vice-Chancellor's Award for Mid-Career Researchers (pictured here at the award presentation with Professors Keith Nugent and John Dewar).
Helen McLachlan has a clinical and research background in midwifery. She is an Associate Professor at Mother and Child Health Research and in the School of Nursing and Midwifery. Following on from her PhD thesis, which looked at the cultural aspects of childbirth, her research interests now include models of maternity care, postnatal care, postnatal depression and breastfeeding. She has conducted studies using a variety of research designs (eg RCTs, surveys, focus groups).
A highlight for Helen last year was the publication of the findings from the COSMOS trial in the British Journal of Obstetrics and Gynaecology. This trial compared caseload midwifery care with the standard options of care for women at low risk of medical complications. It is the first randomised controlled trial of caseload midwifery in Australia, only the third internationally and the largest study of its kind in the world.
Congratulations, Helen!