La Trobe Business School MBA student Gopal Agarwal was named Unitemps NISPP Placement Student of the Year at the 2019 Northern Business Achievement Awards.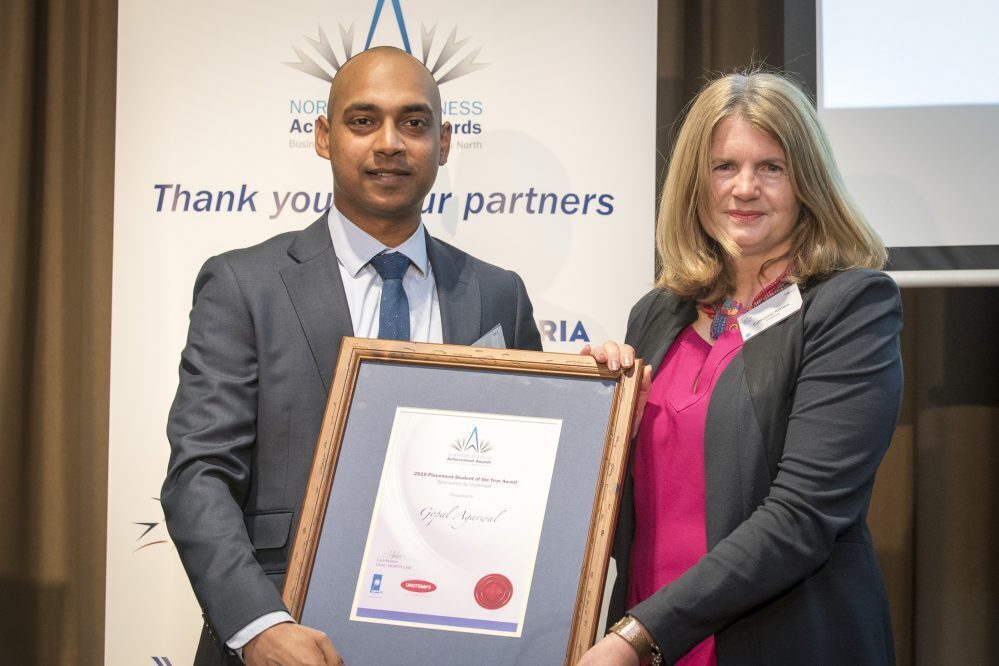 The Northern Industry Student Placement Program (NISPP), managed by NORTH Link, sources placements and projects across the region for students from La Trobe University, RMIT University, Kangan Institute and Melbourne Polytechnic. In 2019, over 300 students from the four tertiary institutions participated.
Unitemps La Trobe has been proud sponsor of these annual awards for the past three years. Senior Consultant Catherine Klimeš said that the award fits well with Unitemps' values.
"We are keen to promote excellence in linking students and businesses so that students develop career-ready skills and gain real-world experience," she said. "The NISPP program does just that, offering students a range of opportunities."
Gopal worked as a consultant with Floridia Cheese for a semester as part of his Experiential Learning Project elective. His task involved investigating the viability of a new cheese variety for the Australian and export markets.
Viv Banner, Floridia's ERP Project Manager, was enthusiastic about the results of his consultancy.
"Gopal was highly engaged and motivated from the start, taking the task well beyond the project brief. He grasped what we wanted straight away and worked hard to ensure he met all our requirements," she said.
"Personally, we found Gopal a delight to work with. He demonstrated professionalism and abilities beyond our expectations. We know he'll have a great future in the corporate world and we'd strongly recommend him to any future employer."
Associate Professor Geraldine Kennett, Director of La Trobe's MBA Program, highlighted the benefits to students of undertaking a consultancy project as part of their MBA studies.
"Our ELP students apply the skills they gained throughout their MBA in a real-life business setting, identifying, negotiating and delivering an enterprise project that provides them with significant learning opportunities," she noted.
"NORTH Link has been instrumental in linking our MBA students to projects that are of real benefit to local industry. Gopal has an excellent academic record and we are very pleased that his professional competence has been acknowledged in this way."
The Northern Business Achievement Awards are a partnership of industry, education, local and state government and decision makers across Melbourne's north. They recognise local business achievements and excellence, growth and competitiveness.