We love our Student Hosts! They are experts in the La Trobe student experience and are our go-to source of Uni tips, tricks and hacks. This week, we've asked them about what they learned from studying remotely in Semester 1.
As you can imagine, it was a big learning curve for everyone at La Trobe. And since COVID-19 is keeping us at home again, it's worth considering how you can use these ideas to make your study a little less stressful in Semester 2.
Annelise, Bachelor of Creative Arts
"Whether you're a new student or a returning student, studying remotely can be extremely challenging. It can be so easy to get into bad habits like staying in bed, watching Netflix during your classes and even not bothering to attend the classes. Here's some tips that I found helpful when taking remote classes.
Tip 1: Go to class.
"Always attend your online classes! Sure the bulk of the content you learn could be in pre-recorded lectures or in your readings, but online classes and seminars are important spaces to discuss the readings and content in the lecture. To get the most out of your online classes it is important to watch the lectures and take notes from your readings so that you can contribute to the class discussion and process your thoughts about the ideas discussed.
Tip 2: Be prepared before your classes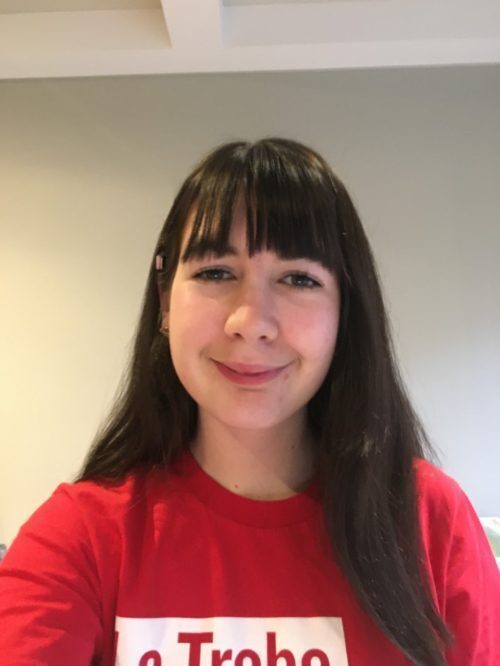 "From a semester of Zoom calls, I learnt the importance of being prepared for class. I recommend having a dedicated study space that isn't your bed, a water bottle nearby and taking a toilet break before class. When I first started remote study, I wasn't prepared for the lack of breaks in my zoom classes. Instead of busting to go at the end of class, or accidentally forgetting to turn off your mic- go before to have an uninterrupted class.
Tip 3: Get familiar with Latrobe's online tools and resources
"Although you can't physically run to ASK Latrobe or Student IT Support when a problem comes up, you can still call them! This is also the perfect time to do a bit of forum reading and some problem solving of your own. See the ASK La Trobe FAQs, for example. Similarly, attending a class using Zoom can be a great way to find out how to screen share or save the class chat.
Tip 4: Support systems are more important than ever!
"Especially during remote learning, it is important to socialise with friends and family. Similarly, attending classes is important for your social life as it is a space where you can interact with your teachers and peers. I would strongly recommend arranging a check in-session with your tutor or lecturer during the semester to discuss how you are going and whether there are any concerns with your remote study.
Rishika, Master of Information and Communication Technology
"Offline and online study doesn't sound too different when you first hear about it. But learning to managing everything online can be a bit tough. So here are some tips that helped me make it through the last semester.
"If you are as clumsy like me, I bet your room is as messy as mine. It's hard to manage study without a proper space, particularly a table. If you don't have a permanent desk to use, think about getting a folding lap tray so you can listen to the classes and complete work in bed or on the couch without any worry.

"Try staying motivated: I participated very actively in the first few classes of all of my subjects. This way, even after a week, if I lost interest the professor would check in to see how I was going and I would get my interest back.

"Its easier to remember deadlines when you're on campus. When you are studying online, you can get distracted with other household jobs. So, pro tip: as soon as the professor tells about an exam, add it immediately to your calendar. Always have a study schedule or planner. It's better to be prepared than to have regrets, right?

"Make connections in your classes. It's always helpful to have a friend to help you out. Start by interacting in the chat or forums; this way, if you can not reach the teacher or you miss a class, you can still get updates from your classmates.
We all know this is temporary and we will eventually go back to campus. But why not put a little more effort into learning how to manage this situations? They're useful skills. And when in doubt, look on the bright side: we are still able to progress with our study during a pandemic. Not everyone has such good fortune.