As you walk into the Borchardt Library on Melbourne Campus, you'll notice that the glass entrance doors are now decorated with a striking Indigenous artwork.

It's a fitting welcome to the library. The artwork depicts the strong circle of connectedness that we find in learning and teaching for Indigenous peoples. It shows the collaboration that is necessary to increase Indigenous participation in higher education, empower Indigenous communities and be culturally appropriate.

The piece also reflects finding a balance between the competing obligations in life and study, looking after our emotional, spiritual, physical and psychological well being.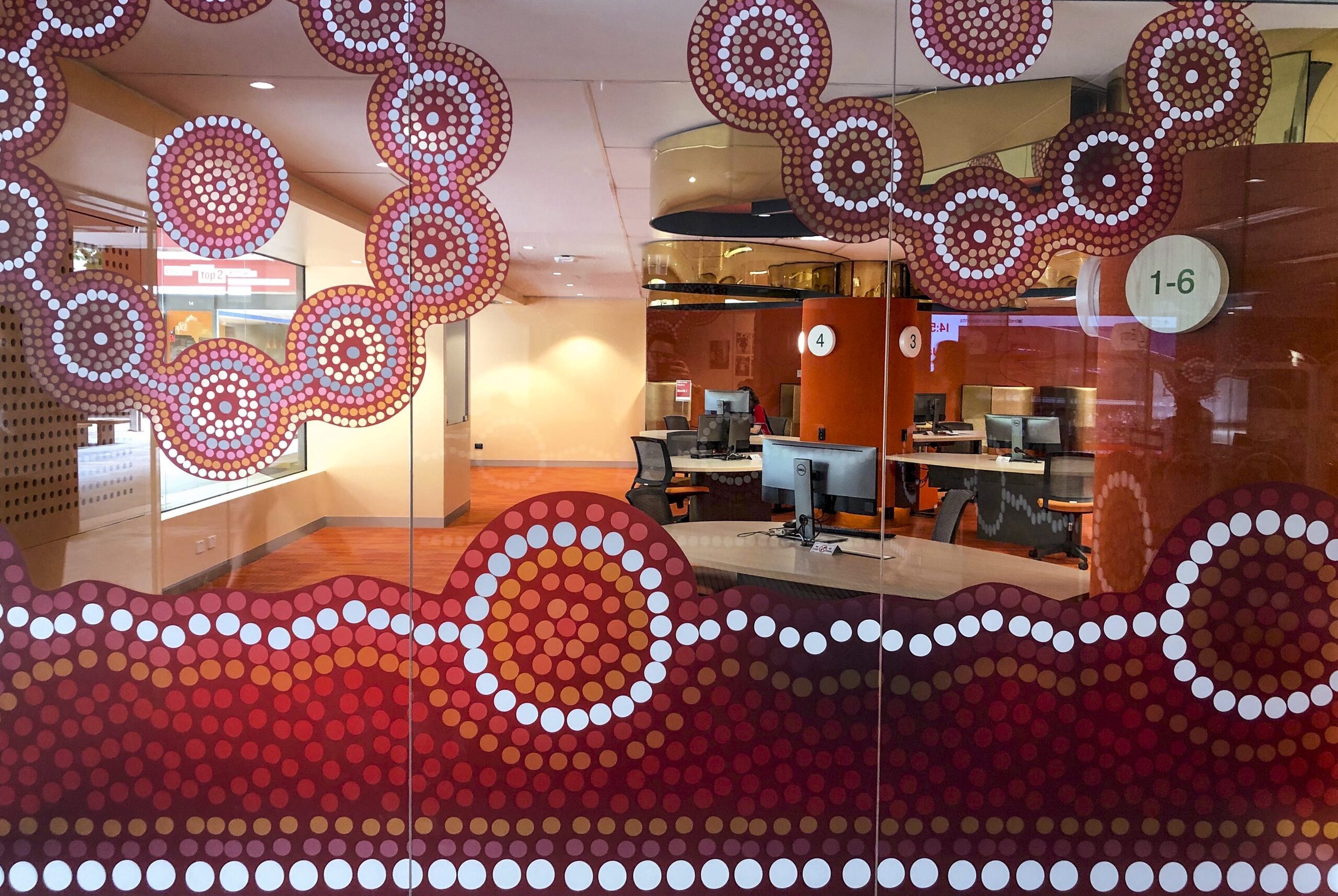 The artwork is adapted from the Ngarn-gi Bagora Indigenous Centre logo. Both artworks are by artist Nellie Green, a Badimaya artist living and working on Wurundjeri Country. Nellie is also the Acting Executive Director of Indigenous Strategy and Education at the Ngarn-gi Bagora Indigenous Centre at our Melbourne Campus.

"As Indigenous people in mainstream institutions, we are constantly reaffirming who we are, where we are from and what we are doing, and where we fit in," Nellie wrote in her artist statement. "The provision of culturally safe learning and meeting places on campus is critical to Indigenous student access, retention and success."

The Ngarn-gi Bagora Indigenous Centre gives visibility to Indigenous presence at La Trobe. "We are proud of how it has evolved and developed as a result of partnerships and collaboration, like the one with the Library that has resulted in this artwork being shared across key learning spaces," said Nellie.
We are all in this journey together!"

Badimaya artist Nellie Green
An acknowledgement statement has been placed at the entrance of the library beside the artwork, recognising the Wurundjeri community as the custodians of the land on which the library is built and paying respect to their living culture and their unique role in the life of this region.

Andrew Iacuone, Library Business Services Manager, coordinated this project. "The Library has a strong focus on connecting, partnering and collaborating with our diverse communities to ensure our services are codesigned and adapted to their needs," said Andrew.

Andrew and his team are already planning a similar installation at Albury-Wodonga library for Semester 1, and at Bendigo library later this year, working in collaboration with local Indigenous artists at each region.