Cathy Avraam's first experience as a secondary school art teacher was not quite what she'd imagined.
The Master of Teaching (Secondary) student and Nexus program participant began her teaching placement at Roxburgh College in Melbourne's outer north this year just as the COVID-19 pandemic forced schools to move their classes online.
The Nexus program offers aspiring teachers with a passion for social justice paid placements in low socioeconomic high schools across Victoria.
For Cathy, who was attracted to the program because of the importance it placed upon caring for disadvantaged young people, Melbourne's lockdown has meant students are more in need of compassion than ever.
"I ask [the students] how they're doing and they're struggling," she says.
"Their motivation isn't great.
"I tell them that's okay, we're human! As a teacher you want to be understanding, someone students can relate to and feel comfortable approaching."
While forging a connection with students is challenging for any pre-service teacher, Cathy explains it's even more complicated from lockdown.
"When you start a new job, you get to meet people. But in this case I didn't know anyone yet, I hadn't met the kids or even met my mentor," she says.
"You don't have those little chit-chats. If students don't turn on their microphones, you don't hear their little quirky comments. So I just have to do my best to ask them how they're doing."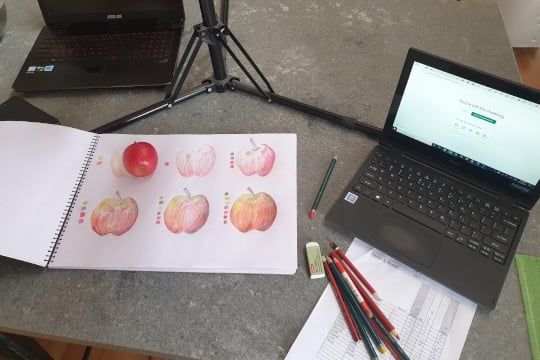 She's applied that same can-do attitude to wrap her head around new technology.
An art class with Cathy will often involve her logging into the school's videoconferencing platform twice: once via a mobile phone fitted to a tripod that will capture whatever artmaking skill she's demonstrating, and again from her laptop from which she can present to the virtual class.
"If students ask, 'How can I do this?' I just grab my sketchbook, demonstrate for them and they can see what I'm doing. You pretend that you're right there next to them," she says.
"We're learning so much. There are so many online platforms that you wouldn't have experienced otherwise – it's pretty amazing."
On top of preparing for and presenting her classes, Cathy also has to stay up to date with Uni coursework and manage her family commitments (she's also a mum to three children).
Nicole MacDonald believes no one is better equipped to handle the challenge of COVID-19 than teachers. The fourth-year Bachelor of Education student this year completed one of her final teaching placements at Mildura Primary School, not from the front of the classroom as she might once have expected but from inside the four walls of […]
But she credits La Trobe and the Nexus program with helping make the balancing act possible.
"La Trobe have been awesome, giving us help every step of the way and making sure they cater to different types of learners," she says.
"We have a Nexus drop-in every Wednesday and they've provided us with heaps of special opportunities. Last month we had [La Trobe Professor] Pamela Snow, who did a talk on Literacy. We've had sessions about youth homelessness. We're pretty lucky."
And she believes she's well on her way to becoming the sort of teacher she aspires to be: one who not only knows her subject matter, but cares deeply for the wellbeing of her students.
"I can be a teacher full of wealth and knowledge, sure. But what I really want to be is someone adaptable who kids can actually engage with."