Whether studying on campus or online, being organised and prepared for the semester is key to successful learning. Generally, it is required that a student spend 10 hours per subject each week including lectures, workshops and study. A full-time study load of 4 subjects is equivalent of a fulltime job, and therefore during semester it essential to prioritise as much as possible, your study workload.
The basics
Subject Learning Guide
• Download the Subject Learning Guides for each subject (found in the LMS)
Map out your semester
• Semester/Term dates, census date (check the Academic Calender for uni dates)
• Assessment dates (check the Subject Learning Guide)
• University Breaks and Public Holidays – not all public holidays are recognised by the
uni (check the Academic Calender for uni dates)
• Assessment periods and Exam blocks (check the Exams website)
Plan your Weekly Schedule
• Classes (on campus or online)
• Study and prep time for each subject
• Other commitments – work, family, social, sport, etc
Mapping your Semester
A semester overview can help you prioritize work. Print it out for your desk or use a wall planner to see at a glance what you have coming up. Planner templates are available on The Learning Hub's LMS page here. When developing your semester planner consider:
All assessment due dates – add them into a calendar
Keep exam block free of all other commitments. We are expected to be available for exams at any time during this block.
Mid semester break – let's face it, it is nice to know when we can catch up on things and relax a little.
Here's a small section of one to give you an idea:

Creating a weekly timetable
Creating a weekly timetable helps you map out the essential things you need to cover, including
other aspects of your life. This may seem over organised, but making time for each thing, including down time will help you see if your load is achievable while balancing other commitments and family responsibilities. Locking in a regular study routine helps build good study habits.
Weekly planner templates are available on The Learning Hub's LMS page. When developing your weekly timetable, consider:
Including everything that you do in your week such as, sport, co-curricular activities and
commitments.
Adding in your live lecture times, workshops, labs and clinical placements
Making time for prerecorded online lectures, reading, assessment preparation and study.
Noting any work commitments
Including down time and self-care
A grid can be useful to organise blocks of time to study: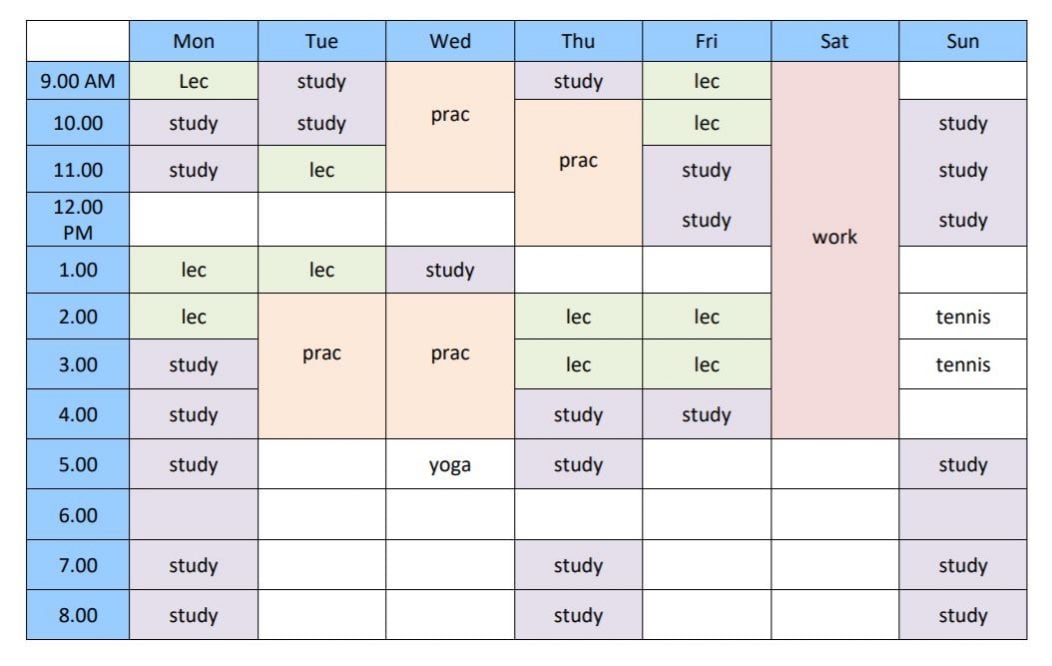 For more hints and tips on how to develop your time management skills, go to the Acheive@Uni
website.
Want more tips for study?
Find more advice on studying, planning your workload, gaining confidence and connecting with your peers with the University's Student Success Guide 2021.