At the height of the 2020 COVID-19 pandemic – with online learning fast becoming the new norm and thousands of in-person internships and work placements cancelled – academics from La Trobe University's Discipline of Orthoptics put their heads together for a creative solution.
Focused on providing final-year students with essential, COVID-safe placements opportunities, the Discipline launched Victoria's first student-led orthoptic eye clinic at La Trobe's Bundoora Campus.
Head of Orthoptics Dr Connie Koklanis says the clinic was created to expand work-integrated learning opportunities for students, particularly in paediatric eye care, whilst delivering affordable services to the community and reducing patient wait times for orthoptic services.
"The clinic was created to enhance the employability of students, providing them not only with opportunities to develop their clinical skills, but also tailoring opportunities to develop their skills in communication and leadership – including decision making, planning and effective collaboration," Dr Koklanis says.
Created in partnership with the Royal Children's Hospital, the clinic aims to provide high quality, patient-centred care to children and adults with strabismus (an eye turn), and vision related disorders such as amblyopia (a lazy eye) and diplopia (double vision).
"The clinic runs under experienced practitioner supervision and allows students to consolidate their clinical skills while providing much needed health services to the community," Dr Koklanis says. "It also works to complement the University's existing Allied Health services including podiatry, speech pathology and audiology."
A hands-on student experience
Former President of La Trobe's Student Orthoptic Society and 2020 graduate, Shannon Brown, took part in the placement opportunity last year.
"The La Trobe Orthoptic Eye Clinic provided final-year students with essential clinical experience in a paediatric setting," Shannon reminisces. "Without the clinic, many of us would not have had the opportunity to attend a paediatric clinic at all, which is integral to orthoptic practice, and our course completion would have been delayed."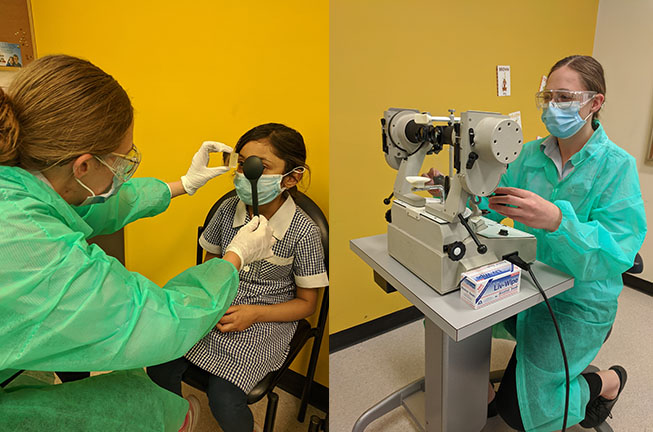 Describing a typical day of placement, Shannon says students were able to work with independence.
"Our four-week block placements were very hands-on, with clear progression each week from initial observation with our clinical educators to independently conducting assessments and presenting management plans to our patients and their families," she says. "Most assessments included taking a comprehensive history, testing vision, measuring an eye turn if present, investigating binocular functions, determining the management plan, and the referral pathway or review period before writing up the notes. Downtime in between allowed for discussions about cases, papers and refining our techniques."
"We worked in a team with three other students, taking turns seeing patients with our educator, which was particularly helpful with the extensive COVID-safe protocols that were in place and the cleaning required between each patient," she added. "The nature of the clinical assessments we conduct as orthoptists requires us to be within 1.5 metres of the patient to accurately obtain results, so we were always in full PPE. This was challenging at times – particularly if a child became extra nervous or scared by our appearance in PPE – but the experience allowed us to learn how to make the child and parents feel comfortable in an environment foreign to them."
"Most days we would be walking around with stickers of colourful animals on our masked noses, none the wiser," she reminisces.
Shannon says working in the La Trobe Orthoptic Eye Clinic influenced her love for working with children, a career-focus she hadn't before considered.
"Prior to this placement, I had very little to do with kids and found the subjects we completed on paediatric eye conditions challenging. However, this placement helped me discover how much I enjoyed working with kids and how interesting this area of orthoptics is."
"Since completing my course, I now work in a paediatric clinic where I have been able to apply my skills independently, and without attending this student-led clinic, I would not have felt as prepared to enter that clinical environment. This placement has also inspired me to head down an orthoptic-led pathway at some point in my career, but for now, I am enjoying learning from my orthoptic and ophthalmology colleagues."
Reflecting on her final year at La Trobe, Shannon says, "While it was in no way an easy year or the one we expected, I am feeling very grateful to have had the experience I did at the La Trobe Orthoptic Eye Clinic considering the significant impact that COVID-19 had on many other disciplines."
The La Trobe Orthoptic Eye Clinic is open on Monday, Wednesday, Thursday and Friday and accessible to the public. To make an appointment, phone the Health Sciences Clinic on 03 9479 5831.