La Trobe Student Theatre and Film, in collaboration with Made Up Productions, are thrilled to be opening The Blackbird and the Whale this week!
After two cancellations due to COVID, students and alumni have come together to bring you this haunting Australian play, written by Alison Rooke.

"That's very beautiful."
Rory and Cora Mulligan; they're starting a new life, on a new land. Their relationship is frayed.
The Blackbird and the Whale; they're old souls to the land. They are watching, learning and changing.
It's all new and it's intriguing. And now it starts to stir. The weather, the elements and their emotions: unbalanced.
Then the storm hits. They begin to find comfort in new places and pain in the familiar. An exploration of the fine line between love and cruelty, freedom and possession and begs the question why are we so cruel to each other?
"Not really. It ends sadly."
The Blackbird and the Whale
A Made Up Productions and La Trobe Student Theatre and Film collaboration
Thursday 22 – Sunday 25 September | The Playroom, Union Building, La Trobe University, Bundoora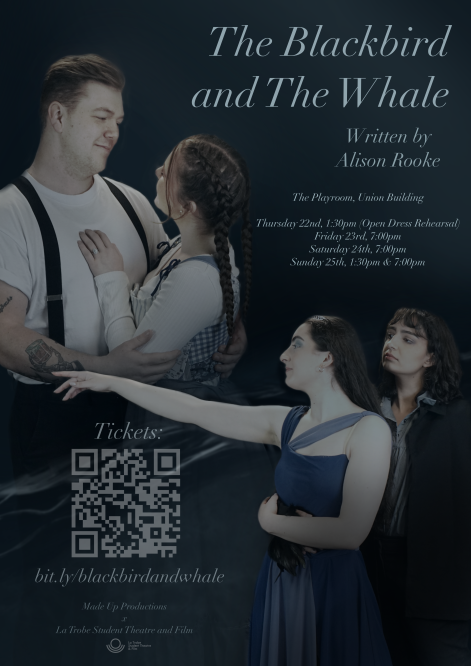 Show dates
Thu 22 Sep, 1.30 pm (Open Dress rehearsal – free to attend)
Fri 23 Sep, 7 pm
Sat 24 Sep, 7 pm
Sun 25 Sep, 1.30 pm and 7 pm
Tickets
Full | $15
Concession | $10
Group of 4 | $32
Content warning
This show is recommended for ages 16+.
Contains depictions of abuse, depictions of violence, coarse language, flashing lights, and loud sounds.