When Katherine Cartwright arrived at La Trobe's Shepparton Campus for her first day of Orientation this year, she was surprised to see some familiar faces in the crowd.
Among the other first-year students preparing to start their Uni journey were her former colleagues, Mick Minutoli and Courtney Maxwell.
The trio knew each one other from nearby Mooroopna Woolworths where they've all worked.
It was especially fitting that Katherine reconnected with Mick, because the pair had often chatted at work about his plans to start studying again.
"We talked about looking for more in our lives and I thought study sounded out of reach for me," she says.
"But he was so pumped to be studying and I thought I would give it a go."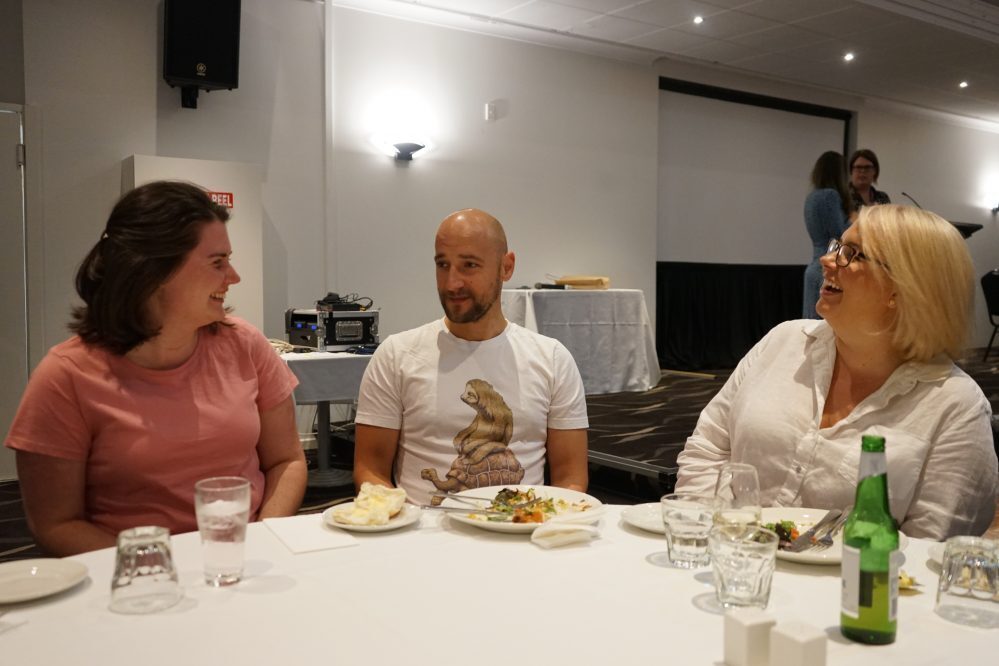 It was exactly the motivation Katherine needed to start working towards her longheld dream of becoming a music teacher. It's a goal she first conceived back in Year 7 when starting to play the trumpet, and something she began to pursue after high school. But the timing wasn't quite right back then.
"Then life and family happened and my priorities shifted," she remembers.
But after studying Education Support at GOTAFE last year, Katherine was back on track to achieve her goal.
"This year, my youngest child started kindergarten and I thought, 'Now is my time to chase my dream!'" she says, noting how important it was to have a University in her hometown that offers the Bachelor of Education Studies.
Nursing student Mick is also grateful for being able to enrol at La Trobe in Shepparton, having travelled to Melbourne for study last year.
"I feel silly for overlooking La Trobe here in my own backyard," he says, adding that his first impressions of the University have been "honestly amazing".
" From my initial phone call with Ask La Trobe, to Wendy in Reception, to the incredibly supportive lecturers and all the services available to us – we're just so lucky."
He one day hopes to work in the intensive care or the emergency departments of a hospital, although admits it's still a bit too early to know exactly where his studies will lead.
But Mick's confident that making those decisions will be easier because of the help available on campus.
"It almost feels like they have thought of everything," he says.
"I feel like I could come in any day of the week and ask for help and because of the small, close knit style of the campus, not only would it be okay but the staff would know you on a first name basis and thats really important when you feel like a fish out of water."
Mick says there might be even more familiar faces in the crowd at next year's Orientation.
"It was a complete surprise to see [Katherine] in the student lounge at Orientation and an even bigger surprise to see Courtney," he says.
"There are some very bright people [at work] and I know there are a few who are considering returning to school just like we did."
We look forward to welcoming them to La Trobe too.