La Trobe Bachelor of Biomedical Science student Vanessa Cumming isn't waiting around for change to happen. Instead, she's determined to be a catalyst, making a difference on issues as broad as climate change, homelessness and addiction, community connection and even the survival of the humble honeybee. These issues are in Vanessa's sights as she vies to represent Chirnside Ward on the Yarra Ranges Council.
Ambitions to save the bees
The bees keep Vanessa up at night. Not for their incessant buzzing in the backyard, but rather the fear that, one day, they may no longer be here.
"The majority of foods we eat as humans rely heavily on pollination," she says. "The bee population has declined in many parts of the world while the human population continues to increase globally. Helping the bee population increase is essential to prevent the rate of hunger from increasing."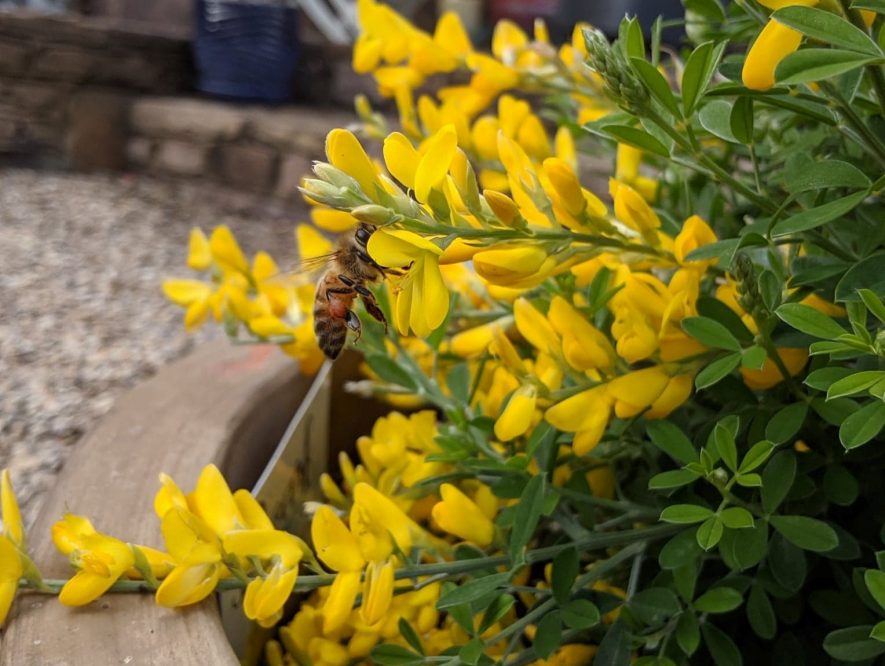 Creating community gardens is part of the solution, Vanessa believes.
"By planting pollinator-friendly plants and trees, creating more community gardens and veggie patches and by avoiding insecticides, it is possible for everyone to support the inevitable growth of the human population."
Giving back to the community
Vanessa is determined to give back to a community that has given so much to her. She's lived in the Chirnside Park community for 20 years, attending kindergarten, primary and secondary school in the Yarra Ranges. An elective subject in high school opened Vanessa's eyes to many of the issues others in her community were facing.
"I slowly became aware of the issues with homelessness in Lilydale and neighbouring suburbs, learning that a few people at my school were homeless. I was involved in many school fundraisers that aimed to support those who were in need, ranging from those who were struggling with homelessness and addiction to new Australians seeking assistance."
If elected, Vanessa hopes to encourage Council to give greater support to community groups and organisations supporting those in need.
"I would like to see more crisis accommodation throughout the Yarra Ranges Shire and help those who are looking for work succeed in their endeavors," she says. "I would also encourage the public to volunteer their time to support those in need as we cannot grow as a community if there are people left behind."
She'd also like to see more investment in community spaces that encourage creativity, connection and innovation.
"Such spaces can create jobs and hobbies, benefit the mental and physical wellbeing of individuals in the community and may be a positive outlet for those who may not have one. Especially during the current pandemic, it is important to provide resources and support to those who may be struggling. Community spaces could also create and strengthen relationships within the community and may be able to kick start community groups or businesses."
Vanessa gets involved in the community in her spare time too, and has cared for dogs and cats at Coldstream Animal Aid and volunteers at the Ringwood Bowls Club.
"I am eager for restrictions to be eased so that I can help out and have a chat with the locals at the Bowls Club," she says.
Taking the leap into politics
Just 38% of sitting Councillors in Victoria are women. Out of 2,186 Victorians who've been nominated in the upcoming local elections, there is an estimated 851, or 39%, of nominees who are women. Vanessa is proud to be among them, as well as giving a voice to young people in her community.
"I have had a lot of support from people in my community who I have never met before, all saying that it's nice to see a young person and a woman put their hand up," she says. "Young people are the future. The decisions we make now are important for our lives and for the generations after us. I am confident that I can achieve great things in Council."
Running as an independent, Vanessa believes it's important for young people to understand and engage in politics, as it has the power to shape their lives.
"I have been raised to think and make decisions independently when it comes to voting," she says of her decision not to align herself with a particular party. "My intention for running for Council is to follow through with ideas that will benefit our community, not to follow the agenda of a political party. All parties have policies that I agree and disagree with – I support whichever party that I believe benefits the community the most at the time of elections."
Vanessa's family has a history in politics. Her father and uncle were councillors of Maribyrnong Council and her aunty, Catherine Cumming, is currently an independent member of the Legislative Council representing the Western Metropolitan area.
"Since politics has always been a common conversation in my household throughout my life, the question was always: which one of us will run next? I have been surrounded by people who have wanted to serve the community throughout my entire life.
"If elected, this will be my first personal experience as a political figure. My aim at this point is to ensure I'd fulfill this position to the best of my ability – hearing real concerns from real people and making a real change in our community.
"The current pandemic and seeing many people suffer from these restrictions compelled me to make the leap and begin my journey in politics. I truly want to be a helpful member of my community."
How studying at La Trobe prepared Vanessa to lead
"I have always been fascinated by science and medicine," Vanessa says of her decision to study Biomedical Science at La Trobe's Bundoora Campus. "Going into my degree, I wanted to use the Bachelor of Biomedical Science as a pathway to get into Medicine. Along the way, and like many other students, I kept changing my mind as to what I wanted to do after my degree. This degree provides a lot of opportunity and I am eager to see what next year brings."
At the end of the year, Vanessa plans to seek employment in medical research clinics, as well as working as a local Councilor, if elected. Possibilities include research into vaccines for viruses such as COVID-19 or perhaps a path to making new discoveries in medicine and disease.
"Employment in this field would mean that I could be part of something that makes a positive difference in people's lives. Any position that could benefit people's lives would give me purpose, which is a major reason as to why I am running for Council – I want to serve my community well."
Vanessa's studies at La Trobe have had a major influence on her understanding of the world, its communities and the environment.
"Throughout my degree, I have learnt that there are simple measures that would be a massive step in the right direction in the fight against global warming. I have also learnt that communities flourish when individuals have access to the same opportunities. I believe that my time studying at La Trobe has shaped many of my views towards the importance of sustaining a healthy environment."
It's been a busy year for Vanessa, campaigning and juggling her online studies.
"I would just like to say a big thank you to all the staff and students at La Trobe University for their great efforts in online learning. This has been a new experience for everyone, and I believe staff and students should be proud of themselves for getting themselves through the year."
And as for any other La Trobe student considering taking the leap into politics or other forms of leadership?
"If you're the kind of person that would like to see real change in your community, then go for it!" she says.