The following is a message from Professor Jessica Vanderlelie, Pro-Vice Chancellor (Students).
COVID-19 has impacted the experience of students at universities across the globe and La Trobe is no exception. As part of our commitment to gathering feedback about your experience of Semester 1, the University conducted a survey of its students to determine their perception of the transition to remote learning and support provided by La Trobe.
We are grateful to the 4776 students (19.1%) who undertook the survey and it was very pleasing that 75.3% of students who responded believed that the University was doing its best to support their continued study.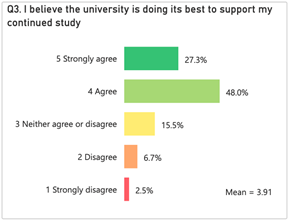 The rapid spread of COVID-19 in Australia meant that we were forced to transition very quickly to learning activities off-campus. The results of this survey identify that the majority of students (73.6%) understood the arrangements being made for their subjects due to COVID-19 and felt supported in their online studies (57.6%).
La Trobe understands that the transition to remote learning was disruptive and we were the first University to make adjustments to our grading practice to ensure that no student would be penalised academically for failing a subject this semester. Additionally we delayed the census date to allow students to withdraw without penalty if they found remote study too challenging. Our learning support services were also fully converted to online delivery and we have seen a 10-fold increase in the use of this important service.
Student mental health and wellbeing has been a key concern for the University throughout this crisis and it was important that our students were aware of the support services available to support their mental wellbeing and learning. The survey identified that 66% of respondents understood how to connect with support services.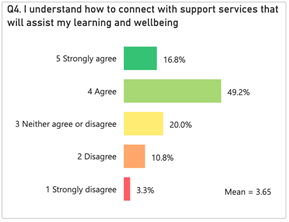 Despite this significant result we continued to proactively advertise our support services and launched a new wellbeing check-in service that has received significant demand. In addition we conducted a proactive outreach campaign, phoning every enrolled student to ensure they were able to access the support they needed during this challenging time.
The financial impact of COVID-19 has been significant for our students, particularly those studying with us from overseas. La Trobe was one of the first universities to provide financial support to our students and since the crisis began we have provided more than $12.4 million in funding to students in need.
La Trobe is committed to providing an outstanding student experience to those who choose to study with us and we will continue to work collaboratively with our student associations as we support our students through this challenging time.
To make sure you're staying up-to-date with the latest student news, you can follow La Trobe's student communications channel, MyLaTrobe, on Facebook and Instagram. Information about the University's suite of learning support and wellbeing services can be found at the MyLaTrobe blog or in your weekly MyLaTrobe student email.