They grow up so fast!
The pitter-patter of puppy feet at La Trobe in Bendigo is slowly but surely being replaced with the sight of full-grown dogs.
The pack of pooches currently on campus are part of a world-first La Trobe initiative training dogs to be assistance animals for veterans living with Post Traumatic Stress Disorder (PTSD).
The dogs will live with a La Trobe student or staff member for an entire year, coming to university every day for training and to get used to life in the outside world.
Other staff and students volunteer as "socialisers", periodically giving the puppy raiser a break by taking over caring duties.
We caught up with Bachelor of Health Sciences, Stephanie George, who's to learn more about progress of her pup, Lola.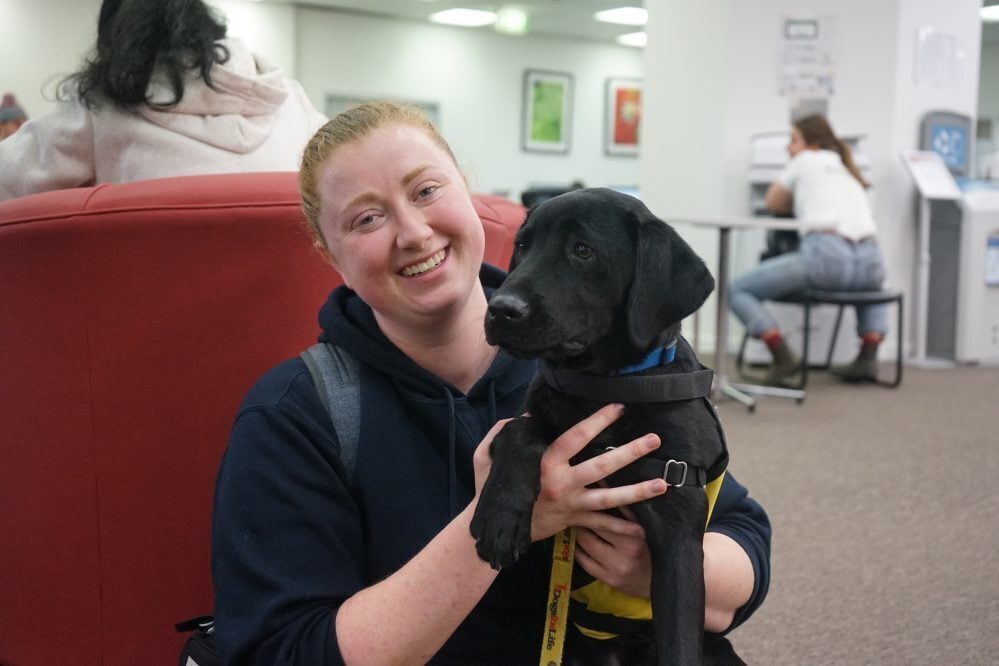 MyLaTrobe: Tell us about Lola's experience so far: what's her personality, what she's been doing, how is she gets along with the other dogs?
Stephanie: Lola's been a handful from Day One. She's full of energy and really clever, so she's constantly thinking her way around me. She's super sweet and cuddly and she always wants to be with me – she follows me everywhere!
She loves other dogs but she's really full on so they sometimes get a bit overwhelmed by her. We're working on her calming down and being more polite!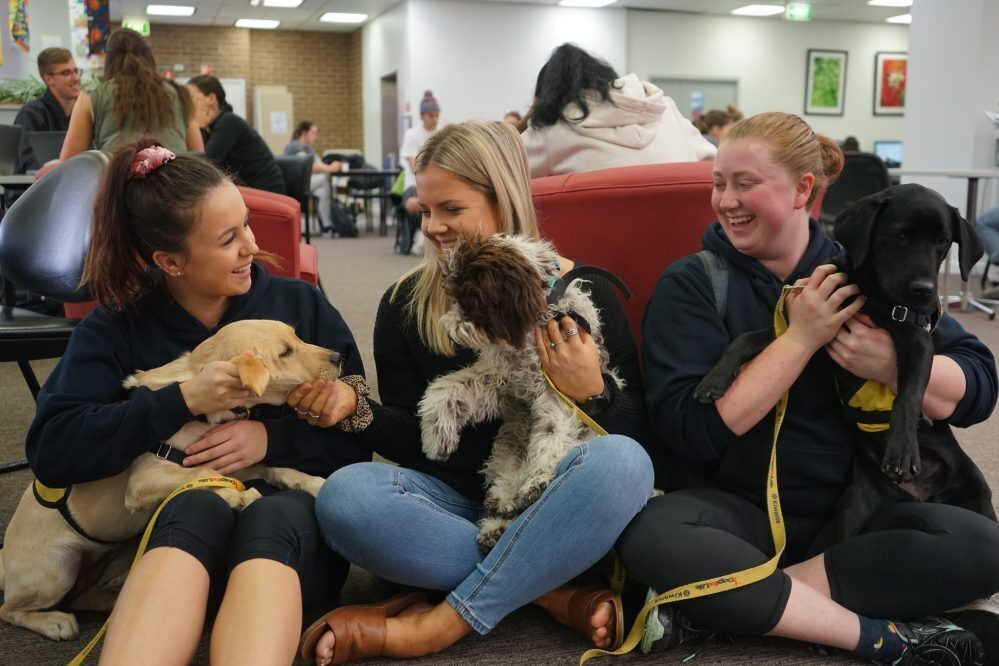 How's she going with the training?
She's doing amazing with training. She picks things up really quickly and she's very focused. She's also a natural at the cuddly comforting stuff she's learning, she loves to cuddle anywhere, anytime.
What's been the experiencing of having a dog with you on campus? (I imagine you're the most popular person in every class!)
It's been good! Almost everyone is excited to see her and lots of people want to say hello. I do find it hard to get to places on time because every time I go from place to place we get stopped multiple times.
In class she usually falls asleep and every week she's getting better at sitting under the table. It's really good that it doesn't interfere with my learning or the rest of the class.
How important is the role of the socialiser to give you a break/give Lola different experiences?
My socialisers are super important to me and to Lola. For me it can be difficult to walk her all three times a day when I'm busy, especially when I have work in the evening. So having a socialiser to take her for a walk is amazing.
For Lola, it's important to see lots of people and experience different places. Having her with me is awesome but I have my routines and we don't go to new situations too often, so it gives her a chance at seeing some new places, people and things.