Photo credit: Stephanie Sawaya
Heading into the Darebin's FUSE arts festival beginning 9 October, student Jessica Polites took us behind the scenes with the inside scoop on an action-packed La Trobe subject that's seen students produce films for the Darebin Arts Documentary Series.
I'm Jessica, a Bachelor of Creative Arts Honours student, with the burning desire to be a screenwriter and producer. Currently, for my reading subject, I am assisting Blake Curtis with the third year class, Screen and Production.
My brief is to make sure everything runs as smoothly as possible (a.k.a. the Line Producer). The irony I have discovered, is that making things less stressful for others, is in itself a very stressful job – like a swan, calm on the surface and paddling for my life under the water.
The upside is I'm finding it wonderfully rewarding working alongside extremely talented
students that I'm predicting will be excellent filmmakers in the near future. When you
consider the challenges of COVID-19, this is even more inspiring (thinking outside the box is
now the norm). Also, having a direct impact on my work/art and challenges me to think
differently. We are looking forward to sharing our work and experiences with you!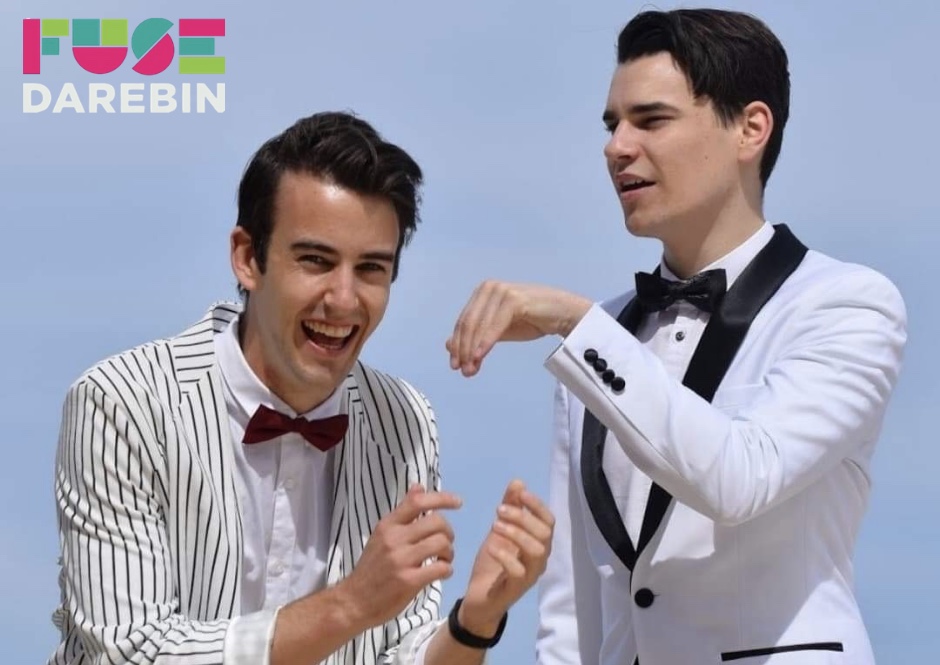 The Client – The Project
Darebin FUSE festival is teaming up with La Trobe's third year class Screen Production. The aim is to produce a series of short documentaries about local artists and the impact COVID-19 is
having on them, sometimes directly and at other times subtly. How are they facing financial
pressures and social isolation? Are they finding new ways to adapt, survive or even thrive?
Are they exploring new mediums? How is this affecting their relationships and their views
on the community? So many questions, and so many more to answer.
By focusing on local artists, this also gives our emerging filmmakers their own COVID-19
journey. In turn they are asking themselves the same questions as they discover new
creative ways to explore filmmaking in a Uni setting (when you can't go to Uni and face to
face learning has been replaced by a screen). Thankfully Uni is about creating critical
thinkers and problem solvers and giving them a safe place to explore and be brave with their
craft and even make mistakes.
What seemed impossible from the outset has been anything but. These students have set
the bar impressively high – it certainly wasn't the year we planned for. Watch out for
information which will be released soon on how to view these great pieces of film work.
The Films
Contemporary connection – this film tells the narrative of professional dancer, Sarah
McCrorie. Living in Darebin and barely into her 20s, Sarah has had a roller coaster start to
her professional career.
Director – Lily Smith
Producer – Anna Smith
Editor – Oluwademilade Adesina
The cartoon story of real life comics – A little bit of bittersweet with stomach-hurting laughs, two comedians tell the tale of their journey of self-discovery during COVID.
Director – Luke Green
Producer – Morgan-Belle Bradshaw
Editor – Jack Busuttil
Musicians in lockdown – three musicians adapting to the COVID-19 pandemic and finding
ways to continue their musical career in a situation where the art industry struggles more
than ever.
Director – Jamie Wagner
Producer – Jeoung Uk Na
Editor – Angela Makalovska
Painting for the Archives – documents the story of visual artist Dawn Rieniets during the COVID-19 Pandemic. It explores how creatives are able to push through isolation and produce art in a world currently on pause.
Director – Erica Vandenberg
Producer – Liyan Li
Editor – Jamie-Lee Martin
Harmonise – seeks to promote intergenerational solidarity by bringing together two musicians – one, a young folk duo, the other, a mature drummer – to discuss their experiences regarding COVID-19.
Director – Carla Lane
Producer – Stephanie Muculj
Editor – (Sussan) Vanny Kittikhoun
Empty Theatres – through a series of interviews with performers in the theatre and creative arts industry, we take a look at how the Melbourne lockdowns and the Coronavirus have affected the people behind the curtain.
Director – Zac Charles
Producer – Ethan Hayes
Editor – James Anderson
Thinking outside the mosh – this film is about Darebin Metalcore band Earthbound as they
discuss adapting with COVID-19 and their wacky ideas for replaying shows when they can
presented through stick figure sketches.
Director – Matt Dunlop
Producer – Cody Mathieson-Lowe
Editor – Rian Tonkin
The Decisive Moment – exploring the life of a young photographer during COVID-19
restrictions, we delve into her current projects and how her work has been affected through
these changes.
Director – Emma Gillett
Producer – Briannah Borg
Editor – Ajda Kotch
Galactic project – is about Jordan, psy-trance music producer who has been inspired by the
isolation to create. Pushing him to improve his music and therefore led to a label signing
him.
Director – Bridget McNamara
Producer – Ruby Quilligan
Editor – James Karakolis
Antonia – interviews the Artist Antonia Sellbach to discuss the impacts the pandemic has
had on her art-making practice and where she thinks the visual arts is heading in the future
Director – Sara Hancock
Producer Josh Taylor
Editor – Thomas Richards