Tired of getting an email every time someone writes something in the LMS? Did you know that you can personalise your message notification settings within the LMS?
When someone sends you an instant message within the LMS while you're not logged in, you may also receive an email. You can control whether or you want these emails based on whether you're logged in or not. Just have a look at your personal Message Preferences in the LMS.
LMS Instant Messaging and Email – Personalising your Notifications Settings
The recent LMS 3.5 Upgrade brings with it updated messaging functionality within the LMS and with it. In particular, teaching staff in your LMS subjects might send LMS messages to all students in your subject, or even to you individually – such as an online live chat. These messages might be about important subject information, upcoming assignments, or even just reminders to login to the LMS, review new material in your subject, or help you engage with the subject during the teaching period.
If you are not logged into the LMS when these messages are sent, the system default settings in 2019 will result in an email being sent to your La Trobe email address. If you are logged in when the message is sent, a chat notification will be shown in the LMS, but no email will be sent.
Please see below for a screenshot illustrating LMS User Messaging Preference and 2019 defaults.
These defaults can be personalised according to your preference – see below for details.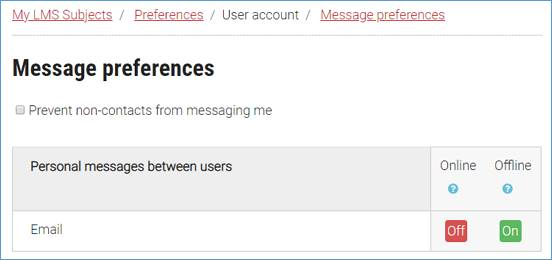 Note: This behaviour is particular to LMS messages between users, and can be configured by all users individually in your personalised messaging preferences, like other notification events in the LMS.
Resources for Students – Managing Your Personal Notifications Preferences
ASK La Trobe Link:LMS User Preferences
ASK La Trobe Link:Receiving too many LMS emails?
ASK La Trobe
For 24/7 student help where you will find answers to frequently asked questions (FAQs) about study and student life. You can search our FAQs at your convenience, browse the FAQ here.
Student IT Support
IT-related student support along with common links, study tools and further support can be found here.
Help and Support
A range of help and support options for students is available here.