La Trobe's Certificate IV in Aboriginal Cultural Heritage Management course, delivered in partnership with Aboriginal Victoria, recently celebrated ten years.
This year's cohort visited Traditional Owners from across Victoria, learnt about the impacts big issues in the space such as climate change and soil erosion, and even visited Victoria's newest World Heritage Listed site.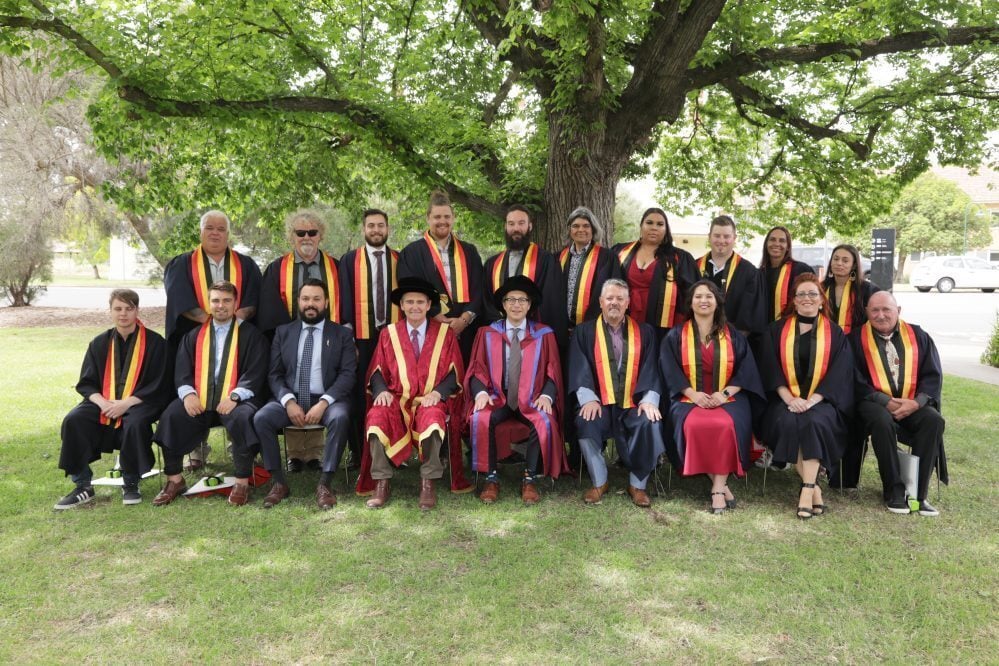 Three graduates from the 2019 program – Luke, BJ and Nicky – shared their stories with MyLaTrobe.
Luke Hyatt
Graduate Luke Hyatt's passion lies in preserving country and passing his knowledge onto the next generation.
A disability support worker back home in Canberra for more than 10 years, Luke is new to the Aboriginal Cultural Heritage Management space. He completed a course in Conservation and Land Management prior to entering La Trobe's course, which only furthered his passion for looking after land and country.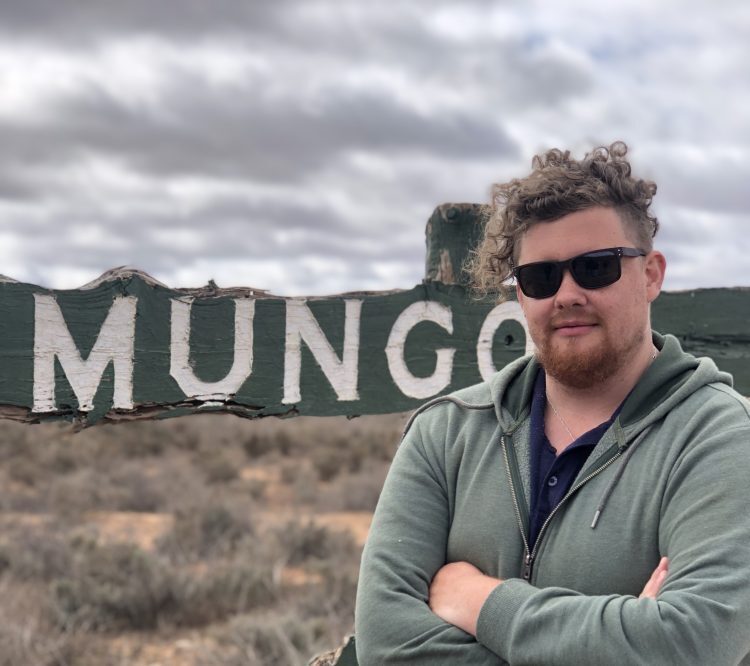 A Certificate IV in Aboriginal Cultural Heritage Management was the next logical step for Luke. He joined a tight-knit group studying the course, who felt like family. And, as Luke soon discovered, some of them actually were family.
"I found out I was related to other people in the course, and discovered I have family connections to the Grampians," he says. "This was truly special to me, as I was not aware of these connections until after we visited Wotjobaluk country.
"Being part of such a small group allowed us to really get to know each other and form strong bonds. We really immersed ourselves in each other's countries when we got to visit – it felt like everyone was part of a big family."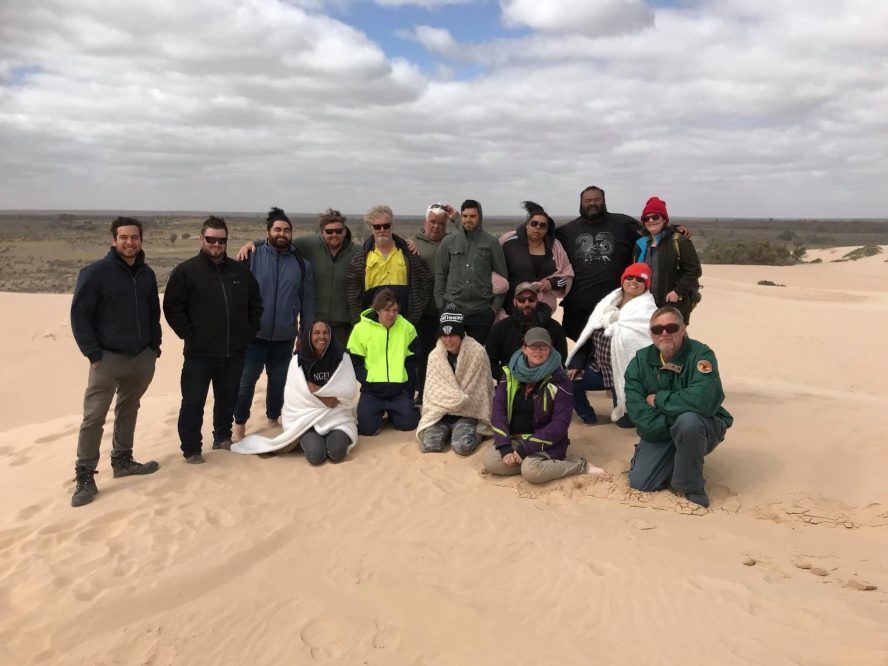 Strengthening his family connections and understanding of his Aboriginal identity is important to Luke.
"My father never knew much about his family, so I never got told anything about my heritage growing up," he says. "I became interested in where my mob was from in my early 20's and began contacting family to find out more, but unfortunately I had no-one in Canberra who could teach me about my family."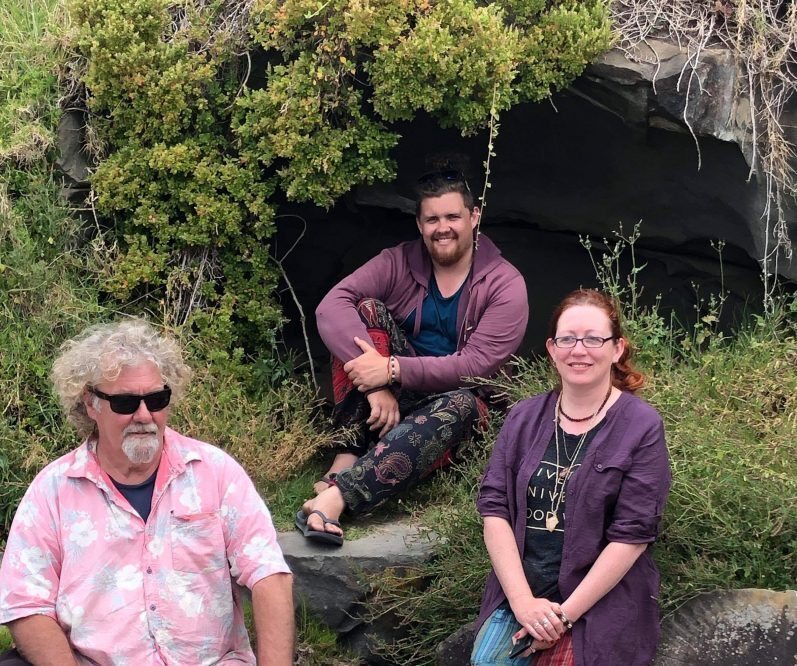 Luke grew up in Queanbeyan (NSW) and moved to Canberra several years ago. He taught himself to play guitar in his teens, and music has always been a big part of his life. He comes from a big family with lots of brothers and sisters, so music was his way of having his own thing.
He brought a little bit of music to his course, too. "A bunch of us would regularly end up in each other's company most evenings playing guitar and having a yarn," he says. "It was a great way to get to know each other and hear stories from our different countries."
Graduating from the course was a bittersweet feeling for Luke, who says he'll miss the close bonds he formed during his studies. His wife Jasmin and friend Carrie, who supported Luke throughout the course, joined him at his ceremony.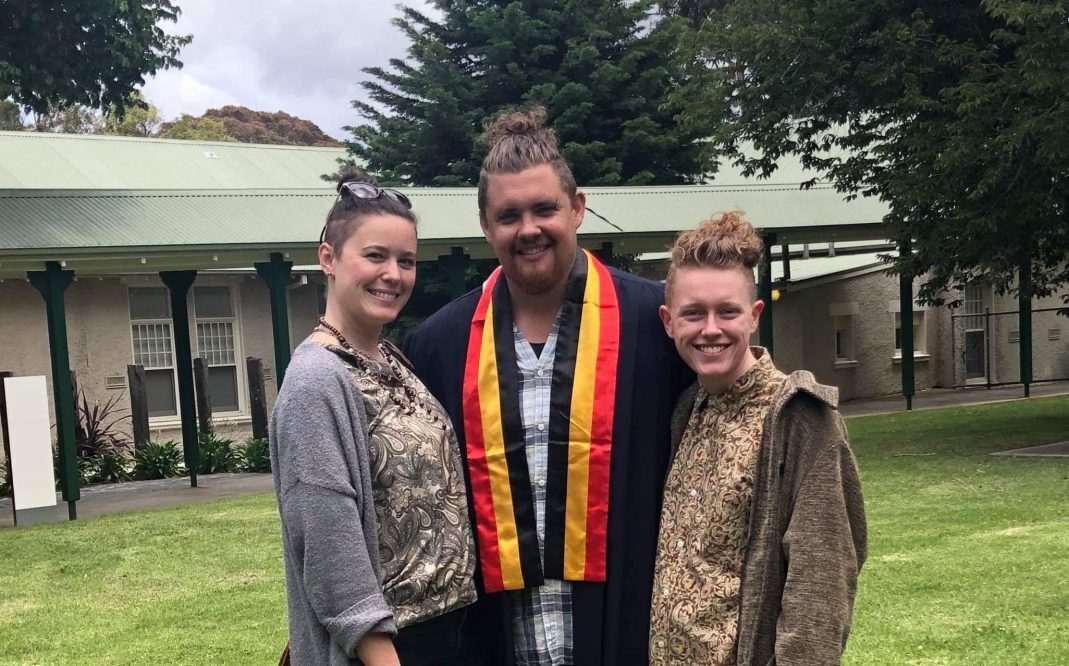 "They were a big part of me finishing the course," he says. Travelling from Canberra, Luke spent some long days in the car driving to different locations around Victoria. While it was hard being away from home, he got to experience things he may not have otherwise.
"It was really special seeing Budj Bim National Park just prior to it achieving World Heritage status," he says. "The work the mob down in that area are doing to preserve their heritage is truly remarkable."
He hopes to see Indigenous people working together to help protect their country and heritage. "I'd like to see Indigenous people from across Australia form an alliance, irrespective or their individual countries," he says. "I hope this will help strengthen our voice and assist us to protect our knowledge, stories and land management practices to restore Australia's natural resources to what they used to be.
"I would highly recommend this course to every Indigenous person with family from Victoria. I would love to see similar courses be offered for mob all over Australia."
Billy-Jay O'Toole
Billy-Jay (BJ) O'Toole grew up on Wadawurrung country, an area that stretches from the Great Dividing Range in Victoria's north all the way to the south coast and covers the land between Aireys Inlet in the West to Werribee River in the East.
He studied at Western Heights College, finishing after Year 11 and taking up a job as a cultural educator at Narana Aboriginal Cultural Centre. After three years in the role, he commenced a new job at Wathaurung Aboriginal Corporation.
"I'd been working in cultural heritage for a few years, and doing artwork as a hobby on the side," says BJ, who was ready to take the next step to gain a qualification.
Seeking to learn more about cultural heritage management, and develop the skills needed to manage heritage sites on his own country, BJ decided to undertake the Certificate IV accreditation at La Trobe.
With his Certificate in-hand, BJ plans to work in the industry for a few years before pursuing higher education.
"I'll also look to pass on my knowledge to other Traditional Owners in the field, and have a stance on cultural heritage sites across my country," he says.
BJ was able to meet Traditional Owners from across Victoria, who shared their stories with him.
"It was a pleasure to meet them, see their sites and hear about the challenges they're facing like climate change and soil erosion," he says.
BJ's teachers were also really supportive throughout his studies, especially when times were tough.
"My mum's partner died by suicide after Week 6 of the course," says BJ. "It was a battle mentally and physically and I didn't think I could go on to complete the course.
"But, I got to Week 7 with the help of my family, peers and teachers. They were so supportive and caring while I was going through such a hard time.
"That was a huge benefit of studying in such a tight-knit group. If someone was struggling at any stage throughout the year, we would all help one another through it. We all started off as strangers, but we were family by the end of it."
BJ recently attended his graduation ceremony with his mother, partner and daughter by his side.
"It feels amazing at the age of 23 to be able to graduate with a Certificate IV in Aboriginal Cultural Heritage management," he says. "It makes me proud knowing that I have my future right in front of me in this space."
Nicky Hudson
Nicky Hudson was born in Bairnsdale in Gippsland, and moved home to Gunditjmara country in Portland when she was nine.
Nicky's mum's side of the family were living in Portland, running an Aboriginal health service out of their kitchen. Nicky worked for a number of years within the health service, before changing careers and moving onto Traditional Owner fieldwork.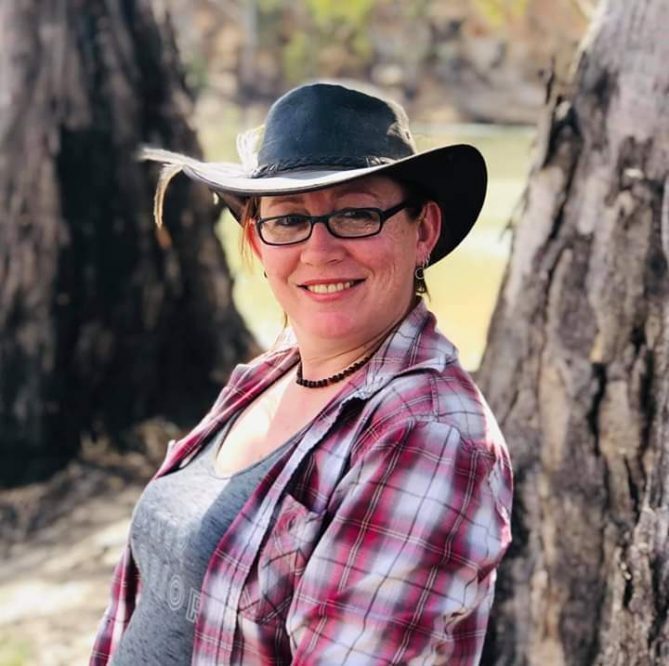 After 12 years working in the field, Nicky jumped at the chance to undertake La Trobe's Aboriginal Cultural Heritage Management course.
"I don't know a lot about my culture, so taking on this course was another way for me to connect and learn," she says.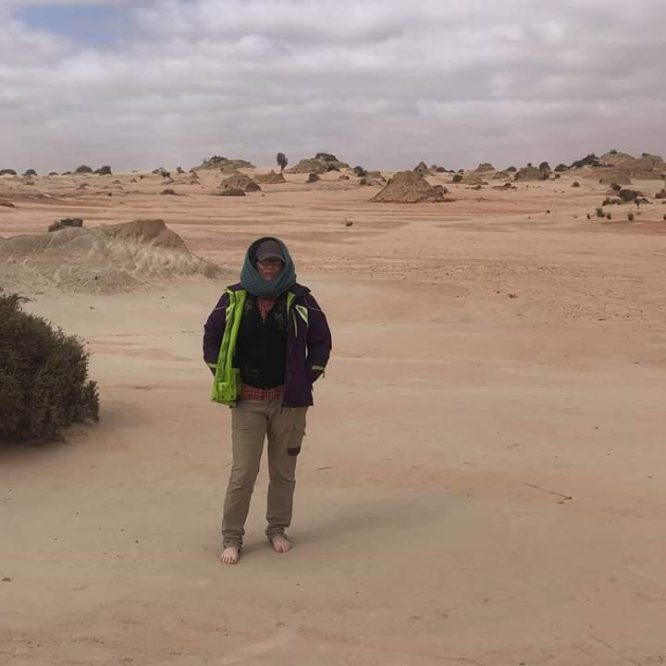 Nicky enjoyed travelling throughout the state, while gaining a deep understanding of different practices and a sense of connection to country. Hearing other people's stories and ways was one of the best experiences Nicky took away from the course.
"It was a really great group of people," she says. "We were, and are still, able to discuss what we learnt and felt in a culturally spiritual way as we learnt and felt a true connection to each other, to the land and to the knowledge that we were receiving."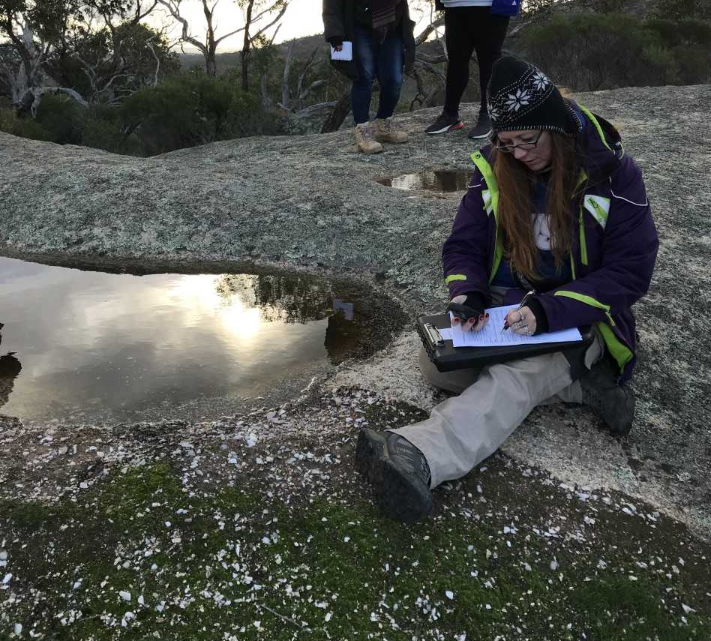 Nicky's partner and son attended her graduation ceremony, and it may not be the only one they attend as she considers her study options for the future.
"Although I'm not exactly sure what I'll do next, more study is definitely on the cards along with caring for country," she says. "I'd love to become a female Aboriginal archaeologist. I also want to learn more about human remains, bush tucker and Aboriginal traditions."
---
If you or someone you know is in need of mental health support, phone Lifeline on 13 11 14, or the Suicide Call Back Service 1300 659 467. Both services operate 24/7. In an emergency, dial 000.