Written by Kiara Colantuono. Kiara is studying La Trobe's double degree of Bachelor of Criminology/Bachelor of Laws. She also works as a Peer Learning Advisor (PLA).
Keeping on top of uni assessments can be just as tough as the tasks themselves. Too often, I have found myself caught off guard by a swarm of assignments all due in the same week, followed by a huge wave of stress – sound familiar? That's why staying organised is the key to success during busy assessment periods.
How to get started
To keep track of my assessments, I like to use Notion – a free 'workspace' application. I also use it to organise my weekly to-dos, reading lists, and there is a fantastic meal planner template that I live by!
At the start of the semester, I go through the Subject Learning Guides for all my subjects and input the assessment due dates into a table like this:

This way, all your important dates are in one, easy to access place.
The great thing about Notion though, is the many different ways you can view the same set of information. I personally find it super helpful to see my assessment due dates in calendar form, because it helps me see ahead to where they are due and how much time I have to work on them: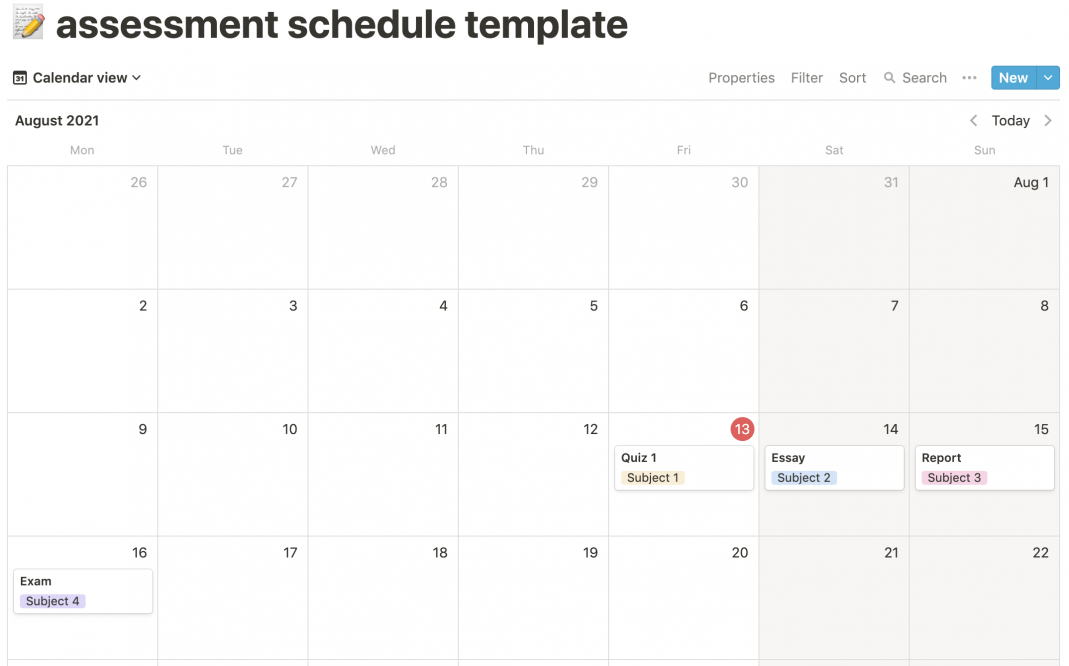 When the due dates are creeping up…
When it comes to crunch time, it's easy to get overwhelmed by just how much you need to do. I like to go through the following process to refresh my memory of what I need to do for my upcoming assessments:
Step 1: List the requirements of the assessment task
Here, I list all the requirements of each assessment I have coming up, such as:
The due date
How much the assessment is worth
What I need to do to prepare (e.g. re-visit weekly readings, lectures etc)
How long it will take me to do those tasks
Example:
Subject/task: LCR2FSL – Quiz 1.
Due date: Friday 20th August, 5pm
Weighting: 5%
Tasks to prepare:
Read over lecture/reading notes
Re-watch weekly lecture
How long will I need to prepare? 1-2 days to read over things and re-watch the lecture
When to revise/prepare: Wednesday and Thursday (18/19th), allow approx. 2hrs each day
Step 2: Plot the tasks on a study calendar
Here, I plot all the things I need to do to revise or prepare for the assessment task in a study calendar. I personally like to use Word to make the calendar, but you can use Google Calendar, Notion or any other calendar you prefer.
| | | | | | | |
| --- | --- | --- | --- | --- | --- | --- |
| Monday | Tuesday | Wednesday | Thursday | Friday | Saturday | Sunday |
| 9th | 10th | 11th | 12th | 13th 1 week until FSL quiz due | 14th | 15th |
| 16th | 17th | 18th Re-watch weekly lecture | 19th Read over weekly readings | 20th FSL quiz due | 21st | 22nd |
Step 3: Repeat for all assignments
Repeat steps 1 and 2 for all upcoming assignments and plot the tasks in the same study calendar so it is all in one place.
Other tips to stay organised
Print out your assessment schedule and study calendar and stick them up near your desk. It is so much more satisfying to cross those tasks off with a pen and paper! Colour coding your subjects and their assessments is also great, and it has been proven that colour coding improves memory!
My main tip would be to always allow more time than you think you need. Life happens, and things get in the way, so allow yourself as much time as possible to complete your assignments for minimal stress!
For more study advice, drop in to see a Peer Learning Advisor (PLA).