If there's one study abroad scholarship this year you absolutely do not want to miss out on, it's this one.
You could be awarded up to $67,000 as a recipient of a New Colombo Plan (NCP) Scholarship to complete study and work experience in the Indo-Pacific region.
The New Colombo Plan Scholarship Program provides opportunities for Australian undergraduate students to undertake semester-based study, language training, and internships or mentorships in 40 participating Indo-Pacific locations. The program duration includes 3-19 months abroad.
La Trobe University nominates 10 students every year to be considered for this scholarship by the Australian Government. In 2020, five La Trobe students received NCP Scholarships! Read their stories and get an insight into why they were successful.
Attend the online information session
Discover more about the program and have your questions answered.
When: 10:30 am Wednesday 31 March, 2021 or 1:30 pm Thursday 6 May, 2021
Find Zoom links to sessions here.
Benefits (valued up to $67,000):
Successful NCP Scholarship recipients will receive:
Tuition fees to cover the cost of study for up to two semesters overseas
1-6 months of full-time in-country language training
A travel allowance of $2,500
An establishment allowance of $2,500
A monthly stipend of $2,500
Health and travel insurance for the duration of their overseas Scholarship Program
A dedicated Case Manager
Eligibility
To qualify for a nomination you must:
Participate in an exchange program in one of the NCP specified countries
Be an Australian citizen enrolled at La Trobe University
Undertaking a Bachelor or Bachelor Honours degree program onshore at an Australian LTU campus
Aged between 18 and 30 years of age (inclusive) on 1 January 2022
Be involved with local community by way of volunteering or other initiatives
Have completed one year of undergraduate study at the time of departure
Have achieved a minimum 70% WAM
The New Colombo Plan encourages students from all disciplines and diverse socio-economic backgrounds to participate, including Indigenous Australians, people with disability, those who speak a language other than English at home, LGBQI+ persons, and students from regional and remote areas. The infographic below shows the diversity of scholars from the 2021 round.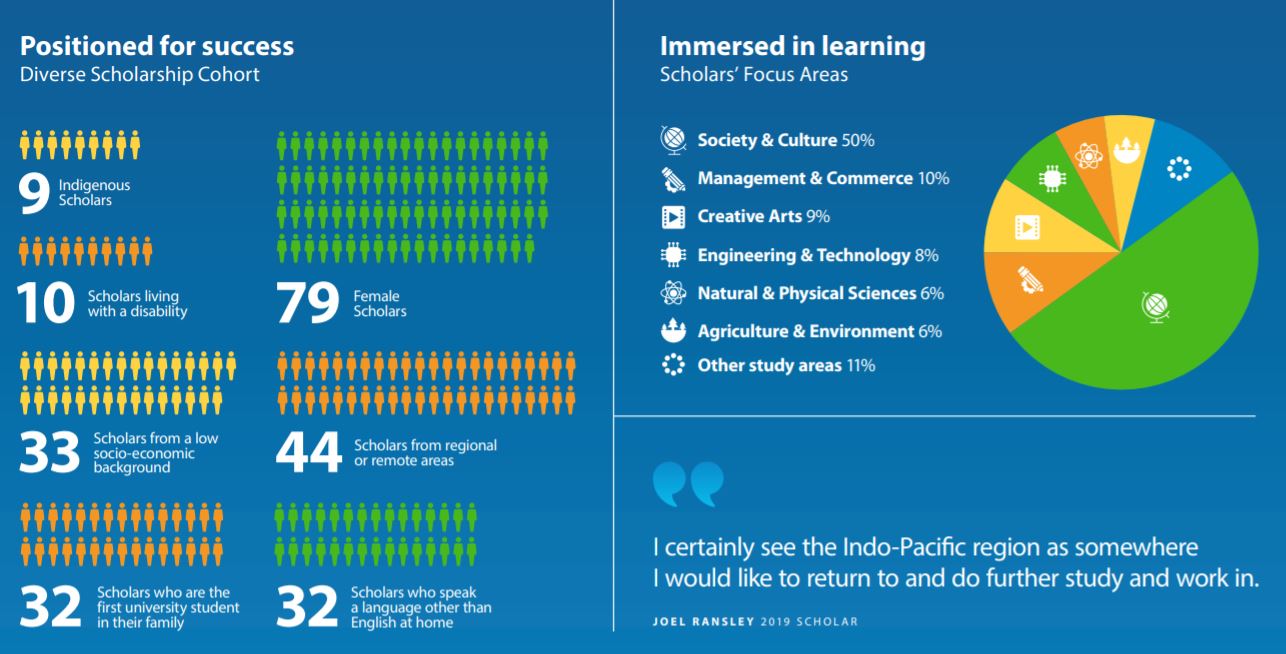 How to apply
Attend an information session or request a recording to find out how to submit your expression of interest to be considered for this prestigious award by Monday 31 May 2021.
The team at La Trobe Abroad will guide you through the application process and make sure your application is the best it can be.
Contact Brett Smith at La Trobe Abroad with any queries or for more information at studyabroad@latrobe.edu.au.
Past New Colombo Plan Scholars
See what former scholars had to say about their experience!
Impact of travel restrictions
The 2022 NCP Scholarship round will be conducted at a time of considerable unpredictability, particularly relating to international travel. Potential candidates should consider this when planning programs. Given that it is not known when travel restrictions (both Australian and in host countries) will be lifted, please carefully consider whether you will have flexibility to commence your NCP study component from either the first or second half of 2022.