It's back! Our annual Women in Leadership forum is on again in 2020 to stimulate conversations around the topic of women in senior and leadership roles.
This year's event brings together a panel of women from diverse career backgrounds, whom all have a passion for financial literacy and are working in this area to create better outcomes for women.
Tickets are on sale here.
All money from ticket sales goes to the Regional Women in Leadership Bursary. The purpose of the fund is to provide bursaries to female La Trobe students in regional Victoria who are aspiring to leadership positions but are experiencing some disadvantage during the course of their studies.
This year is our fifth year presenting these events at our regional campuses in Bendigo, Albury-Wodonga, Shepparton and Mildura. Since its inception, close to $60,000 has been raised, awarding 57 bursaries to female students. In Mildura, we've raised over $14,000 and have awarded fourteen $1000 bursaries to local students.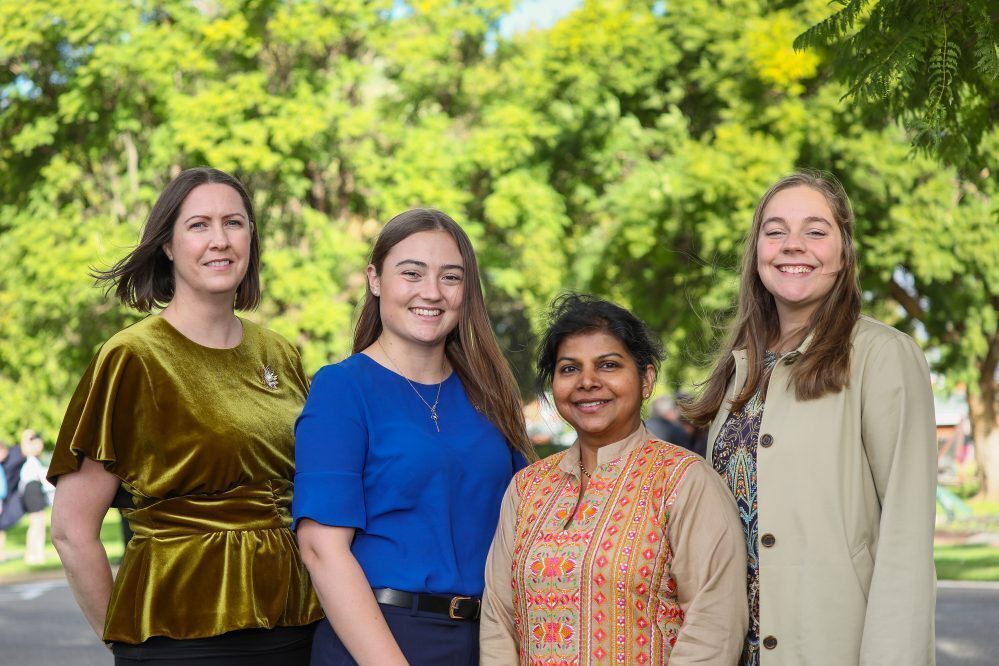 This event is proudly supported by The Art Vault, Mallee Family Care, Mildura Senior College and Sunraysia Community Health Services.
As we all strive together to work towards gender equality, we'd warmly welcome and encourage men to attend our event.
The event will conclude with drinks and canapés and an opportunity for networking.
Panel
Michelle Commandeur
Michelle has played a senior role in ANZ's corporate sustainability, financial inclusion and community relations functions since 2005. As the Group Head of Financial Inclusion at ANZ, she is responsible for the Saver Plus, MoneyMinded and MoneyBusiness programs, supporting people at risk of financial exclusion to build financial wellbeing. Since 2003, the programs have reached over 600,000 participants in Australia, New Zealand, Asia and the Pacific. Recently, Michelle has led major surveys of financial wellbeing in Australia and New Zealand and has played a key role in development of ANZ's strategy to build financial wellbeing for customers, employees and the community. Michelle has also overseen range of ANZ's community engagement initiatives including staff volunteering and giving and emergency response, most recently ANZ's response to the recent bushfire emergency.
Robyn Erskine
Robyn is a board director of CPA Australia, one of the world's largest accounting bodies with more than 160,000 members working in 150 countries and regions around the world. She was also one of the first women in Australia to be a Registered Liquidator and a Registered Trustee. Robyn is a partner in Brooke Bird – a Melbourne based Turnaround, Advisory and Insolvency Specialist firm.In 2011 Robyn became the first female to be appointed as the National President of The Australian Restructuring Insolvency and Turnaround Association (ARITA) the professional body for insolvency & restructuring professionals in Australia. Robyn advocates the importance of financial literacy with various regulators and the accounting profession here in Australia and globally. She believes accountants play a very important role in "telling the story of the numbers" and demystifying the financial statements in order for business owners to make timely and informed decisions.
Julie Kun
Julie is a white settler of migrant refugee parentage and lives on the land of the Kulin Nation. She is a feminist, social worker and activist and is currently the CEO of WIRE (Women's Information and Referral Exchange). WIRE is Victoria's only free support referral and information service on any issue for women, gender diverse and non-binary people. Being able to lead an organisation like WIRE is a privilege that enables Julie to live out her values and hopes for her community in her daily work. WIRE is a leader in the gendered financial wellbeing space, understanding and taking action on financial abuse and family violence, including providing support to individuals, research and training. WIRE run a range of financial capacity programs and in 2017 won the Financial Literacy Australia's national award for the success of their 'Women Talk Money' website. Julie is often quoted in national media on women and financial abuse and recently presented "Women Talk Money" at the Stop Domestic Violence Conference in the Gold Coast. Julie is an alum of La Trobe University.