Parents are the hardest working people on the planet, plain and simple.
So we feel lucky that so many mothers choose La Trobe to as a place to study.
Just quietly, we're pretty in awe of their ability to balance University with commitments to their family and workplaces.
If you're looking for inspiration to really dig deep at University, look no further than these women who came to La Trobe later in life and are now celebrating their graduation!
And if you're a parent at La Trobe, remember we've got these children on campus and breastfeeding policies to help make your life easier.
Tracey's study story
When Tracey Kourdis started at La Trobe's Mildura campus, it was several years since she'd last studied.
On that occasion, it was at the neighbouring Sunraysia Institute of TAFE. Her Early Childhood Learning course was completed over two years full-time, most of which was spent in a classroom.
"Internet and social media were rather non-existent which made 'studying' somewhat different to how it has evolved today," she says.
After working as an early childhood educator for a number of years, spanning over various age groups, she wanted to complete a Bachelor of Early Learning to gain further knowledge in the field and earn official accreditation for her work.
Tracey says that, because the course was delivered online, it required self-motivation and organisation to complete tasks by the due date.
"Online study is very different from having a lecturer in-class to seek guidance and motivation," she says.
"The urge to complete the course really has to come from yourself and know when you need to ask for help!"
But studying online doesn't mean you're alone.
Tracey says study groups quickly formed among the online cohort, and students were able to lean on one another for support.
"This was beneficial when sometimes lecturers couldn't respond to questions straight away," she says.
She's also full of praise for the La Trobe staff who organise teaching placements, saying they worked hard to take her personal preferences into account. The availability of scholarships also made it easier for people to take time off their paid jobs to complete the work experience.
"The course suited me, as I was able to juggle work whilst starting a family and everything else in-between," Tracey says.
"It definitely wasn't easy, but can be achieved through hard work, organisation and time management."
"Be prepared to give up some of your social commitments, have the laptop ready once the kiddies have gone to bed, be super organised and make lists of all your deadlines and due-dates, make the effort to interact with other students as it will benefit your studies, and know there is light at the end of the tunnel that is studying with a young family!
Tracey's currently on maternity leave from her job as a three-year-old kindergarten teacher enjoying time with her 12-week-old newborn.

Chantelle's study story
Chantelle Wyld had already been working in the Early Childhood Education field for 18 years when she started her Bachelor of Early Learning.
"It was something I had wanted to do for many years, but just kept putting it off," she says.
"After having my children, I decided the time was finally right and I needed to do something for myself."
She admits studying online was a steep learning curve at first, but after the initial onslaught of new information, it suited her perfectly.
"It was excellent to be able to do my work in my own time, but still having structure of due dates for assessments," she says.
She was also able to complete half of her placements in her own workplace, meaning she avoided the financial pressure of having to take unpaid leave while completing industry placements.
It also meant she could stay home while study, and not have to travel to another town.
It was during those placements Chantelle says she made strong connections with other Early Childhood professionals, many of whom she's still in contact with today.
"Getting to show my skills to Early Childhood Services while on placement certainly helped me with job opportunities once I graduated," Chantelle says.
She became a mature age student while also raising her own young children, working part time and running a family business.
"It was a juggle at times to fit study time in, however I gradually got into a routine, and did most of my work at night when my children had gone to bed," Chantelle says.
"I was also lucky to have such a supportive family who were willing to help out whenever needed to help me achieve my dream."
In fact, she now thinks studying later in life was good move, because it meant she could apply her pre-existing experience and knowledge to the coursework.
Chantelle is now working as a teacher at two kindergartens.
"I literally had work being offered to me left, right and centre when I graduated," she says.
Fortunately, she loves the profession and sees herself continuing to work in the field for years to come.
"I love working with children from low socioeconomic and culturally diverse families, as every child deserves a great start to their education, and deserve a role model to inspire them to be successful. I hope to be that role model," she says.
"I would certainly encourage everyone to upskill from their Diploma qualifications to their Bachelors.
"The sense of achievement and satisfaction is amazing children."
Oh, and she has a few more words of advice: "Employ a house cleaner, allocate a full day each week to yourself for study, and ask for help if you need it, people are always willing to help, you just need to ask!"
Natalie's study story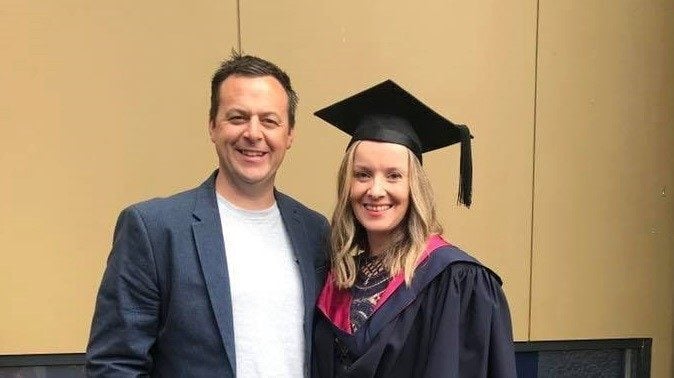 Everybody's life changes when babies arrive, but perhaps not as much as Natalie Gould's. After her first son Zac was born Natalie took mat leave from her job of eight years at the NAB. She loved being at home with her son, so decided to study part time instead of return to work.
"I imagined teaching to be a profession that provided diversity in the role and the students and that interested me. I imagined it would be a really satisfying and interesting career," she says on choosing to study a Bachelor of Education at La Trobe.
It took Natalie nine years and three more babies to graduate, which she did this year.
"I started studying when Zac was 15 months old – I was 28 at the time. Samuel arrived two years later and my twins arrived four years after that," she says.
"I learnt very early on that it is impossible to study with the kids around. And it often meant the housework, meal prep and other jobs went undone. It was overwhelming at times. I had many late nights and often one day on a weekend was spent at the library away from the family. I was very lucky to have amazing support from my family.
"My advice to parents looking to study with young kids would be to use every little bit of free time you have during the semester to study and remember that the semester will eventually be over and then you'll get to read your novels and watch your favourite TV series again. There will be little wins throughout each semester that will make you feel like you're accomplishing and that feeling makes the late nights, early mornings and the missed social functions all worth it."
And Natalie says it was all worth it. She's now working as a relief teacher in Bendigo.
"It is so satisfying to be using my new skills," she says.
Are you considering further study or a change of career? Applications for many courses, including Education, are open for semester two. Book a consultation to find out more.