When most of us are still recovering from election fatigue, Jack Smith's passion for Parliament is only just heating up.
The first-year Occupational Therapy student is one of a team of young people representing the Sunraysia district at the YMCA Youth Parliament in 2019.
It's the second time Jack has participated in the annual program, which offers those aged 16 to 25 the opportunity to walk the hallways of the Victorian Parliament and be mentored by some of the state's most powerful political players.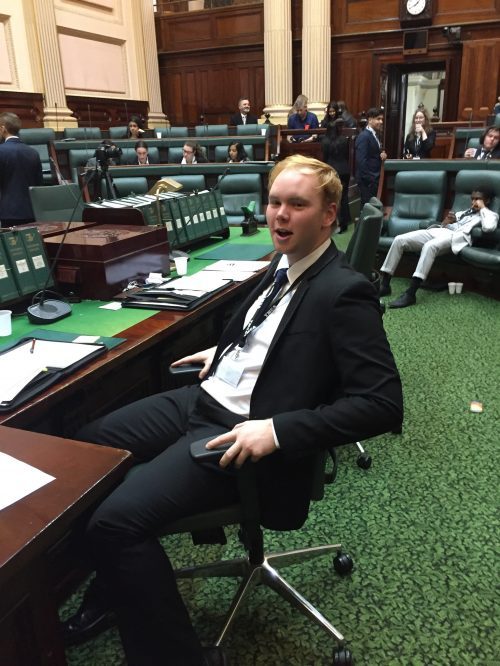 Jack spoke to MyLaTrobe shortly after returning from a weekend of learning the processes and etiquettes of Parliament: interjections, the way you go about getting picked to speak and learning not to walk in front of the Speaker.
But his biggest surprise from inside the halls of government was all the bowing that's expected of an MP.
We've done the training weekend: learning htep arliamtnary procceses: interkections, the way you go about speaking, the way you go about getting picked to speak, more complicated things like the line of sight, very official
"You bow to the speaker when you stand up, and if you walk out you have to bow to them when passing their chair," he says, laughing.
The practice will be put into effect when the three-day sitting of Youth Parliament begins in July, and there's an agenda full of important topics up for debate.
Jack and his Sunraysia peers will tackle the difficult task of legislating better measures for rural mental health, specifically the relocation of trainee psychologists in remote areas of the state.
"In small regional and rural places, like Mildura, there's not enough access to mental health care, especially when you compare the statistics of regional areas with to metropolitan areas," he says.
He's hoping for a repeat of last year when his group's bill regarding out-of-home-care funding was eventually taken up by the Victorian Parliament. A trial of the policy is now taking place across the state.
He hopes his Youth Parliament experience might eventually translate into a career in politics.
"Whether that be sitting in Parliament for real or guiding policy from behind the scenes, I love helping people," he says.
But for now he's enjoying rubbing shoulders with other like-minded young people from across Victoria.
"It's really lovely meeting with all these people who are just as passionate as you are and want to make change for the better, whether that be in mental health, LGBTI issues, environmental issues, sustainability," he says.
"It's interesting to see the perspective these young people come from, because they definitely come to it in a different way than older people."